Emma Watson Just Explained How the Fashion Industry Is Broken
August 12th 2015
By:
United Nations Women Goodwill Ambassador Emma Watson has teamed up with British Vogue to call out sexism and a lack of diversity in the fashion industry. Watson, who started the movement HeForShe last year to promote gender equality and discussed this campaign at the United Nations in September, says that she would like to see better representations of women and men alike in fashion. Watson made headlines in 2014 after speaking out for gender equality at the U.N.
"I want to get this conversation, this dialogue, happening specifically within the fashion industry, to ask the leading voices about gender equality," Watson says. "I have big hopes for gender equality in the fashion industry. I think it's really improving. I've seen some very positive steps towards equality in the industry, but I think there's still a lot of racism, I think there's still a lot of sexism. I'd really, really love to see a more diverse representation of women and men in any way that makes them feel empowered."

Earlier this year, Watson made similar comments at Davos, the World Economic Forum in Switzerland.
"It is my belief that there is a greater understanding than ever that women need to be equal participants in our homes, in our societies, in our governments, and in our workplaces, and they know that the world is being held back in every way because they are not," she said.
In Watson's video with British Vogue, various designers share their thoughts on sexism in the industry.
Fashion designer Jonathan Saunders, who describes himself as a "100 percent" feminist, believes it is up to the industry to produce photos that send a good message to all women.
"I think it's a big subject about how women are portrayed through imagery in fashion, that is where we need to be really careful with the images that we produce, that it's something that empowers women instead of making them look weaker or more fragile," Saunders said. "And I think that's something we all need to be more conscious about."
Better parental leave all around
Bella Freud and Stella McCartney says the fashion industry should embrace paternity leave and maternity leave, among other things. America's parental leave policy as a whole could benefit from improvement, as the U.S. guarantees zero weeks of paid leave and 12 weeks of protected leave. In other words, you can return to your job after three months of leave but legally lose out on pay for that amount of time. Under America's Family and Medical Leave Act (FMLA) of 1993, this is only applicable to employees who have been at a company of 50 or more workers for at least a year.
"The real thing about equality... is about fair pay, is about equal pay," Freud says. "I think there should be better [parental] leave for men as well as women and that would make it less of a thing that you do as a woman because somehow women aren't serious about their work, which is an incredibly unfair and warped approach."
McCartney adds that the industry needs "to give a better message to women of all ages, all sizes and all nationalities. We need to allow women to feel comfortable in who they are."
How the fashion industry has responded to consumers who want more realistic portrayals of women
Watson and the designers she interviews are far from the only people who have taken notice to the fashion industry's tendency to promote unrealistic portrayals of women. But as Watson notes in her video, there have been some noticeable improvements with female portrayals in the fashion industry. For instance, American Eagle's underwear line Aerie saw a sales bump after launching its #AerieREAL campaign that features non-airbrushed images and eschews the supermodel look.

"The purpose of 'aerie Real' is to communicate there is no need to retouch beauty, and to give young women of all shapes and sizes the chance to discover amazing styles that work best for them," Aerie's Chief Merchandising Officer Jennifer Foyle said in a statement last year. "We want to help empower young women to be confident in themselves and their bodies."
Aerie's Instagram page continuously posts images of women of all body types and doesn't use Photoshop to blur out beauty marks or tattoos:
Earlier this year, the National Eating Disorders Association (NEDA) awarded the #AerieReal campaign its first NEDA Inspires "Seal of Approval" accolade.
"The fashion industry has always been a huge part of the portrayal of unrealistic beauty ideals in our society," the release states. "Many companies photoshop their models to extremely unrealistic "perfect" bodies, which influences many people to believe they are not good enough."
Foyle said in a statement regarding the honor that "Aerie is committed to challenging super model standards to spark a conversation with the fashion industry and champion consumers with the true meaning of real and unretouched beauty. We are proud of our partnership with NEDA and hope others will join us in creating authentic advertising and marketing."

Late last month, TopShop agreed to stop displaying a mannequin after a costumer named Laura Kate Berry complained it was "ridiculously tiny" and promoted unrealistic body image standards: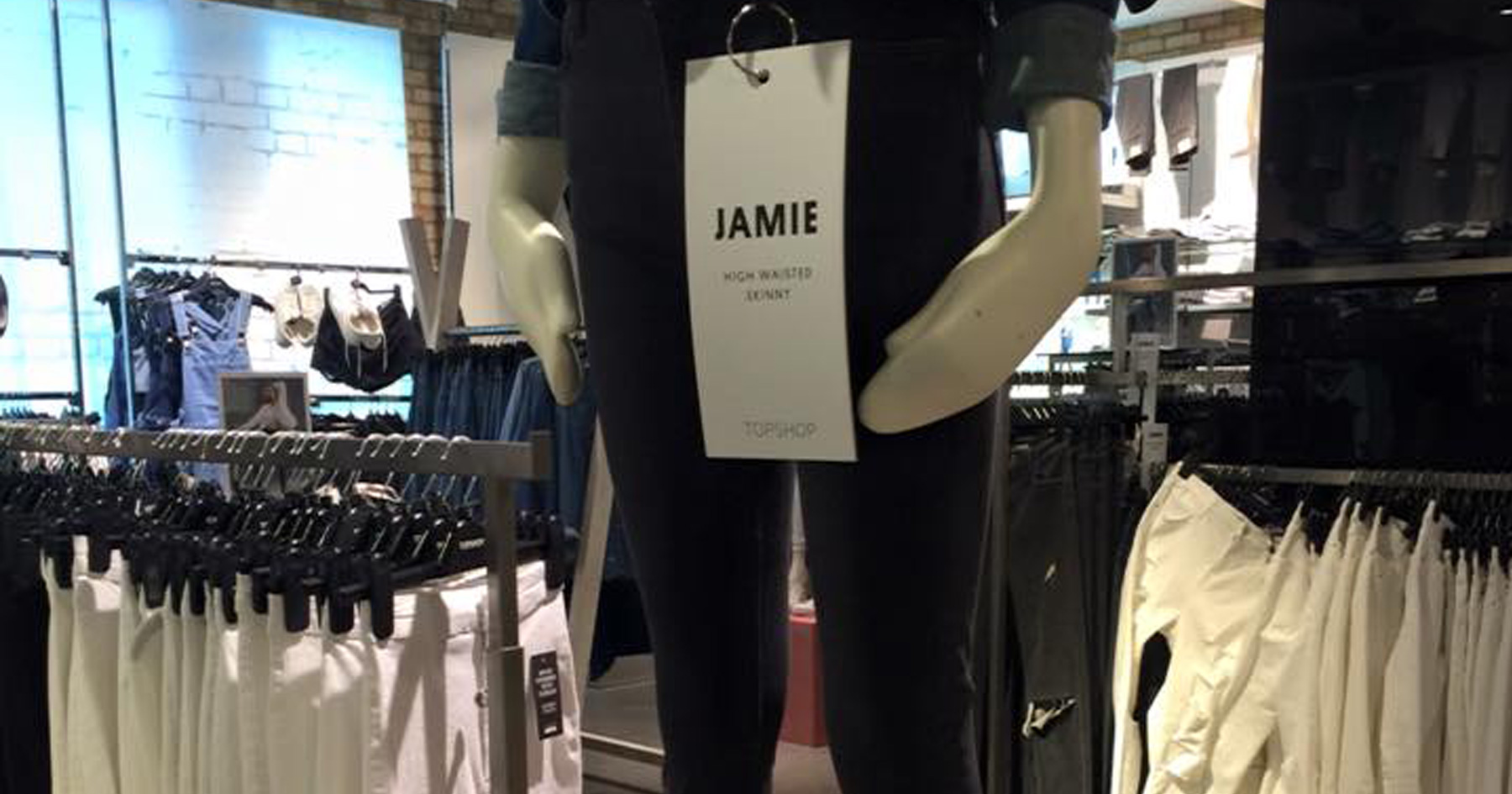 Facebook - facebook.com
"Every day I am surrounded by strong women and men who struggle with the daily battle of body image," Berry wrote on Facebook. "A subject which is now even covered by schools nationwide, educating the young on the reality of a human body and how unrealistic many photoshopped images are. So let me get to the point, I'd love to hear how you can justify the ridiculously tiny mannequin in your Bristol Cribbs Causeway store? We come in all shapes and sizes. There is absolutely nothing wrong with being the size you naturally are. I believe we should all feel comfortable in our own skin. Having said that, this mannequin is quite frankly ridiculously shaped. Young women aspire to the somewhat cult image your store offers. Which I'm sure you're aware by your sales figures and hashtags on Instagram. Yet not one mannequin in your store showed anything bigger than a size 6 ...& I'm not even sure the one in the picture is even that. So today, I'm calling you out Topshop, on your lack of concern for a generation of extremely body conscious youth."
Berry went on to discuss the incident on BBC Points West:
Share your opinion
Do you think certain industries discriminate against women?