Almost Nobody is Talking About These 17 Trans Murders
Transgender women have entered America's pop culture conscious over the last few years with unprecedented visibility. Caitlyn Jenner's reality TV success, E!'s "I Am Cait" which is now halfway through its first season, is only the tip of the media iceberg. From Laverne Cox ("Orange Is The New Black"), to Sean Baker's indie movie release ("Tangerine"), to the Jeffery Tambor's portrayal of Maura Pfefferman ("Transparent"), television and movies have never presented more varied depictions of women in the trans community.
Despite the popular culture fascination, trans women—especially trans women of color— are often the victims of violence and homicide. Seventeen transgender or gender non-conforming women have been murdered in U.S. this year. That's one death every two weeks during 2015.

According to the National Coalition of Anti-Violence Programs (NCAVP), this eclipses the total number of deaths in 2014 by two with one-third of the year still to go; perhaps even more alarming, 75 percent of those murdered in 2015 have been people of color. Those lost to violence this year, many of whom were misgendered originally by the police or the media, include:
1. Papi Edwards, 20. Edwards, a Black trans woman, was murdered January 9, 2015 in Kentucky. Police have arrested Henry RIchard Gleaves and charged him with her suspected murder.
2. Lamia Beard, 30. Another Black transgender woman, Beard was found shot to death in Virginia on January 17, 2015.
3. Ty Underwood, 24. Similar to Bear, Underwood was also a Black trans woman who died by gunfire. She passed away on January 26, 2015 in Texas.
4. Yazmin Vash Payne, 33. ATTN reported on Payne's death after she was fatally stabbed at the scene of a house fire in Southern California on January 13, 2015. Payne was a Black transgender woman.
5. Taja Gabrielle de Jesus, 36. A latina transgender woman, de Jesus was stabbed to death in San Francisco, California, and found February 1, 2015.
6. Penny Proud, 21. Proud, a Black trans woman, was shot to death on February 10, 2015 in Louisiana.
7. Kristina Gomez Reinwald, 46. Another latina trans woman, Reinwald was found dead in her home on February 15, 2015 in Florida. Her death is currently being investigated as a homicide.
8. London Chanel, 21. Chanel was fatally stabbed in Pennsylvannia on May 8, 2015 by her roommate's boyfriend. She was a Black transgender woman.
9. Mercedes Williamson, 17. Williamson was found stabbed to death on May 30, 2015 in Mississippi.
10. India Clarke, 25. A Black trans woman, Clarke was beaten death in Florida on July 21, 2015.
11. K.C. Haggard, 66. Haggard was stabbed to death in front of multiple witnesses in the street on July 23, 2015 in California.
12. Amber Monroe, 20. Monroe was a Black transgender woman. She was shot to death in Michigan on August, 8, 2015.
13. Shade Schuler, 22. Schulder was murdered in Texas on July 29, 2015. She was also a Black trans woman.
14. Ashton O'Hara, 25. O'Hara, a gender non-conforming person of color who used both male and female pronouns, was found dead in Michigan on July 14, 2015.
15. Kandis Capri, 35. Was killed at gunpoint on August 11, 2015 in Arizona.
16. Elisha Walker, 20. Found in a "crude grave" last week after going missing in 2014, Walker was murdered in North Carolina.
17. Bri Golec, 22. Stabbed to death by their father on February 23, 2015 in Ohio, Golec has been identified by local trans community members and Trans Ohio as transgender, although conflicting reports exist.
While long, the list doesn't include those transgender individuals who were assaulted this year and survived, like Cheyenne West who was almost gunned down in Florida by a 12-year-old boy or Kara Jeslyn Barone who was physically assaulted and almost died while trying to use a bathroom at a club in Nebraska.
Something else to note: Four of the trans women above were murdered in the last three weeks.
Transgender visibility in the media is so important.
When I hear someone say that they're tired of hearing about Caitlyn Jenner, I understand. We've reached a saturation point of coverage in her high profile transition, and I can see how it could become tiresome. Hearing the views of another wealthy, white individual coming from a position of relative privilege could also logically raise a viewer's ire. But when I read comments that Jenner's transition or the associated coverage is unimportant —or that there are more important issues—I draw the line.
Knowing someone that is lesbian or gay has long been considered a key determinate of acceptance among straight individuals. For instance, repeated Gallup studies have shown that opposition to marriage equality is higher among those with do not personally know someone who is gay; in 2005, there was a 25-point difference separating those that didn't know a gay or lesbian person and opposed marriage for same-sex couples (72 percent) versus those that knew someone at still were in opposition (27 percent).
Visibility breeds familiarity, and clearly, familiarity matters. This has been why sharing your story has been a mantra of the LGBT equality movement for so long. If it's true for gay and lesbian individuals, it's logical that it's true for the transgender community as well. For this reason, if no other, "OITNB," "Transparent," and most recently "I Am Cait" are all deeply important.
But is current trans-inclusive entertainment making a difference?
I'm concerned that the fascination that America is exhibiting toward the transgender community is actually a fetishization of the exotic, where trans people remain "other" and incomprehensible rather than relatable and deserving of equal treatment. Sometimes I worry that there is a difference between entertainment and education, and I wonder if such a marginalized community can be entertaining (yet) without being the sideshow.
Still, the current media focus is a start. The Twitter response alone to the premiere of "I Am Cait" demonstrates the powerful impact that the show is having on some people.
But it isn't enough.
Mother Jones breaks down the upsetting facts: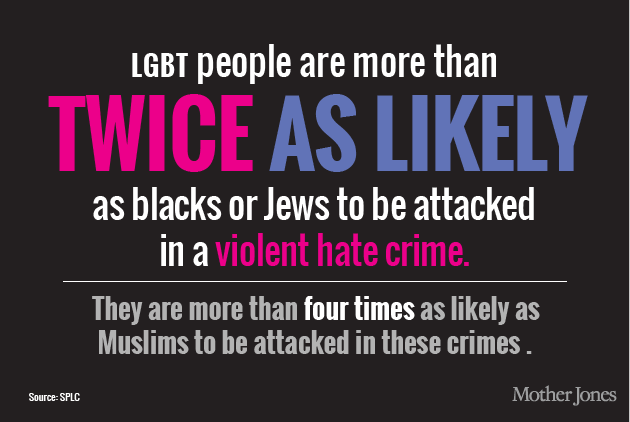 Mother Jones / Southern Poverty Law Center - motherjones.com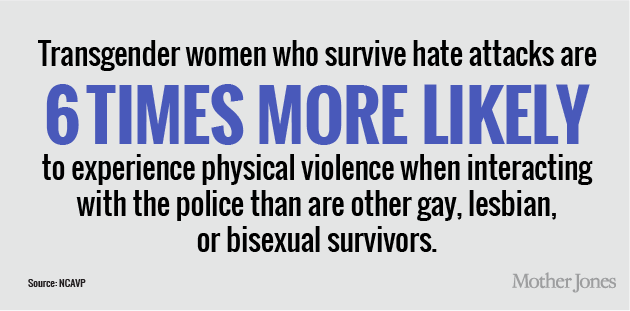 Mother Jones / National Coalition of Anti-Violence Programs - motherjones.com
Members of the trans community are also at a high risk of suicide: 41 percent of trans or gender nonconforming people have attempted suicide.
The trans community also faces barriers to everyday normalcy: A Kentucky Senate committee turned down a trans teen's request to vote against a discriminatory bill that would bar transgender people from using gender appropriate restrooms—and that was after congratulating him for his courage in presenting his story to the legislative body.
John Oliver pointed to the absurdity of this on a recent segment of Last Week Tonight, too, commenting: "We are weirdly comfortable celebrating transgender people while simultaneously dehumanizing them."
I couldn't agree more, having been repeatedly congratulated for my own "courage" by people who followed their statement by actions that negated my humanity. While some claim that there are "more important issues" to cover than the transgender community, my hope is that we stop asking if what we're doing is too much and instead start to ask whether what we're doing is enough.
The lives of trans women in particular may be hanging in the balance.
Share your opinion
Do you know someone who identifies as transgender?