How Much Climate Change Will Cost You if We Fail to Act
Ecological threats aside, climate change could have a substantial impact on the world's economy. If global leaders do nothing to combat its advance, the financial impact of climate change could be as much as $44 trillion, according to a new report released Tuesday by the U.S. financial firm Citigroup.
The report puts into perspective the potential financial impact of a scenario in which nothing is done to stave off the warming of the planet, something Citigroup researchers deemed "inaction."
The cost of inaction.
"[T]he central case we have in the report is that the costs in terms of lost (gross domestic product) GDP from not acting on climate change can be $44 trillion dollars by the time we get to 2060," Citi's Global Head of Alternative Energy and Cleantech Research, Jason Channell, told CNBC.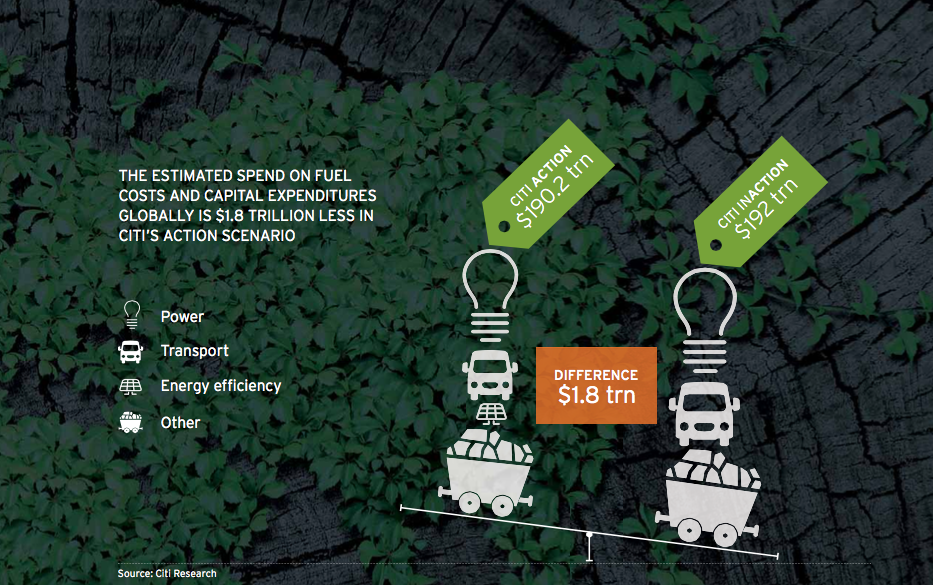 Global Perspectives & Solutions - citi.com
"What we're trying to do is to take an objective view at the economics of this situation and actually look at what the costs of not acting are, if the scientists are right," Channell said.
The report, titled Energy Darwinism II: Why a Low Carbon Future Doesn't Have to Cost the Earth, examined two scenarios involving action on climate change—"inaction on climate change," and a "different energy mix," comprised by a mix of low carbon and renewable energy sources. According to the report, energy market spending over the next 25 years will be more than $200 trillion, a portion of which will need to be devoted to other forms of energy like solar power, as Renew Economy highlighted, in order to avoid the "inaction" scenario. This spending would also be necessary to avoid exceeding the "carbon budget," a cap for cumulative CO2 emissions that, if exceeded, would set global temperatures on a path to warming more than two degrees centigrade—an amount widely considered to be a tipping point in the warming of the planet.
Investing in clean energy infrastructure.
The report notes that both the "inaction" and "action" scenarios have similar cost projections over the next 25 years. However, while renewable energy spending in the early years would increase, the "action" scenario would result in a lower use of fossil fuels, lowering the total cost in later years, and offsetting the initial investment. And while low oil prices tend to drive down widespread desire to invest in renewables, Channell told CNBC that low prices could give more space for spending on other types of energy "without slowing the global economy."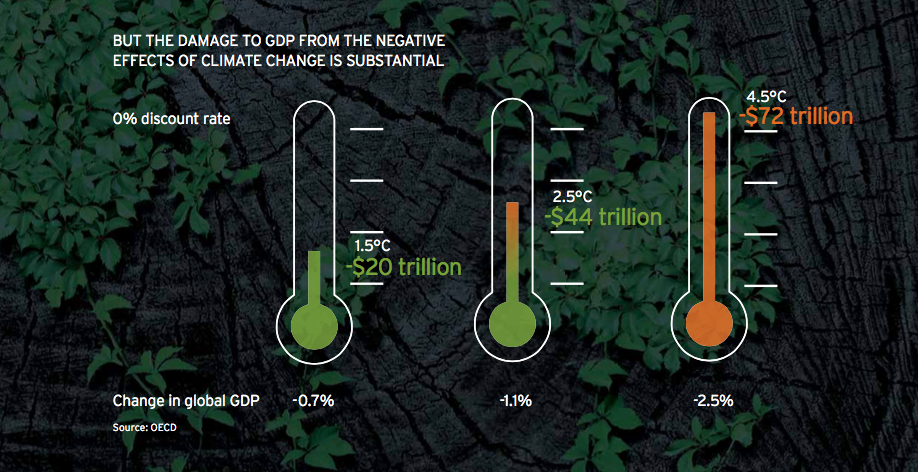 Global Perspectives & Solutions / OECD - citi.com
The new data comes in advance of the United Nations COP21 meeting in Paris, scheduled for December, at which world leaders could reach a historic and potentially binding agreement to keep global temperatures from exceeding the two degrees mark—the timing of which the report makes explicit. "[COP21] represents the first real opportunity to reach a legally binding agreement to tackle emissions, given that all parties, including the big emitters, are coming to the table with positive intentions, against a backdrop of an improving global economy," the report notes.
It adds that due to a number of convergent factors, the climate summit represents a key opportunity to take a meaningful stance against climate change.
"With the global economy improving post-crisis, interest rates low, the large emitters coming to the table, investment capital keen, and public opinion broadly supportive, Paris offers a generational opportunity," the report states. "[O]ne that we believe should be firmly grasped with both hands."
Learn more at ATTN:.
Share your opinion
Do you think we should be doing more to curb climate change?