How Women Responded to Catcallers In The Past
August 23rd 2015
By:
While various social media campaigns and online groups have increased awareness about street harassment in recent years, certain people have argued that women ought to brush off catcallers, quit whining, and learn to be grateful for the attention. Catcallers today, however, ought to feel lucky that they're merely getting shamed on the Internet for their behavior, as women in the late early 1900s often responded to creepy advances by stabbing men with their hatpins, which were popular hair accessories at the time.
What is a "masher"?
People often say "catcalling" and "street harassment" interchangeably, but in the early 1900s, many used the term "masher" to describe catcallers, street harassers, and aggressive, forceful men. Last year, cultural historian Kerry Segrave published a book titled Beware the Masher: Sexual Harassment in American Public Places, 1880-1930, which includes a definition of "masher" from New York World advice columnist Betty Vincent.
In June 1914, Vincent wrote that the word describes a man who is "just a plain cad. The first article in a gentleman's code is to show all respect to ladies. The masher ignores this unwritten law. He forces his attentions on women to whom he is a stranger ... A masher is a coward too, for he knows that an unescorted can only express her resentment by ignoring him."
The rise of using hatpins as weaponry.
In 1903, Kansas native Leoti Blaker had no such patience to ignore a man who wouldn't leave her alone on a New York City stagecoach. Shortly after she sat down next to him, he kept inching closer to her even as she scooted away for personal space. When he curled his arm around her back, she stabbed him in the arm with her hatpin, maintaining a calm expression all the while. She did not react as the man screamed in pain, and he exited the stagecoach at the next stop.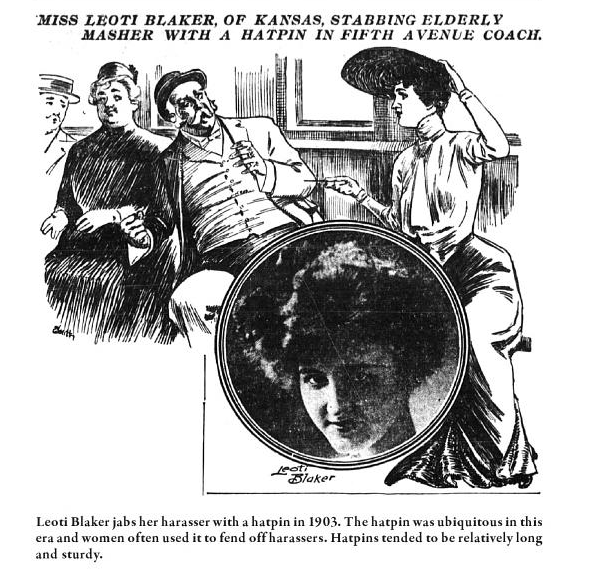 Sexual Harassment in American Public Places, 1880-1930 - google.com
Speaking to a New York reporter afterward, she commented that the person she hurt looked nice, but that she wouldn't put up with mashing.
"I didn't pay attention to him, but finally his actions became so annoying that I could scarcely stand it," she said. "I became so enraged [when he touched me] that I didn't know what to do. At last I reached up and took a hatpin from my hat. I slid it around so I could give him a good dig, and ran that hatpin into him with all the force I possessed ... I've heard about Broadway mashers and 'L' mashers, but I didn't know Fifth Avenue had a particular brand of its own ... If New York women will tolerate mashing, Kansas girls will not."
Blaker added that a man would be "tarred and feathered for daring to insult a woman by such persistent actions" in Oskaloosa, Iowa, where she spent some of her younger years.
Five years later, a strange man came up to a woman named Marguerite LeBlanc and put his arm around her on the street. She promptly stabbed him with her hatpin twice, once in the arm and the second time in the face, before he scurried away. In 1910, a man named E.L. Dickson was known for bothering women in South Main Street cinemas in Los Angeles. On one occasion, he sat next to a female named Martha Taylor and grabbed her arm. She moved to another chair only for him to follow. That's when she yanked off her hatpin and threatened to jab him. He was ultimately arrested and pleaded guilty.
In 1913, writer Marguerite Mooers Marshall wrote about the issue of mashing and profiled Viola Brophy, a woman who gave a masher a black eye. Brophy told Marshall that "Every woman who is insulted ought to do as I did. A decent woman who is followed or annoyed on the street should not hesitate to defend herself. She should use her fists or her fingernails or her hatpin or any weapon that's handy ... The right sort of man makes friends through the medium of proper introductions. And to the wrong sort a woman's fist is the best answer."
Physical assaults weren't the only things that bothered women. In 1906, 28-year-old Ellen Pierson was followed by two men—an advertising worker and a diamond broker—after leaving her cashier job at 2 a.m. When she didn't respond to their questions, they began "insulting" her, prompting the young woman to whack them both with her umbrella.
That morning in court, Pierson said of the incident, "I leave the restaurant at 2 o'clock every morning and am very often spoken to and insulted by men who hang around the Metropolitan Opera House entrance. I was not afraid, and I am glad I did this one up." 
Hatpin pushback.
As more women began to defend themselves with hatpins, backlash against the hairpieces engulfed public debate. In March 1910, Chicago's City Council mulled over a rule that would prohibit hatpins of a certain length and arrest and fine any female in violation of the ordinance.
"If women care to wear carrots and roosters on their heads, that is a matter for their own concern, but when it comes to wearing swords they must be stopped," one supporter reportedly said at a crowded proceeding.
Though the supporter received many cheers from men, the women in the audience were not so receptive to this logic. Nan Davis, who attended the gathering on behalf of women's clubs, received permission to speak and said that hatpin aggression was merely a response to a lack of safety for women in the streets.
"If the men of Chicago want to take the hatpins away from us, let them make the streets safe," she said. "No man has a right to tell me how I shall dress and what I shall wear."
The ordinance ultimately passed, and cities such as Milwaukee, Baltimore, New Orleans, and Pittsburgh signed similar ordinances into law.
How women respond to aggressive and creepy strangers today.
As popular hair styles shifted, the heated discussion over hatpins died out, but women, of course, still endure unwanted advances from strange men, sometimes on a daily basis. Last year, anti-street harassment organization Hollaback! teamed with Rob Bliss Creative to produce a video titled "10 Hours of Walking in NYC as a Woman," which shows a young lady being harangued with disgusting comments from passersby and even followed as she walks through the city. The video, which received more than 40 million views, was intended to show men the frequency and crudeness of street harassment.
The video faced ample backlash for mostly including footage of men of color harassing the woman. Hollaback! issued an apology when news surfaced that white street harassers were edited out of the video.
"I did at the end of the video make it clear that we had people of all backgrounds who catcalled because I felt this might come up," Rob Bliss, the video director, said in an interview with Bustle. "[T]hose two guys that follow Shoshana [in the video] make up literally half of the video, and because by chance, they were black, now half of the video is showing black guys. That just only further demonstrates how statistically inaccurate something like this is, and how it shouldn't be taken so literally. What if they were two Russians, or Japanese guys? Would we be saying that Russians make up half of all catcallers? That's the problem with drawing too much from this video. It was just one girl's 10 hour experience, composed of 18 different scenes."
In July, Cosmopolitan used a GoPro to record women getting catcalled in Manhattan and showed their boyfriends reacting to the footage afterward. Last week, The Scene posted a video showing dads reacting to footage of their daughters getting catcalled.
"These are all men that have to respect a young girl walking on the street, not to come so strong on her," one father named Meir says. "The way he talked, there was no shame. Coming on like this on the street without even knowing the young lady ... Our daughters, and [wives], and [mothers] ought to be treated with respect."
When asked how he would have responded if he was there when someone approached his daughter this way, Meir said, "I think there would be a fist fight."
Even without hatpins, women know how to shame present day mashers. Hollaback! encourages women to share their stories online to the extent that they're comfortable, and several years ago, a woman went viral after embarrassing a man on the subway for rubbing up against her and exposing his penis. The exchange was uploaded to YouTube, and the woman was championed by many as a hero:
"You're getting fucking arrested," she said. "I'm not leaving your side. My plans are done for tonight. I'm escorting you to the police station."
Share your opinion
Is street harassment a problem in your community?