Abstinence Only Sex Education Overlooks Stark Realities
Should schools teach kids how to have safe sex?
It's a question that has long plagued sex education conversations in schools, and as the academic year starts up once again, many students across the country will learn the ins and outs of safe sex in mandatory courses—but not all of them. As of January 2015, only 22 states and the District of Columbia require sex education in public schools, according to the National Conference of State Legislatures. Thirty-three states and D.C. require instruction about HIV/AIDS, and just 19 require that sex education be "medically accurate."
Sexual education programs ideally prepare students to safely navigate sexual activity, which has the potential to result in major, life-changing outcomes—including pregnancies or sexually transmitted infections (STIs).
Does abstinence-only sex education actually work?
But abstinence-only until marriage (AOUM) programs, which advocate abstinence as the best means of sex ed, can fall short in that regard. They often overlook the reality of sexual activity among young people, according to Monica Rodriguez, president and CEO of the Sexuality Information and Education Council of the United States (SIECUS).
"Despite how some adults would like the world to be, the reality is that the majority of young people in the United States have sex during their teen years," Rodriguez told ATTN:. "In fact, the majority of young people in the U.S. have sex before they graduate high school."
Without proper comprehensive education, Rodriguez said, incidents such as teen pregnancy and sexually transmitted infections can have a higher chance of occurring as a result of AOUM programs. The exact correlation is difficult to track since funding is scarce for such studies, but already-monitored numbers can provide a clue: teen pregnancy numbers in the U.S. have dropped to the lowest point since the 1940s, but they are still the highest of any other comparable developed nation, according to the NCSL.
And in states with AOUM-as-best programs, teen pregnancy rates tend to be higher. For example, Mississippi, which has abstinence-only sex ed, has seen consistently higher teen birth rates than the national average in recent years.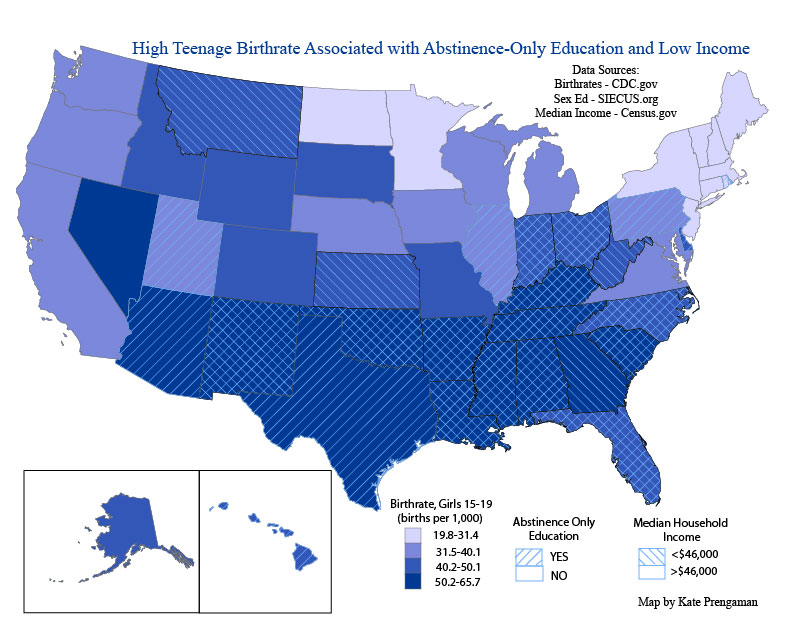 Xylemblog - wordpress.com
"We need to make sure that [young people] have the information and the education and skills that they need to make good decisions about their health, about their sexuality, about their behavior," Rodriguez told ATTN:. This can include information about contraception and condoms (should teens decide to be sexually active).
Funding for abstinence-only education is on the rise.
But even with troubling statistical correlations, federal funding for AOUM programs has increased since the early 2000s. According to numbers cited by Advocates for Youth, some $1.5 billion went to AOUM programs during George W. Bush's presidency, and funding has continued—albeit at a reduced rate—under the Obama administration. Recently, Congress increased funding supporting AOUM programs to $75 million a year, the Washington Post reported.
One reason to continue teaching AOUM programs, according to advocates, is that more involved and detail-driven sex ed would encourage promiscuity among teens. But even with statistics showing most young people already engage in sexual activity, research has shown that AOUM programs have no discernable effect on the desired outcomes: delaying sex and preventing teen pregnancy and STI transmission.
A spokesperson from the National Abstinence Clearinghouse, one of the earliest and largest abstinence educational organizations, did not return ATTN:'s request for comment on the benefits that AOUM programs provide, but wrote in an email that those "who choose abstinence enjoy healthy and disease free lives."
A better approach.
Rodriguez notes that abstinence is an important approach to sex for many students—and programs need to reflect that.
"Teaching about abstinence is important, and supporting young people who make a decision to be abstinent is really important," Rodriguez said. "But choosing to be abstinent is an active decision that a young person needs to make; you can't just tell young people they have to be abstinent."
That choice is an important distinction from programs that eliminate the choice and say everyone must abstain.
"We need to give them the skills to make that decision for themselves and to communicate that decision and if necessary, defend that decision," she added. "Unfortunately many abstinence-only education programs don't provide that information."
For more on this issue, check out John Oliver's recent segment on the state of sexual education in the United States below.
Share your opinion
Do you think public schools should teach students how to practice safe sex?