The Internet Reacted to This Woman's Viral Fat Shaming Video
September 8th 2015
By:
Canadian comedian Nicole Arbour recently went viral for her six-minute fat shaming video "Dear Fat People," which received more than 20 million views, sparked ample backlash online, and even seemingly prompted YouTube to temporarily suspend her channel.
What does Nicole Arbour say that's so offensive?
In the clip, Arbour uses fat shaming to discuss obesity. While obesity remains a public health concern and kills hundreds of thousands per year, many felt Arbour's video does more harm than good as it mercilessly mocks overweight people.
Arbour opens by saying that she knows people are already mad at the fact that the video is titled "Dear Fat People."
"What are you going to do, fat people?" she says. "You going to chase me? It's going to be like fucking Frankenstein. I can get away from you by walking at a reasonable pace."
Arbour also argues that there is no such thing as fat shaming.
"Fat shaming is not a thing. Fat people made that up," she says. "That's the race card with no race. 'Yeah but I couldn't fit into a store, that's discrimination.' Uh no, that means you're too fat and you should stop eating ... Are you going to tell the doctor that they're being mean and fat shaming you when they say that you have fucking heart disease?"
She adds that her efforts will be worthwhile if she's so cruel that she inspires some people to improve their health.
"Big boned isn't a thing ... there are no fucking skeletons that look like the Michelin man," she continues. "Fat shaming. Who came up with that? That's fucking brilliant. Yes. Shame people who have bad habits until they fucking stop ... If we offend you so much that you lose weight, I'm OK with that."
Arbour goes on to insult the body positive community and plus-sized people.
How Twitter and Facebook are reacting to "Dear Fat People."
Though some found the video humorous, a lot of people reacted negatively and said it was in poor taste. Here are some social media responses to Arbour's clip: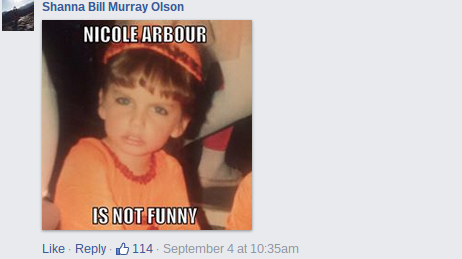 Nicole Arbour Facebook - facebook.com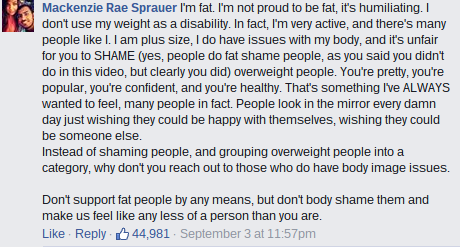 Nicole Arbour Facebook - facebook.com
Video responses to "Dear Fat People."
Whitney Way Thore, star of TLC's "My Big Fat Fabulous Life," responded with her own clip. She says that her comments were deleted on Arbour's video:
"Heart disease, diabetes, high blood pressure, anxiety, depression, these are illnesses that affect millions of people worldwide from skinny to fat and everything in between," Thore says. "The next time you see a fat person, you don't know whether that person has a medical condition that caused them to gain weight. You don't know if their mother just died. You don't know if they're depressed or suicidal or if they just lost 100 pounds. You don't know. Let me hammer this one home. You cannot tell a person's health, physical or otherwise, from looking at them." 
Singer-songwriter Meghan Tonjes echoes a similar sentiment in her personal YouTube video response:
"It's not necessarily the video," Tonjes says in her tearful clip. "It's just the mindset I find really upsetting, even if it's done for, like, satire or comedy, which this just isn't. I find it really harmful."
YouTube sensation Grace Helbig says in her own response that Arbour's clip was disappointing, as Helbig has faced body image issues herself. Helbig also believes that Arbour ruined her comedic potential by being so mean-spirited.
"I was just bummed that someone who seems really smart and funny would speak about weight that way," Helbig says. "To me, it looks like you're using a controversial, personal subject to leverage subscribers and attention in a really negative way, which really bums me out because comedy can really be amazingly powerful and positive."
Share your opinion
Do you think fat-shaming is a form of discrimination?