How Newer Social Media Platforms Have Changed College
September 17th 2015
By:
Over a decade ago, Facebook changed college culture by digitizing the experience and expanding the way we connect and communicate. While Facebook still exists, other newer apps and social media networks are continuing to vie for college kids' attention and play a large role in the college experience. Here are some social media platforms college students are using now.
How Facebook changed the college experience.
On the first Friday night of my freshman year at the University of Arizona, I scrolled through Facebook, the social network at the time, and felt immense disappointment. My roommate, who just received a bid from her favorite sorority, was out partying with her new sisters, and the rest of our dorm hallway was deserted. I was unbearably lonely, and I made it worse by looking through the photos of my high school and UofA classmates doing cool stuff at their new colleges. Why couldn't I rack up my tagged photos and blow up their timelines with documentation of my fun?
This was 2006, when Facebook was only two years old, still inaccessible to non-college students (which would change in September 2006), and explosively popular at schools all over the country. Though social networking sites Friendster and Myspace preceded Facebook, they weren't nearly as successful at appealing to college kids, and for a while, Facebook was the only social media distraction I had during my time at UofA.
Nearly a decade later, college students have far more social media platforms to choose from than Facebook. In fact, Facebook may as well be the old fogies social network for today's college aged kids. In summer 2014, Fast Company reported that up to a million teens flee Facebook every year.
In that same article, Fast Company interviewed 17-year-old Karanjit Paul, who explained to the publication that he'd only recently created a Facebook account to stay in touch with high school pals after graduation.
"It's not a place for serious people," he said. "It'll be useful, I guess, when I go away, but all that stuff is a distraction, you know?"
Daniel Miller, a professor of "material culture" at University College London, concluded from a 15-month study that 16- and 18-year-olds in the United Kingdom that they think Facebook is "simply not cool anymore."
"[Facebook] is basically dead and buried," Miller told Fast Company. "Mostly, they [teens] feel embarrassed even to be associated with it."
1. Yik Yak
Meredith, a 23-year-old recent graduate of Cal Poly-San Luis Obispo, who did not wish to share her last name, told ATTN: that she loved using anonymous messaging system Yik Yak, which is popular among college students, while she was in school. Yik Yak enables users in a particular area to post anonymous messages onto a feed and fellow users can upvote, downvote, and reply to these comments. Like Twitter, Facebook, and Instagram, users can view which "Yaks" in the area are trending.
"People can also comment anonymously- which can be a good thing or a bad thing," she said. "When I had my last class senior year I posted, and it was fun seeing how many likes I got and reading everyone's encouraging messages. I also did a post about my ex after a messy breakup and got 400 likes—which I got a kick out of. During class I would entertain myself my looking at other college Yik Yak posts—and some were so funny, I would be crying in class. Randomly, I remember George Washington University being particularly funny."
While many love the anonymity Yik Yak presents, the app can also be a platform for harassment, put downs, and even fear. Last week, Florida Atlantic University student Emeil Stewart was kicked off campus after posting about "a threat to open fire on the campus breezeway, one of the main areas of campus where students and professors walk to get to their classes and restaurants."
Upon noticing that the Yak was receiving a lot of attention, Stewart reached out to the police to explain that he'd merely heard someone else make that threat. While the university police chief clarified that this was an "18-year-old mistake" and "not a serious threat," he's still no longer a student at the campus.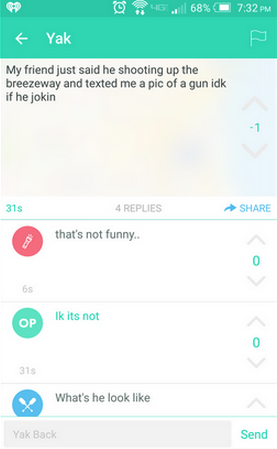 UPressOnline - upressonline.com
Threats aside, Yik Yak is also a bullying hotspot. Earlier this year, the College of Idaho tried to ban Yik Yak after receiving several complaints about posts on the platform.
"If someone puts a racist epithet on a Latino's door, or a black person's door, there's at least a potential evidence thread that can be investigated," college president Marv Henberg said at the time. "Not with Yik Yak."
Last year, Eastern Michigan University professor Margaret Crouch was horrified to learn that dozens of Yik Yak users had been brutally mocking her and two fellow female professors during a large lecture course.
"I have been defamed, my reputation besmirched. I have been sexually harassed and verbally abused," she wrote to her union representative, as obtained by the New York Times. "I am about ready to hire a lawyer."
Danielle Keats Citron, a University of Maryland law professor and the author of "Hate Crimes in Cyberspace," told the Times that "Yik Yak is the Wild West of anonymous social apps."
"It is being increasingly used by young people in a really intimidating and destructive way," she said.
2. Tinder
In addition to Yik Yak, many college students are on dating apps like Tinder. Nancy Jo Sales captured this reality earlier this summer in the Vanity Fair article "Tinder and the Dawn of the 'Dating Apocalypse.'" Towards the end of the article, Sales visits the University of Delaware and is surprised that the young women she interviews are all on Tinder. The ease of Tinder has apparently reduced the incentive for college guys to go out and court women the old fashioned way.
"As they talk, most are on their phones," Sales writes. "Some are checking Tinder. I ask them why they use Tinder on a college campus where presumably there's an abundance of available guys. They say, 'It's easier.' 'And a lot of guys won't talk to you if you're not invited to their fraternity parties.' 'A lot of guys won't talk to you, period.' 'They don't have to.' 'Tinder has destroyed their game.'"
3. Snapchat
Last year, marketing company Sumpto conducted a study that found more than 75 percent of college students use Snapchat at least once a day, with more than 80 percent using it most in the afternoon and at night:

Sumpto via Mashable - mashable.com
Snapchat was born in a college setting. In 2011, co-founder, and then-Stanford University student, Evan Spiegel presented the idea (called Picaboo at the time) as his final in a product design class. He and Reggie Brown came up with the idea (though a falling out with Brown eventually happened), and the two added Bobby Murphy into the fold to code the project. Part of the reason behind the ephemeral photo-sharing app was to avoid permanence and/or perfection, according to a company blogpost from May 2012:
"And after hearing hilarious stories about emergency detagging of Facebook photos before job interviews and photoshopping blemishes out of candid shots before they hit the Internet (because your world would crumble if anyone found out you had a pimple on the 38th day of 9th grade), there had to be a better solution."
4. Instagram
Instagram is also a popular photo sharing app among college students, and it probably parallels Facebook more than any other social media platform in how it can misrepresent the lives of others.
However, as ATTN: has noted before, Instagram and social media at large can distort reality and make some people think that the people in their lives are happier than they actually are.
Share your opinion
Have you noticed that social media makes personal problems more complicated?