Chris Crocker's Sad Reason for Leaving YouTube
September 18th 2015
By:
Exactly eight years after posting his infamous "Leave Britney Alone" video online, pioneer YouTube sensation Chris Crocker has deleted his account as a result of mean-spirited anonymous commenters, many of whom have told him to commit suicide.
As noted by NewNowNext.com, the openly gay Crocker (whose real name is Chris Cunningham) announced his departure in a personal Facebook post on Monday: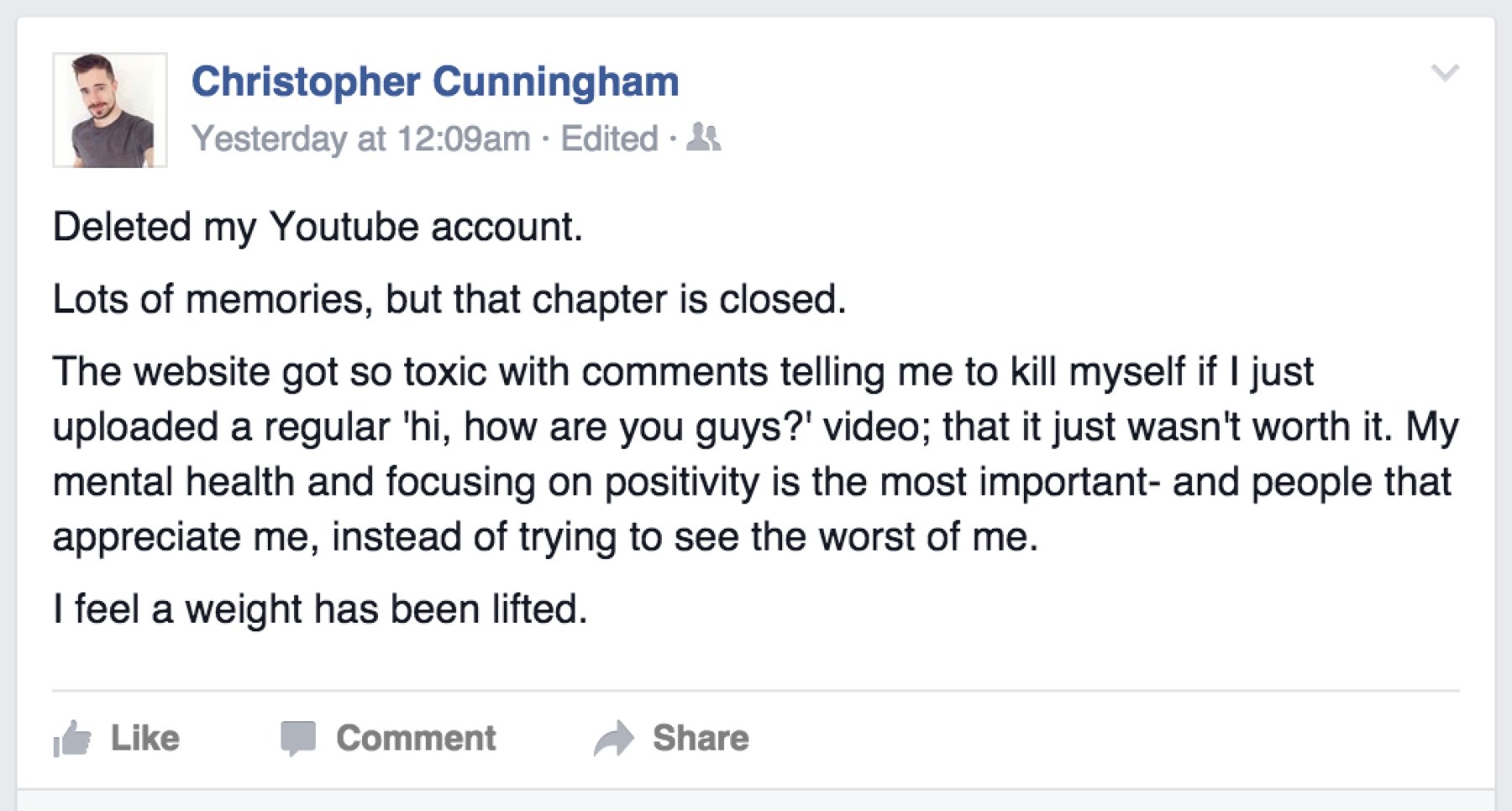 NewNowNext - newnownext.com
"Lots of memories, but that chapter is closed," he wrote. "The website got so toxic with people telling me to kill myself if I just uploaded a regular 'hi, how are you guys?' video; that it just wasn't worth it. My mental health and positivity is the most important-and people that appreciate me, instead of trying to see the worst of me. I feel a weight has been lifted."
Chris Crocker wanted to maintain his mental health above all else
Crocker further explained why he chose to abandon YouTube in a Facebook video:

"YouTube is a lot different than other platforms," he said. "It's a place where you can comment anonymously and you can leave kind of horrible comments, and I knew that for years and years and years. For years and years and years, it didn't bother me because I knew [that] it's not me that they hate, they just don't get that I play different characters and they just don't understand me. Eight years later ... I started to realize I couldn't read the comments anymore."
Crocker added that it became harder to read comments from people telling him to kill himself or calling him a slur. As a victim of mental health issues, it began affecting him.
"I started to realize I'm not that 19-year-old that doesn't care anymore," he said. "Things that I've been through ... depression, anxiety, and different mental health issues that I've tried to overcome that came into play in my mid-20s ... I realized that the environment of YouTube was something that I couldn't handle anymore ... I'm uploading a video saying 'hello' and they want me to die. I understand we're all human and sometimes people that leave comments don't even know the affect that they can have on you ... But I do know that you should always do what's best for you. If you're being bullied in comments or even in person, if you can get away from it, get away from it."
Crocker added that it's important to do what is right for you and your sanity.
"There's an empowerment in knowing your self worth and knowing when it's time to walk away from something," he said. "Like on [Facebook], I feel like we're a family ... It's not a place where people can leave anonymous comments."
He also said he never fully felt like he was a part of the YouTube community, as he never won any YouTube awards.
"It's almost like I was kind of something that happened that they wanted to push under the rug," he said. "If they had a big commercial of all [their viral] videos, I was never in it. And I'm like, I was kind of the first one to do talk shows [because of my YouTube videos]."
Many of Crocker's fans were upset and said he let the "haters" win by getting off YouTube. He responded in a Facebook comment by explaining that his mental health was more important to him than fighting YouTube critics for another moment:
"You don't understand what chemically struggling with depression and anxiety and other mental health issues is like. It isn't something you can control when you're already trying your best to think positively and you read stuff that makes you feel worthless. Even if you rationally know you ARE worth it: When you are having a low moment, it takes you off guard. We all have haters. We all have bullies but please try to remember: I had 50 million video views on ONE video. Of 98% hate. That followed me for years with haters that followed me for years on this site.Please for one second realize it isn't about being weak. The strongest thing you can do is what's best for you. I could've left it up and collected checks from here on out but it wasn't worth the negative feeling I got when logging on to upload a video. End of story."
Crocker later posted a positive Instagram photo and called on his fans to bring good energy into the lives of others:
"Do something today that makes someone happy," he wrote. "A compliment, a kind gesture, a phone call to remind someone you're thinking of them. Paying it forward at coffee shop. Anything.. The world needs more love. You never know what just a kind act can do for someone's day."
The story behind "Leave Britney Alone"
Crocker, a Tennessee native raised by his Pentecostal Christian grandparents, launched his career when he posted the emotional "Leave Britney Alone" video to YouTube eight years ago. At the time, Crocker was dressing in drag and even identified as a female in an interview for the "Maury Show." The video was dedicated to pop singer Britney Spears, who was heavily criticized in 2007 for her public meltdowns while struggling with mental illness. Crocker, then a 19-year-old living with his grandparents (he was born to teen parents who couldn't look after him themselves), took to the internet to say it was highly cruel of the media to make fun of her during a vulnerable moment in her life.

The video went viral and inspired many parodies, including one from comedian Seth Green:

Crocker told USA Today in 2007 that Spears was his hero because they were both Southerners and "easy targets."
"I always say Britney's been my mom," he said. "Britney's been there for me when my parents haven't."
Share your opinion
Have you noticed that social media makes personal problems more complicated?