Male Engineering Student Nails Sexism in the STEM Field
October 13th 2015
By:
Mechanical engineering student Jared Mauldin is going viral for highlighting sexism in STEM (Science, Technology, Engineering, and Mathematics) in a piece for the Easterner, the independent student publication for Eastern Washington University.
In a letter to the editor, Mauldin listed reasons why women in his line of work are at a disadvantage:
"While it is my intention in every other interaction I share with you to treat you as my peer, let me deviate from that to say that you and I are in fact unequal," he wrote. "I did not, for example, grow up in a world that discouraged me from focusing on hard science."
Mauldin also acknowledged some of the backlash women and young girls receive for demonstrating leadership skills, which some unfairly classify as "bossy" behavior.
"Nor did I live in a society that told me not to get dirty, or said I was bossy for exhibiting leadership skills," he continued. "I was not overlooked by teachers who assumed that the reason I did not understand a tough math or science concept was, after all, because of my gender. I have had no difficulty whatsoever with a boys club mentality, and I will not face added scrutiny or remarks of my being the 'diversity hire.'"
He wrapped up the piece on a positive note, claiming women in his line of work have already eclipsed him in success.
"So, you and I cannot be equal," he wrote. "You have already conquered far more to be in this field than I will ever face."
His note was well-received on social media and in the Easterner comments section:
A Mighty Girl Facebook page - facebook.com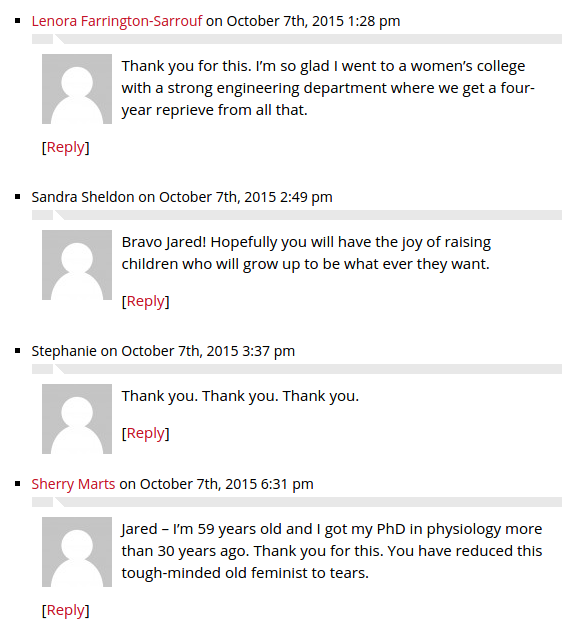 The Easterner - easterneronline.com
The shortage of women in STEM.
Tuesday, October 13 is Ada Lovelace Day, a day that according to the Guardian, is one "to celebrate inspirational women in science, technology, maths and engineering"—like Ada Lovelace a mathematician from the 1800s known as "the first computer programmer," for her work on what was then just an abstract Analytical Engine.
However, as noted by Facebook group A Mighty Girl, women are grossly underrepresented in STEM, particularly in engineering. According to the Congressional Joint Economic Committee, less than 15 percent of engineers are women. Joanne McGrath Cohoon, an associate professor in the Department of Science, Technology, and Society at the University of Virginia, told the American Society of Mechanical Engineers (ASME) in 2012 that just 18 to 20 percent of engineering students are women. Last year, research presented at the American Psychological Association's 122nd Annual Convention revealed that almost 40 percent of women with engineering degrees either flee the field or never even become engineers to begin with.
The importance of hashtag #ILookLikeAnEngineer.
Over the summer, OneLogin engineer Isis Wenger was the subject of major criticism after appearing in her company's promotional ads, which were scattered throughout the BART subway system, in the San Francisco Bay Area.
In the ad, Wenger is shown beside the words, "My team is great. Everyone is smart, creative, and hilarious." The ad was slammed by many online, with some saying Wenger does not look like an engineer. Wenger went on to write about the traumatic experience in a Medium blog post.
"The negative opinions about this ad that strangers feel so compelled to share illustrate solid examples of the sexism that plagues tech," Wenger wrote. "Some people think I'm not making 'the right face.' Others think that this is unbelievable as to what 'female engineers look like.' News flash: this isn't by any means an attempt to label 'what female engineers look like.' This is literally just ME, an example of ONE engineer at OneLogin. The ad is supposed to be authentic. My words, my face, and as far as I am concerned it is."
Wenger went on to ask readers to share the hashtag #ILookLikeAnEngineer to fight gender stereotypes about female engineers:
Share your opinion
Should we do more to encourage women in science and engineering?