Check Out These Children Defy Gender Stereotypes
October 15th 2015
By:
Kids are exposed to rigid gender stereotypes early in life, but not all of them abide by societal expectations of males and females. Boys are often encouraged to embrace masculine toys such as Legos and fake weapons, but some of them opt for dolls and dresses instead, and the same goes for little girls who feel more comfortable engaging in stereotypically "male" behavior. If they're lucky, the adults in their lives will support their interests.
In recent months, several children have made news for challenging gender stereotypes in powerful ways. Here are some inspiring kids who have defied gender stereotypes.
1. Mikki Willis' son Azai
Mikki Willis, founder of production company Elevate, went viral on Facebook over the summer after sharing a video explaining why he let his son Azai get a mermaid doll for his birthday.
In the video, Willis says that Azai recently received two of the same gift for his birthday, prompting them to go to a local toy store and exchange one of the presents for something else. Willis then reveals a mermaid doll, which he says Azai picked out himself.
"How do you think a dad feels when a son wants to get this?" Willis says, holding up the mermaid.
"Yeah!" Azai shouts with joy.
"Yeah!" Willis cheers. "That's how I feel."
Willis then shifts the camera over to his other son and says, "Right Zuri?"
"I let my boys choose their life," Willis continues. "That's how mama and I are. We just say whatever. We say yeah, choose it. Choose your expression, choose what you're into, choose your sexuality, choose whatever. You have my promise right now, both of you as we sit in this hot car in this parking lot, you have my promise forever to love you and accept you no matter what life you choose."
2. Paul Henson's son, Caiden
Last week, ATTN: covered the story of a little boy named Caiden who asked to be "Frozen" heroine Elsa for Halloween. Paul Henson, the father, agreed to let him portray the Disney character for the big night and went viral after sharing a photo of him in costume:
"Anyone that knows us, knows we generally let Caiden make his own choices, to an extent," Henson wrote. "Well, he has decided on a Halloween costume. He wants to be Elsa. He also wants me to be Anna. Game on ... Halloween is about children pretending to be their favorite characters. Just so happens, this week his is a princess."
Henson was floored to learn his post was blowing up on social media, with tons of people celebrating his parenting approach.
"I woke up the next morning and I was like, 'holy crap it's been shared a couple thousand times,'" Henson told BuzzFeed News. "I couldn't log into my Facebook."
Henson felt he wasn't "doing anything out of the ordinary" by letting his son be Elsa, but said parents should support their kids no matter what.
"Support your children, love them, they look up to you as their heroes," he said. "Why not help them achieve their goals?"
3. "Princess Toby"
Earlier this month, popular Facebook page Lizzy the Lezzy shared an image of a little boy named Toby wearing a red princess dress. The photo has since received more than 25,000 likes: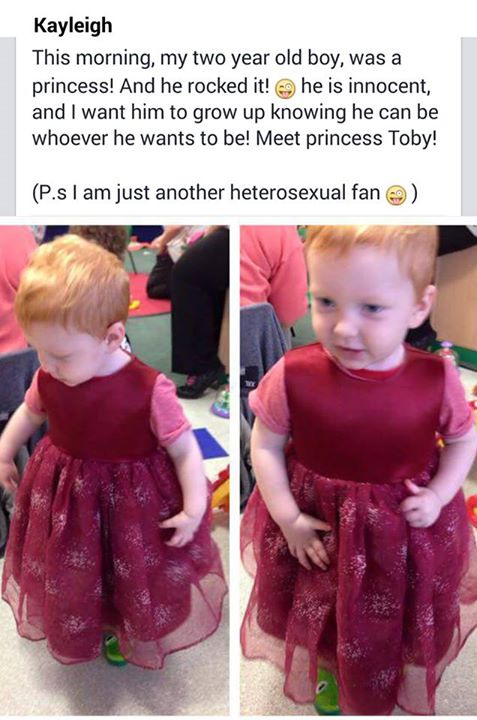 Lizzy the Lezzy - facebook.com
"[H]e is innocent, and I want him to grow up knowing he can be whoever he wants to be," Toby's mother wrote. "Meet Princess Toby!"
4. Another Elsa fan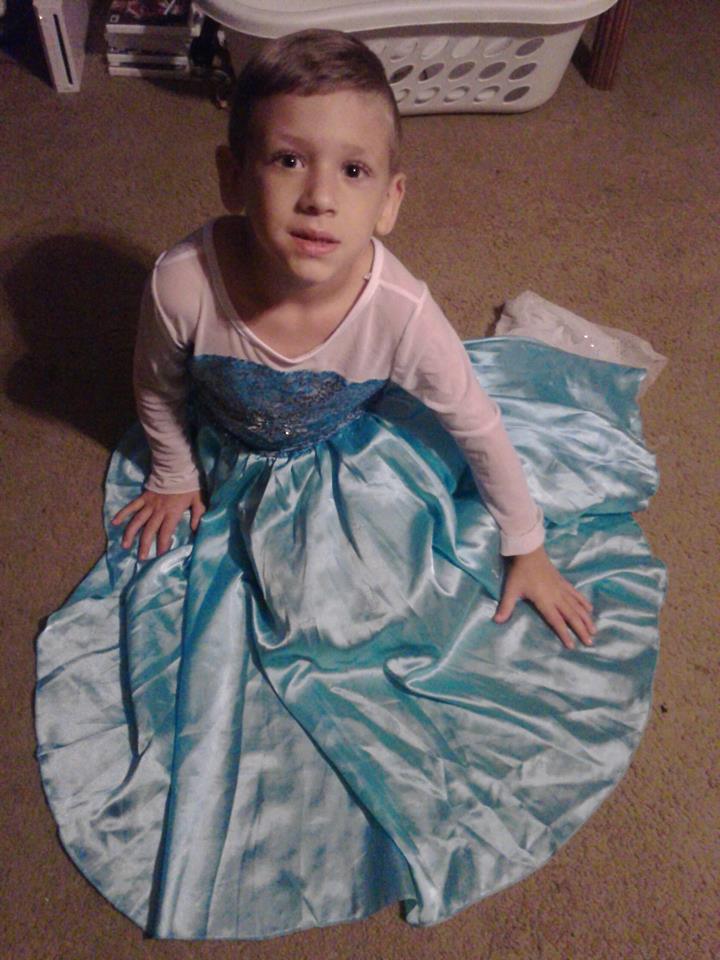 Fein Cirillo Facebook - facebook.com
Proud parent Fein Cirillo responded to Lizzy the Lezzy's "Princess Toby" post by sharing a photo of Cirillo's son in an Elsa costume.
"He will probably [either] grow out of it or into in," Cirillo wrote. "Either way, whatever makes him happy! I asked him if he was Queen or King Elsa. He told me he was Queen since Elsa was a Queen lol. Love it!"
5. Gender nonconforming campers
During the summer, ATTN: wrote about a secret gender nonconforming camp that fosters gender fluidity among kids. Photographer Lindsay Morris has been taking pictures of the camp for years, and though she keeps details of the camp under wraps to protect the children, she has shared photos of them many times to show support for gender fluid children and individuals.
"Children are affected by anti-gay prejudice and adults have a responsibility to address it," Morris said in a recent interview with the Huffington Post. "They have this innate ability and eagerness to have honest conversations, and when these discussions are presented in a non-judgmental fashion, the children benefit."
Share your opinion
Do you think gender is fluid?