PornHub Just Took a Stand Against Revenge Porn
Earlier this week, online porn giant Pornhub announced that they would take a stand against revenge porn by streamlining the process of reporting nonconsensual content, which typically constitutes explicit videos uploaded on the internet without the consent of the someone on camera. It's just the latest, but perhaps one of the more significant companies to take a stand against the genre recently.
The company, one of the largest online destinations for porn, said that because of its size, it was important that Pornhub be at the forefront of quelling one of the more uniquely modern and humiliating forms of online harassment. "With nearly 60 million visitors to Pornhub daily, it's imperative that we remain ahead of this perpetuating victimization of innocent individuals and continue to combat this illicit behavior," the company's vice president, Corey Price, said in a statement. "We will persist in enacting measure that we believe will strongly reinforce Pornhub's stance against revenge porn."
"We are fully committed to the removal [of] this type of content from our site, in the pursuit of instilling a sense of safety and community that keeps our users' minds at ease," Price said.
With the new reporting tool, visitors to the site can use an "easy-to-use submission page for removal" of an offending video. The videos or pictures will be reviewed and taken down, and in a notable departure from a what has proved a bureaucratic nightmare in other revenge porn removal cases, the website does not require government-issued identification to complete the process.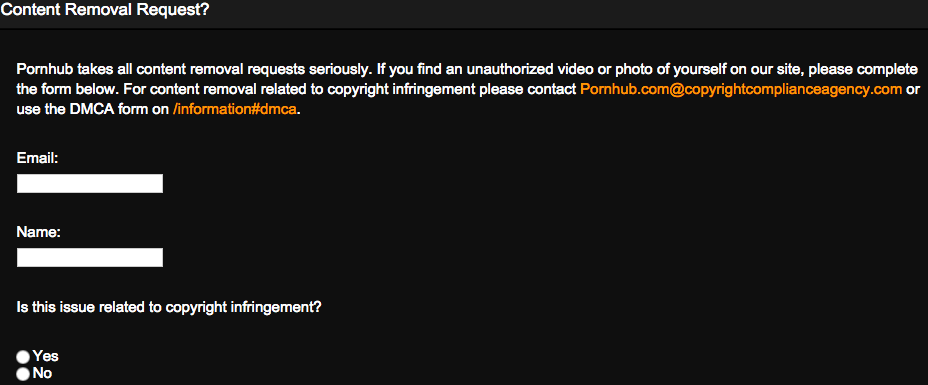 Pornhub - pornhub.com

"The Pornhub Network has always stated that nonconsensual videos violate our policy and because of this firm stance, over the past two years our site has seen a 38% drop in revenge porn take down requests. Now that we have announced a new, concentrated process, with an official submission page, we expect that percentage to only increase," said Price.
Other online companies, including Twitter, Google, and the forum site Reddit have taken stands preventing the proliferation of revenge porn. Earlier this week, more than 50 major tech companies, including Google, Facebook, Twitter, Yahoo, and Microsoft, launched an online resources hub with the state of California to help victims report and remove photos, as well as provide educational tools to help local law enforcement agencies investigate and prosecute revenge porn cases.
Revenge porn cases in California can land perpetrators in jail for up to six months, and a $1,000 fine. 26 U.S. states have some law against unauthorized distribution of explicit images, and 11 others have legislation pending, though many laws treat revenge porn cases as harassment, not privacy violations. There is no federal law blocking against nonconsensual pornography.
Check out John Oliver's take on revenge porn on Last Week Tonight:
Share your opinion
Have you or someone you know been a victim of revenge porn?