This Instagram Star Called B.S. On the Industry That Made Her Famous
November 2nd 2015
By:
From a glance at her social media platforms, Instagram star and Australian teen Essena O'Neill appears to have an awesome life. She is attractive, she's in good shape, and she models.
But O'Neill, who has more than 590,000 Instagram followers and 260,000 YouTube subscribers, quit social media despite the fact that it made her famous—and she revealed the secrets behind being social media famous.
Exposing the industry.
Beyond revealing her true mental state during this period of her life, O'Neill's decision exposes an industry, which portrays staged photos as reality. In many photos she appears to be hanging out, but in reality she was being paid to represent a specific product or brand.
"I'm the girl who had it all and I want to tell you that having it all on social media means absolutely nothing to your real life," she says in the video. "Everything I was doing was edited and contrived and to get more views ... Everything I did was for views, for likes, for followers."
She says that she used to spend hours doing shoots just to get a few good photos for social media. O'Neill also took photos with people just for the sake of posting the images on social media, a move she says was not about actually connecting with those people, but gaining attention.
Here are some of the photos she edited to provide more context to the captions: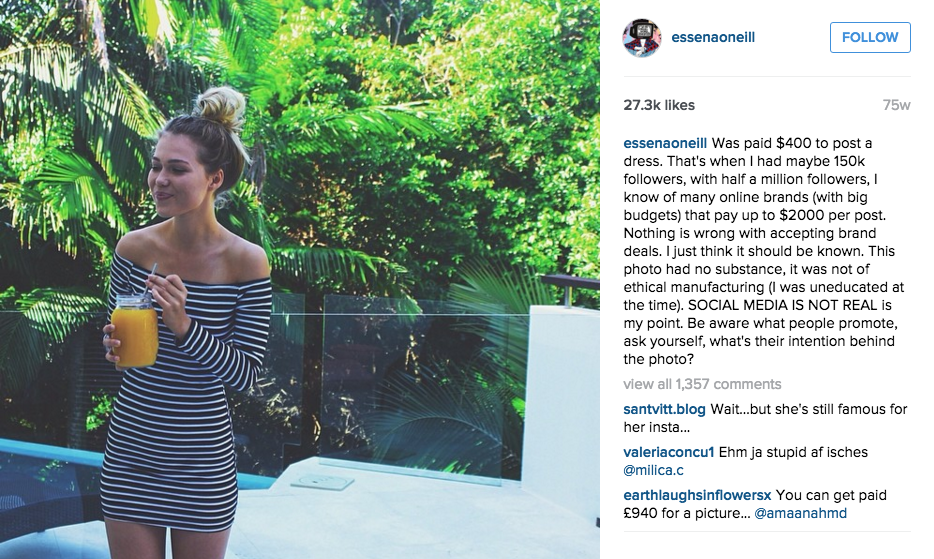 Essena O'Neill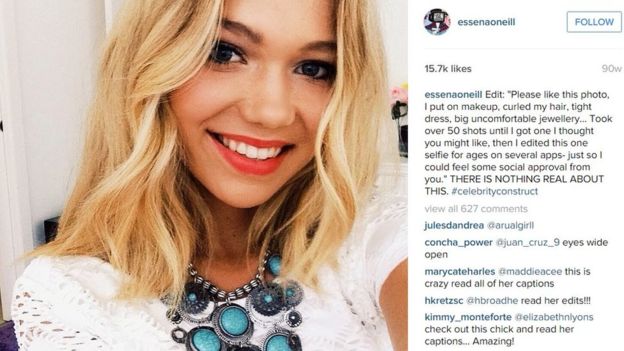 Essena O'Neill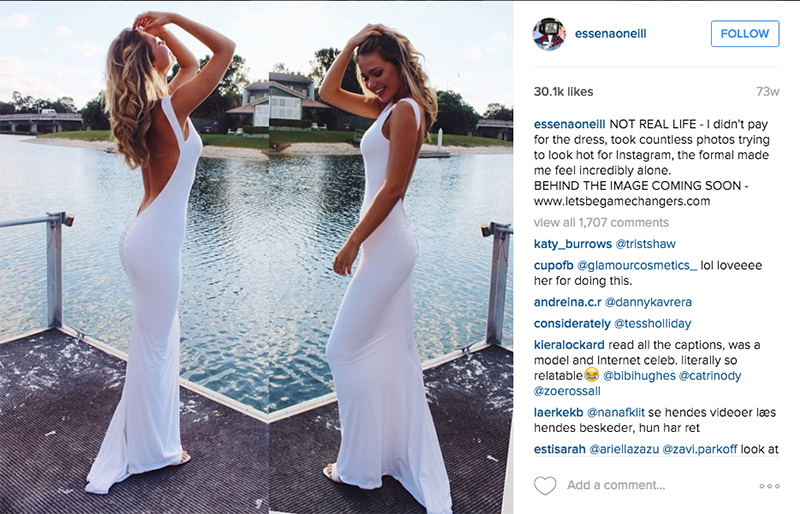 Essena O'Neill
Social media and reality.
O'Neill says social media is dangerous because it does not reflect reality and being an Instagram model has given a completely inaccurate picture of her real life, which she says has "never been more miserable."
Despite being represented by a major agency for her modeling and constantly receiving offers for promotional gigs and sponsorship opportunities, she says she has been "fucking depressed" this whole time.
"Taking myself off social media is a wakeup call to anyone and everyone who follows me," she says in a shaky voice. "I had the dream life. I had half a million people interested in me on Instagram. I had over a hundred thousand views on most of my videos on YouTube. To a lot of people, I made it."
Though usually dolled up, O'Neill tearfully reveals all of this with no makeup on in an emotional video. She says her decision to quit social media is for her insecure 12-year-old self who wanted nothing but Internet recognition. Having achieved it as an adult, O'Neill says it's not what it seems. At 12 she had many creative interests, which she has since abandoned in favor of social media fame. O'Neill's Instagram page remains active, but she has deleted over 2,000 posts and edited captions on certain photos to reveal what was actually going on when those images were taken.
Many have pointed out that social media distorts reality and can even cause those without popular social media pages to feel inadequate and sad. As ATTN: has noted before (and O'Neill mentions in her clip), social media posts are very much edited and manufactured to portray an ideal version of someone's life. For instance, it's common to see vacation photos on social media, and this can make people feel left out if they can't afford to go on a trip or can't get time off work to do something cool. This is why social media is known for triggering FOMO (Fear Of Missing Out) in many young people.
"We don't want our friends to think we're lonely, so we post photos and statuses that show how much fun we can have," Elite Daily's Keena Alwahaidi wrote over the summer. "We don't want anyone to know we eat a lot, so we post photos of artsy salads. Social media skews our perception of reality... Most of us don't have perfect lives. So why say otherwise online? Maybe because that's the fun of it too."
Share your opinion
Have you noticed that social media makes personal problems more complicated?