Essena O'Neill Is Being Criticized Over Quitting Social Media
November 9th 2015
By:
Instagram star and Australian teen Essena O'Neill went viral earlier this month after calling out the industry that made her famous and arguing that social media is a poor representation of reality. Now, some are questioning her intentions.
O'Neill, who had more than 590,000 Instagram followers and 260,000 YouTube subscribers before she deleted these accounts altogether, received a lot of attention online after posting a tearful video explaining her decision to leave social media.
Some called her out for using her social media platforms to condemn social media itself.
O'Neill, who has rebranded her website to promote a more genuine social media experience, went on to delete most of her social media accounts after receiving this flak.
YouTube stars Nina and Randa criticize Essena O'Neill
In response to O'Neill's video, which has since been wiped from the internet, YouTube stars and sisters Nina and Randa, say they're buddies with O'Neill and that her video was nothing more than a stunt.

In the clip, the sisters say O'Neill's trip to Los Angeles was not about work as O'Neill claimed, but to visit friends. The sisters say she stayed with them while in Southern California and questioned her for saying she reached a "pinnacle of success" on social media.
"When you're sleeping on my bed, I'm picking you up from the airport, I'm like paying for your food and a place to stay, to me, it's not the pinnacle of success," the sisters say in the video.
They also shoot down O'Neill for saying that she had hundreds of thousands of followers on social media, claiming she only got popular because of her anti-social media video.
"She's got more Instagram followers than ever because of this publicity stunt... and on YouTube as well," they say.
They also say that O'Neill made her video after a bad breakup, which likely impacted her emotional state when she quit social media. They also say social media isn't all bad as O'Neill seems to say.
"When things ended between them, she just hated L.A., along with everyone along with it," they say. "When this relationship ended, she had completely changed. She was like, 'I'm not wearing makeup, I'm not doing brands, I'm moving back to Australia, I just want to be with my family.' Which is totally fine, but it was literally like a complete [180] after he broke up with her."
The sisters also felt hurt by O'Neill's claim that all social media stars she met in L.A. seemed miserable. The sisters had this response:
"How are any of us fake to you? We opened up our houses. Our families fed you dinner. We took you to fun places thinking this is a friendship, but then you're going around saying it was all fake. What was fake about the relationship you had with us? Who are you talking about?"
Essena O'Neill's response to Nina and Randa
O'Neill responded to the sisters with a statement on her website: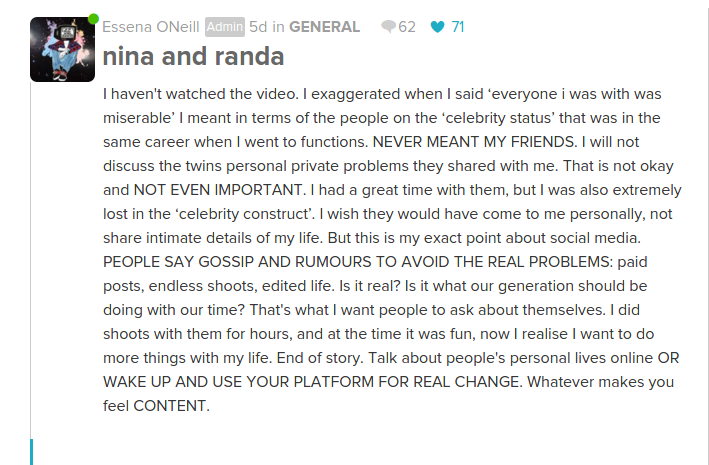 Essena O'Neill - muut.com
"I exaggerated when I said 'everyone i was with was miserable' I meant in terms of the people on the 'celebrity status' that was in the same career when I went to functions," she wrote. "NEVER MEANT MY FRIENDS. I will not discuss the twins personal private problems they shared with me."
Nina and Randa's brother Willie Nelson weighs in on Essena O'Neill
Nina and Randa's brother Willie Nelson also made a video about O'Neill's condemnation of social media, confirming that she stayed with him and their family during her trip:

Nelson adds that he doubts O'Neill is as successful as she claims since she stayed with friends in Los Angeles. He agrees with his sisters that this video was fueled by her breakup.
"I think Essena came out to L.A. and was very overwhelmed... just couchsurfing," he says. "I don't like that Essena is saying everyone is fake when everyone was nice to her."
Essena O'Neill's condemnation of social media
As ATTN: reported last week, O'Neill made headlines for removing more than 2,000 Instagram photos and editing the captions of the pictures that remained to provide more context to the images in question. For example, she posted a lot of photos of her that appeared to be natural and spontaneous but were actually promotions for brands that paid her to advertise their products. She also edited captions of her modeling shots to add details about the grueling experience of modeling despite what many assume.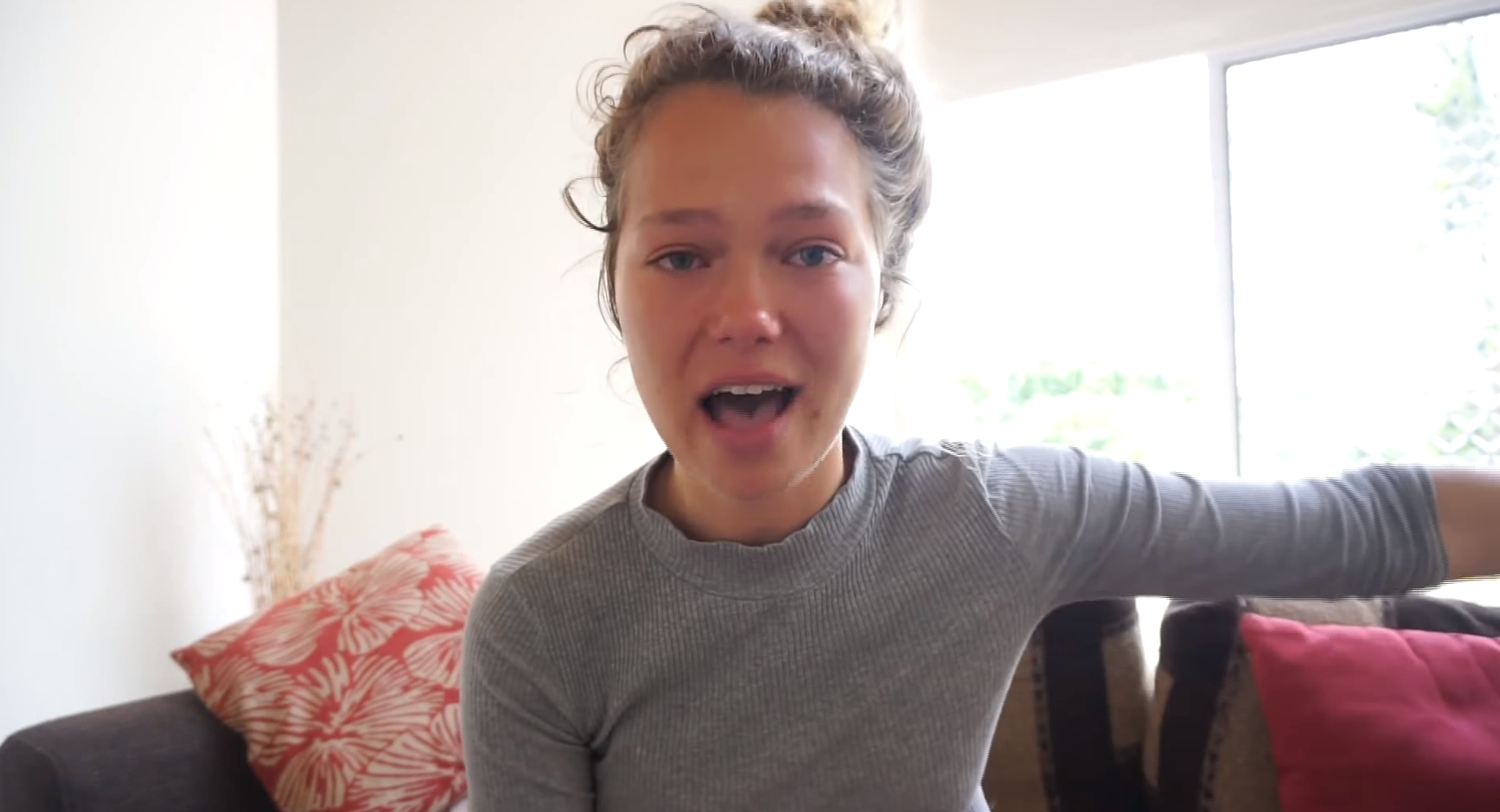 Essena O'Neill
"I'm the girl who had it all and I want to tell you that having it all on social media means absolutely nothing to your real life," she said in her video. "Everything I was doing was edited and contrived and to get more views ... Everything I did was for views, for likes, for followers."
Share your opinion
Have you noticed that social media makes personal problems more complicated?