Actress Gabourey Sidibe Had the Perfect Comeback to Getting Fat Shamed for a Sex Scene
November 9th 2015
By:
Actress Gabourey Sidibe has a message for her haters: plus-sized people have sex, and if you have a problem with her doing it, she's too busy with work to care.
After Sidibe's "Empire" character Becky had sex with her boyfriend in a recent episode, many took to social media to express discontent with the fact that Sidibe, a heavier woman, would be shown in a sexual way on TV.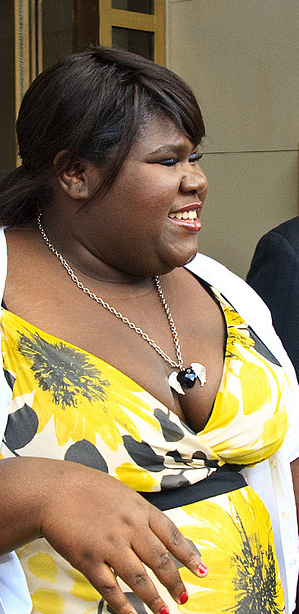 Gordon Correll/Flickr - flickr.com
Gabourey Sidibe's full response to sex scene fat shamers.
Sidibe, however, hit back at her critics in a powerful blog post for Entertainment Weekly, saying she had "the most fun ever" filming the scene despite her nerves and that no one can ever take that pride away from her. She also acknowledged that she, a "dark-skinned woman," had the opportunity to perform a sex scene on television:
"I felt sexy and beautiful and I felt like I was doing a good job. I'm very proud of the work we all did to make that scene a great opening for the episode. I keep hearing that people are 'hating' on it. I'm not sure how anyone could hate on love but that's okay. You may have your memes. Honestly, I'm at work too busy to check Twitter anyway. #Booked. Hope you enjoy next week's show!"
Many came to Sidibe's defense as well:
This isn't the first time Sidibe has been mocked for her appearance on social media. Last year, she shared a sarcastic tweet response to critics who said she looked overweight at the Golden Globes:
Body-shaming in television sex scenes
Conventionally beautiful, thin women are often encouraged to have sex scenes on TV, but those who don't and have curves or less conventionally portrayed body frames sometimes experience backlash for getting frisky on screen. "Girls" creator Lena Dunham has been criticized many times for showing her curves in sex scenes on TV. "Game of Thrones," also an HBO show, doesn't get the same kind of criticism for the nude scenes featuring Emilia Clarke, whom Esquire just voted the Sexiest Woman Alive.
During a Television Critics Association panel last year, the Wrap journalist Tim Molloy came under fire for confronting Dunham about the striking difference between her sex scenes and those on "Game of Thrones," saying Dunham's scenes don't turn people on. This was heavily disparaged because it seemed to imply that Dunham shouldn't do sex scenes because of her frame. Here's what Molloy said:
"I don't get the purpose of all the nudity on the show. By you particularly. I feel like I'm walking into a trap where you say no one complains about the nudity on 'Game of Thrones,' but I get why they're doing it. They're doing it to be salacious. To titillate people. And your character is often naked at random times for no reason."
Dunham gave him a heated response.
"It's because it's a realistic expression of what it's like to be alive, I think, and I totally get it. If you are not into me, that's your problem."
Share your opinion
Do you think fat-shaming is a form of discrimination?