Woman's Date Requested a $5 Refund After She Rejected Him
November 13th 2015
By:
Most people take unsuccessful dates as a loss and move forward. But U.K.-based blogger Lauren Crouch learned the hard way that some people want their money back after failed dates. Crouch, who writes about dating on Tumblr blog "No Bad Dates, Just Good Stories," claims that she went on a date with a guy who asked her to repay him for the $5 he spent on her coffee after she turned him down.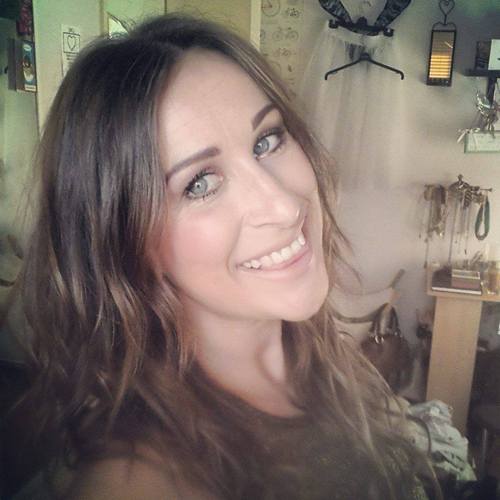 Tumblr/nobaddatesjustgoodstories - tumblr.com
Crouch wrote on Tumblr that she grabbed coffee with a Tinder date who swiftly invited her back to his house for dinner. He explained that he was getting a delivery from grocery service Ocado that night, but she declined the offer to go to his home because they weren't well-acquainted yet. He went on to send her a text about getting together again, but when she said she didn't feel like they had much chemistry, he asked her to repay him for the coffee he bought for her, the equivalent of $5. She jokingly offered to donate to his charity of choice instead, but he wanted the money for himself so he could use it on another woman.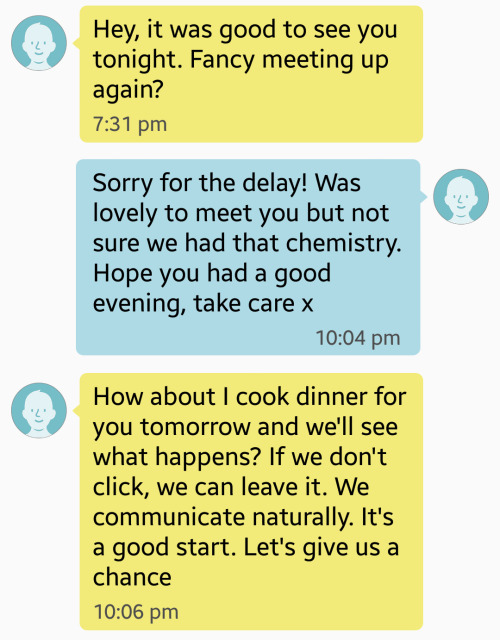 No Bad Dates Just Good Stories Tumblr - tumblr.com
No Bad Dates Just Good Stories Tumblr - tumblr.com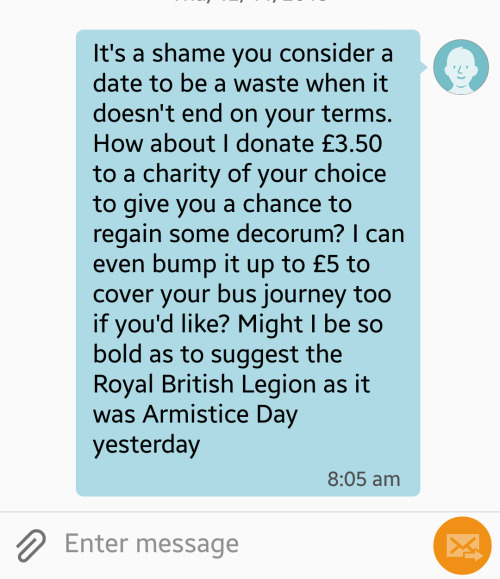 No Bad Dates Just Good Stories Tumblr - tumblr.com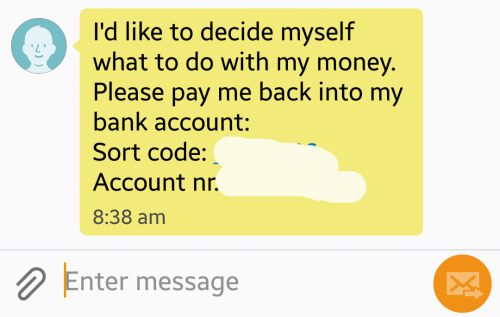 No Bad Dates Just Good Stories Tumblr - tumblr.com
Crouch wrote on her blog: 
"Yes you do decide yourself what to do with your money, and last night you decided to spend it on a coffee. I don't come with a money back guarantee. Dates aren't commodities. I actually felt angry, because as you'll know if you read this blog often, I am a massively big believer in women always offering to pay for dates."
The man's reaction may have been extreme, but he's far from the only guy to respond in such a bizarre way after getting turned down by a woman. There are many communities online dedicated to calling out men for their immature reactions to female rejection.
Instagram account Bye Felipe, which has 375K followers, is an online hit because it publishes rude exchanges from men on various social media platforms. The Bye Felipe movement comes from the classic "Bye Felicia" line in the film "Friday." The exchanges are meant to make people laugh, but also to highlight the severe issue of female harassment on social media, dating apps, and the web.
Share your opinion
Do you think women should have to pay men back for dates that go poorly?