There's A Pattern of Terrifying Attacks In The U.S. Much Scarier Than ISIS
November 28th 2015
By:
Updated: The exact motives of the 57-year-old white male, Robert Lewis Dear, who is accused of opening fire at a Planned Parenthood in Colorado Springs, are beginning to emerge. Dear spoke of "baby parts," and according to CNN, he voiced anti-government, anti-abortion views to law enforcement officials. The police, however, have yet to disclose an official motive.
The attack, which left three dead—a University of Colorado Colorado Springs police officer named Garrett Swasey and two civilians—is already being politicized.
Many have taken to Twitter to express their confusion, sadness—and in some cases cheer—over the attack. Some, including model Chrissy Teigen, shared their support for Planned Parenthood:
For others, the event brings to mind the number of people killed by domestic terrorism in the United States—especially compared to the number of people murdered by Islamic extremists.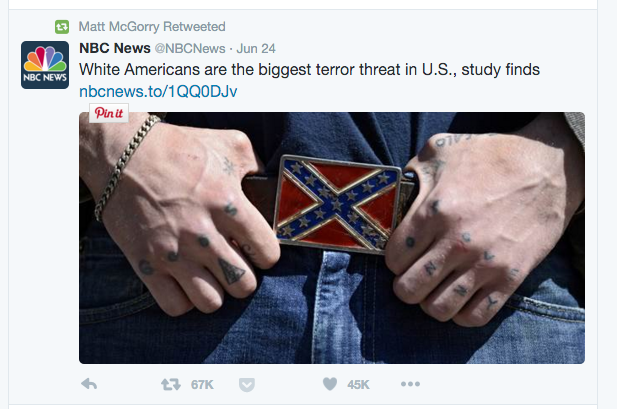 Matt McGorry / Twitter - twitter.com
The study in question.
The study cited above comes from the Washington, D.C.-based think-tank, New America Foundation. It looks at the number of Americans killed after 9/11 by jihadist-related terrorism versus the number of Americans killed by what the study calls "right wing extremists." The study, which was last updated in August 2015, found that 26 people were killed by jihadists and 48 people were killed by homegrown extremists (many of them white).
"The dataset was originally a collaboration between the New America Foundation's National Security Studies Program and Syracuse University's Maxwell School of Citizenship and Public Affairs," the New America Foundation explains on it's site. "It underwent a full review, update, and expansion in 2013. The review was undertaken by Jennifer Rowland, a Program Associate with the New America Foundation, and David Sterman, a Master's Candidate at Georgetown's Center for Security Studies, working together with Peter Bergen."
The organization defines jihadists as those who "have been widely reported to have worked with or been inspired by al-Qaeda and its affiliated groups." Non-jihadist extremists "include individuals inspired by right wing, left wing, and other non-Jihadist political ideologies, who have been indicted for terrorism related crimes" (and the organization makes it clear that the non-jihadist group's data is "less developed").
This is not the only report highlighting the threat that homegrown extremists pose to Americans; a March 2015 Anti-Defamation League report lists instances of domestic terrorism from 1995 through the end of 2014.
"Violence stemming from anti‐government extremists, white supremacists, anti‐abortion extremists and other extreme right movements occurs with regularity each year, typically dwarfing the amount of violence from other domestic extremist movements," the ADL reports.
From September 11, 2001 to the end of 2014, the ADL—which used what some called a "restrictive" definition of homegrown terrorism—found that there were 34 attacks resulting in 38 fatalities.
How law enforcement views the threat.
Another June 25, 2015 study from the Triangle Center on Terrorism and Homeland Security, examined how law enforcement examines the threat of violent extremism.
The report, which looked at a vast swath of local and state law enforcement agencies, found that "74 percent reported anti-government extremism as one of the top three terrorist threats in their jurisdiction; 39 percent listed extremism connected with al Qaeda or like-minded terrorist organizations. Environmental extremism was identified as a top threat by a third of the agencies." Nearly three-quarters of law enforcement agencies cited anti-government extremism has a "top three" threat versus just over one-third citing Islamic extremism.
The current political climate.
Jihadist-fueled terrorism has been a flash-point in current political dialogue—especially after the deadly terrorist attacks in Paris, which were conducted by the Islamic State.
In the wake of the attacks, Islamophobia has gripped some GOP politicians, who have spoken out against taking in Syrian refugees out of fear that Islamic State operatives would be among them (despite a rigorous screening process, which you can learn more about below).
Updated Nov. 29: This post was updated to reflect Dear's alleged comments made to investigators and to update his age to 57 not 59 years old.
Share your opinion
Is violence a concern for you while you travel?