Rachel Harris Gives Us a Glimpse Into Playboy's Future
December 10th 2015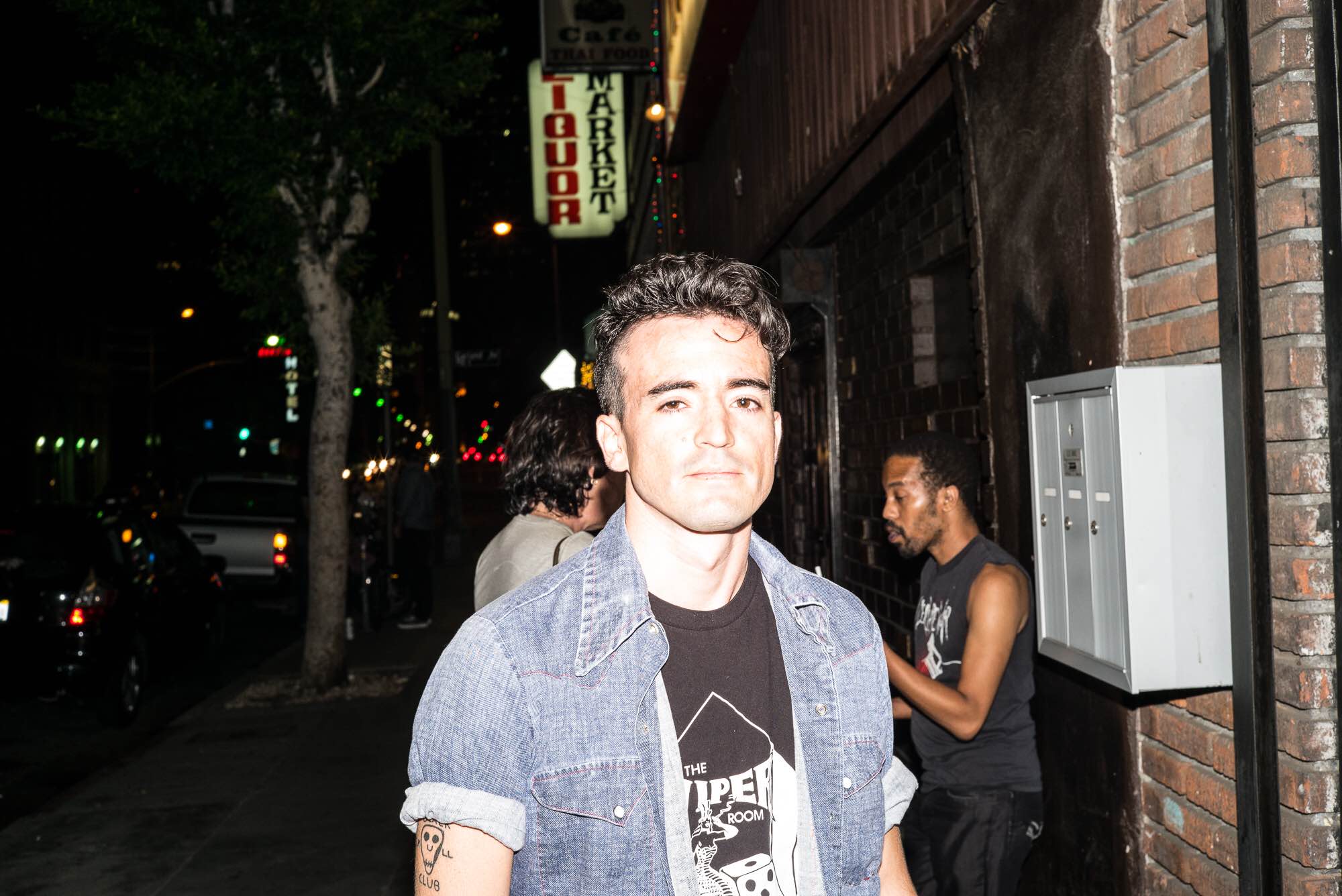 By:
The blossoming career of L.A.-based artist Rachel Harris is already an anomaly, so it's not surprising that several months after her first art exhibit, the 24-year-old was anointed Playboy's Miss November 2015. Don't be fooled, though. Harris may look the part, but she's not your run-of-the-mill Playmate. With her second art show, "Strung Out in Heaven" — debuting at The Well in Los Angeles on Dec. 11 — Harris is breaking a new mold that goes beyond mere aesthetic.

The timing is propitious. In October, Playboy announced a strategic shift away from its usual M.O., saying it would no longer publish nude pictorials. The move was met with mixed criticism, but it marks Harris as among the last subjects in a long litany of skin that began with proto-Playmate Marilyn Monroe and ends with ultimate centerfold Pamela Anderson.
The magazine's platform is still in a state of flux, and some are hopeful its new feminist shift isn't entirely a marketing ploy.
But as the dust settles, Rachel Harris stands apart as Playboy's dark star. Her body may be canvas for the male gaze, but she's nonetheless got canvases of her own and is using Playboy to her advantage. "The art world is constantly inspired by the female form," she told the magazine. "Playboy is giving me the opportunity to be represented as a public artist."
Harris may very well be one of the few Playmates whose artistic aspirations won't be tainted by baring it all. In a recent Washington Post article, Miss September 1963, Victoria Valentino, wrote about her negative experiences as an actress after she posed nude, and Valentino sees Playboy's rebranding as a move toward "dignity" and "self-empowerment."
Not so Harris, who has no qualms letting the audience in on who she is. "Posing nude didn't bother me," she told ATTN:. "I'm honored that I get to be one of the last. I'm all about history and tradition, and I take a lot of pride in the fact that I get to be an original Playmate."
While she accepts the Playboy mantle of blond bombshell, Harris' approach makes her an exemplar of the new era of women who own their own public personae. For Harris, being a Playmate is just one more thing: The recent art school graduate's visions go well beyond the pop nostalgia of bunny ears and bustier.
I attended Harris' first art show in April at Rhabbitat gallery in Los Angeles — the same place she met Heidi Cortez, the woman who would become her manager and book her for Playboy. The show featured a collection of textured, aphotic work inspired by the early Norwegian black metal scene and was wrought from construction material Harris obtained while remodeling her downtown loft/art space.
We were able to catch a hot minute with the busy Rachel Harris to talk about her new art show, life as a Playmate, and her thoughts on the future of an iconic brand.
ATTN: Tell us about your show, "Strung Out in Heaven."

Harris: The event is meant to be an experience, which is why it's only being shown for one day. It's based on psychedelic rock, which was challenging for me, because I've never worked with colors, and I don't know why I thought, "Oh, I'm just going to go for this polar extreme difference." This collection has been eating at my soul, because it's not something I'm used to: all this color. I'm actually very nervous to show it. I don't know how the reaction is going to be, just because I don't know for myself how I feel about it. It's the same texture and materials as my previous work, but the pieces are a lot bigger. There'll be a lot of UV and reflective-light effects. The whole space will be part of the art piece, and I'm hoping people will take photos with it and make it more of an experience in itself.
ATTN: Between just getting back from Art Basel in Miami Beach and preparing for your upcoming show, you must be swamped.
Harris: If somebody saw my schedule, they would be really concerned for me. It's been difficult finding a balance. Art Basel was sort of evidence of my parallel universes. During the day, I was in the art scene, meeting with different galleries and artists and my art dealer. And then at night I was doing the Playmate/model scene, going to parties and hosting events. Normally, people are sleeping all day and resting off their night, or working all day and then sleeping all night, but I was doing both, living this double life. Seeing it in that light really wore me out.
ATTN: So you're still involved with Playboy even though November has come and gone?
Harris: We [Playmates] get hired to do appearances more often than you would think. My present contract is two years, so I'm definitely still involved in a big way. I'm just involved, probably, in a different manner than the other girls.
ATTN: Because the magazine understands that you're an artist.
Harris: Yeah! I'm actually hoping to do some art projects with them and collaborations with all these influential Bunnies.
ATTN: Being that you're an artist and not a model, did you have reservations about posing for Playboy?
Harris: My only reservation was that it could potentially, in the fine art world, be construed to demean my art. Because, generally, you're not supposed to sell yourself with the art. But personally, I've noticed a change in that. A lot of personality artists and people are actually becoming the face of what they create. I think that has a lot to do with social media and people wanting to know about the artist and who they are.
ATTN: Has the art community been receptive to your work?
Harris: Honestly, I don't know. I haven't actually presented my work to, like, an "elite" audience yet, you know what I'm saying? I mean, it gets kind of, … people will see the art and say, "Wow, that's amazing, I'm really into this." And then they find out that I'm a Playmate, or they find that I'm literally just who I am — this blond, little, sweet girl — and it's almost off-putting to them. But I kind of enjoy challenging people and changing their minds about what they think. Nobody thinks that I build this stuff myself, and I do. You look at my hands, and they're cut up. They're super cut up. During Art Basel at night, everybody's nails looked all nice, and my hands were swollen and covered in gashes, and people were like, "Dude, are you all right?'"
ATTN: How do you deal with that kind of bias? Do you try not to think about it?
Harris: I think I'm going to have to be diligent in my practice so that people realize that I actually studied this, and it's not a gimmick. I've seen articles about me that are, like, "Playmate likes to paint in the nude," which is a cute fantasy, and if that's what my collector wants to hear, then fine. But in reality I'm a super diligent, very hard-working artist who went to school for this.

ATTN: The centerfold has always been the nucleus for Playboy. In the past (and speaking as someone who hoarded his father's collection as a youth), Playmates have been packaged to the male audience as potential trophy wives. You guys fill out the typical stat sheet of measurements, hobbies, aspirations, the ideal guy, turn-ons, and turn-offs, etc. What are your thoughts on traditional expectations for women? Is getting married a priority for you?
Harris: I mean, I think, eventually, yeah. I just got out of a long relationship of four years, but I've always been a nurturer, and I've always enjoyed having a partner. But as far as preparing myself for a role as a perfect wife? Not exactly. My focus is on way too many other things.
ATTN: Did Playboy have an influence on you growing up?
Harris: Yes and no. I grew up in Southern California, so I always knew about it, and it was something I found interesting. But I never thought of myself in that light. I never thought in a million years I could be viewed as any kind of sex symbol. And when I was presented with the [Playmate] position, I was shocked and flattered. I'm really shy, and I just don't spend a lot of time out in the social scene. [Modeling] wasn't something I thought about. But when they insisted that I'd be really good for it, I was honored. And I think they did a good job in presenting me in a tasteful way. I don't feel embarrassed about it in any way.
ATTN: What are your thoughts on Playboy's shift away from nudity?
Harris: I think that they know what they're doing. I can't really comment on it too much, but I think that anything that they've decided to do is going to be positive. They're a super-smart company, and anything that's good for Playboy is good for me, because it's an actual team. I can call in and say, "Hey, what do you think about this or that project?" It's like being a part of a family, honestly. It's not like Maxim, where you just shoot for the day, take your check, and go home. A Playmate is a Playmate for life, and I can always go to them for anything.
ATTN: So overall — despite your struggle with bright colors — you're pretty optimistic about the future?
Harris: I think time will tell, honestly. Right now, I'm really enjoying the ride, and I love being a part of Playboy, and I love this social moment in my life, because I do spend a lot of time by myself, and this is kind of pushing me to be the person that I might actually, or potentially, be.
ATTN: There's still a lot to prove.
Harris: I'm in that weird part of my life where I'm trying to find where I fit and also coming to terms with the fact that I might not fit anywhere.
Share your opinion
Do you support Playboy's shift away from nudity?