People Are Loving Alyssa Milano's Daring Breastfeeding Post
December 28th 2015
By:
Alyssa Milano, an actress and well-known breastfeeding advocate, just shared a bold photo of herself breastfeeding her one-year-old child, Elizabella. Milano has been outspoken about society's taboo around breastfeeding in public, arguing that women should not be discouraged from feeding their child because some people are bothered by breasts.
Milano's post received more than 33,000 likes on Instagram and more than 137,000 on Facebook, with many commenters thanking the actress for her continuous fight to normalize breastfeeding.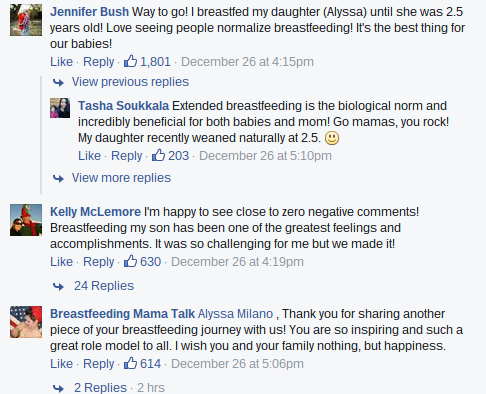 Alyssa Milano Facebook - facebook.com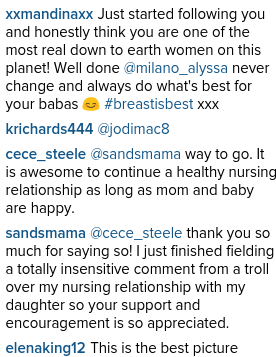 Alyssa Milano Instagram - instagram.com
Like many mothers, Milano is no stranger to breastfeed shaming. When Elizabella turned one in September, Milano posted a photo on Instagram of herself breastfeeding the child as a newborn. The picture was met with lots of backlash on social media, a reaction that surprised Milano given the way society praises women like Miley Cyrus for showing their breasts in a sexual way.
"Everyone's fine with [Miley Cyrus'] nipples being out," Milano told Entertainment Tonight in September. "I think people are more comfortable sexualizing breasts than relating them to what they were made for, which is feeding another human."
She said that the bond between a mother and child is nothing to be ashamed of.
"When you have these babies, that connection is so meant to be and so profound," she said, adding that she might just breastfeed Elizabella until she's six years old. "You look at them and you go, 'Oh, this is why. This is why I went through everything in my life.'"
During Halloween, Milano made news for posting a photo of herself as Wonder Woman breastfeeding her child.
Earlier this year, she posted an Instagram photo showing herself breastfeeding Elizabella while getting her makeup done for an appearance on CBS' "The Talk":
"Normalizing breastfeeding will be a lot more effective in advancing women's issues and desexualizing breasts," Milano wrote in a September TIME article about the potential consequences of the Free the Nipple movement. "Yes, they're pretty. And yes, they have a purpose in women's sexuality. But their main purpose is to feed another human."
For more on the fight to normalize breastfeeding, check out this video from ATTN:
Share your opinion
Do you think breastfeeding photos should be allowed on social media platforms?