Free the Nipple Has Become a Divisive Political Issue in Springfield, MO
January 9th 2016

By:
Free the Nipple's political weight is coming to a head in Missouri.
Missouri's American Civil Liberties Union (ACLU) chapter is working with Free the Nipple supporters to fight a newly-passed city ordinance in Springfield, Missouri, rendering female public toplessness illegal — and the fight has inspired political upheaval among locals for its sexist double standard. The ordinance, passed in September, was voted on and passed after a Free the Nipple protest in August. The protest was led by topless women and men at a local park.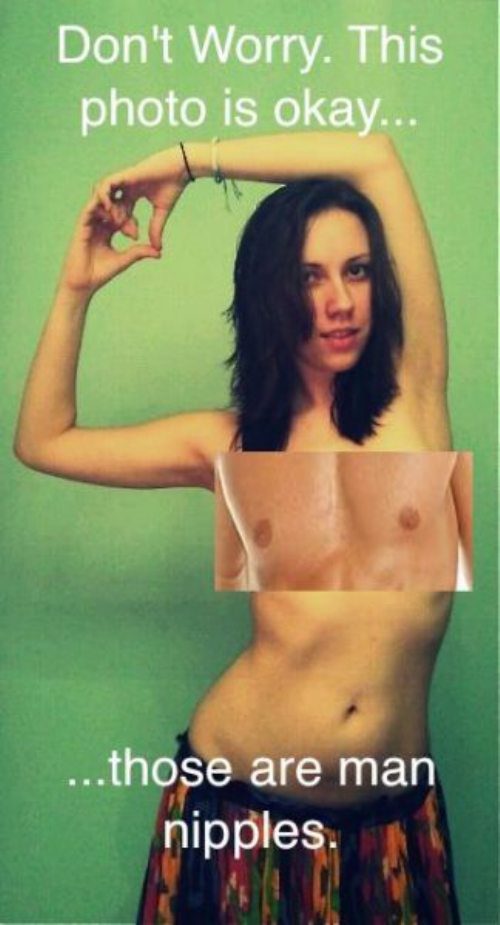 The Chive - thechive.com
In November, after the lawsuit was initiated, the city of Springfield worked to pass a motion to dismiss the lawsuit against the ordinance, pointing out that protesters hadn't been arrested or prosecuted.
However, just last week, the ACLU shared a document with ATTN:, in which Judge Beth Phillips formally denied the city's motion, acknowledging that the Free the Nipple protesters' case — led by locals Jessica Lawson and Amber Hutchison — had standing and deserved to be argued in federal court, citing gender discrimination and infringement of protesters' right to freedom of expression.
As the ACLU points out, the ordinance violates the 14th Amendment by treating women different from men under the law. And worse yet, it's justified with the sort of victim-blaming rhetoric that consistently undermines victims of rape by insinuating that alleged local run-ins with sex offenders are caused by female nipple exposure.
"Ordinances like this perpetuate the double-standard that female breasts are primarily objects of sexual desire," Jeffrey A. Mittman, executive director of ACLU Missouri, stated in the lawsuit's legal docket. "If Springfield is serious about wanting to make their city more family friendly, they wouldn't pass legislation criminalizing the breast-feeding of children who are no longer infants, while allowing women to expose their entire breasts for the purpose of adult entertainment."
The ACLU has also stated that the ordinance reduces women to "inferior legal status and criminaliz[es] their expression based on their sex."
How this ordinance in Springfield came about.
The nipple-banning ordinance is a response to Free the Nipple protests staged in the city back in August of 2015, which upset the city's councilmen and some of its church and youth ministry leaders.
"I would like to see a revision made to Springfield's Indecent Exposure ordinance to align it with state law," Springfield Councilman Justin Burnett wrote in August to fellow council members, when plans for the rally were made public three months ago. Burnett called the August protest "obviously unacceptable," citing complaints he claimed to receive from "moms, dads, and grandparents."
Burnett even claimed there were "known sexual predators recognized at the event," which contradicted police reports released by City Manager Greg Burris that there had been no "spotting of pedophiles or really any problems with the event at all." The ordinance he authored is ultimately based on the premise that the burden should fall on women to fix the community's alleged problem with sex offenders, and that this issue would disappear like magic if women just wore shirts.
But it's worth noting that despite forcing women to assume responsibility for their body parts' alleged obstruction of the peace and cover up, Burnett and outraged church leaders also are also infantilizing adult women by asserting that as men, they inherently know what is best and safest for women.
A local Sunday school teacher went so far as to disguise sexism as well-meaning protectiveness of female youth by writing to the Springfield City Council to express his outrage with the lack of age restrictions on public toplessness for girls. "My wife and I … are nauseated by the very idea that this would be legal for any of the young girls in our church," Robert Tony Pawlak said, according to the News-Leader.
Placing age restrictions on female nipple exposure might seem safe and practical even to staunch Free the Nipple supporters. Yet arguably, doing so only magnifies the inequality at hand by conditioning teenagers to think that boys can peacefully roam the streets shirtless while girls can't, and implying that bearing your nipples as a female is a sexual, "adult" behavior.
The city's nudity and indecent exposure ordinance asserts female nipples "offend," "cause affront or alarm," and ruin the city's "family-friendly" atmosphere (because nothing restores family-friendliness like not allowing mothers to breastfeed their children). But, naturally, the ordinance makes a specific exception for "adult entertainment" purposes. Society, overall, permits the commercial sale of women's breasts to entertain men, but denies ordinary women the right to make an everyday lifestyle decision.
Free the Nipple in society at large.
The political unrest regarding women's right to publicly bear breasts still remains largely ignored in mainstream media, probably for a number of reasons.
One might be the lingering perception that Free the Nipple isn't a critical feminist issue due to the unspoken stigma against "fifth-wave" or "Millennial" feminism. And ultimately, while there's been no shortage of celebrities willing to raise awareness about the movement on social media, this fundamental issue of bodily autonomy and equality under the law is one politicians maintain radio silence on.
How women in Springfield are sparking change.
Lawmakers might be cautious about discussing the Free the Nipple movement due to international Internet policies about what constitutes pornography. It's also entirely possible they recognize the movement's advocates as young women, arguably the most undermined demographic, and consider it trivial.
However, the lawsuit in Springfield is proving the movement is anything but trivial, and that discussing women's right to not be sexualized and objectified is important too.
At any rate, despite the lack of attention paid to the subject, Springfield women have since taken charge in their city's political scene. "What I like about this case is these young women standing up and questioning the way things are," Missouri ACLU legal director Anthony Rothert told the Kansas City Star. "The answer 'It's always been that way' is not good enough for them."
Local women have even initiated recall efforts against Councilman Burnett and even the city's mayor, Bob Stephens.
"Thirty percent of children in Springfield went to bed hungry last night," Katie Webb, who is leading the recall campaign against Burnett, told the Kansas City Star. "I think it's disgusting we're spending this much time protecting children from boobs."
Free the Nipple as a political movement?
Mayor Stephens actually joined the dissent in the 5-4 ruling that ended up passing Burnett's proposed ordinance, saying, according to the Star, "If we believe them, the sight of a female breast, whether inadvertent or deliberate, turns men into raving sexual predators and they rush to a public restroom and kidnap children." As for the recall efforts against him, Stephens has told the Springfield News-Leader "being mayor sometimes means taking the heat for the whole council."
Despite the minimal dialogue surrounding events in Springfield, they have tremendous political implications. The lawsuit makes valid points that prove Free the Nipple isn't just a social movement, but is also a political one. And if similar sexist ordinances — and, in response, lawsuits — are passed in other cities across the country, as protests and demonstrations become more commonplace, Free the Nipple might just become a political movement politicians have to start talking about.
Share your opinion
Do you believe that women should be able to go topless the way men do?