David Bowie's Infamous Mugshot Is Indicative of Early 'War on Drugs'
January 11th 2016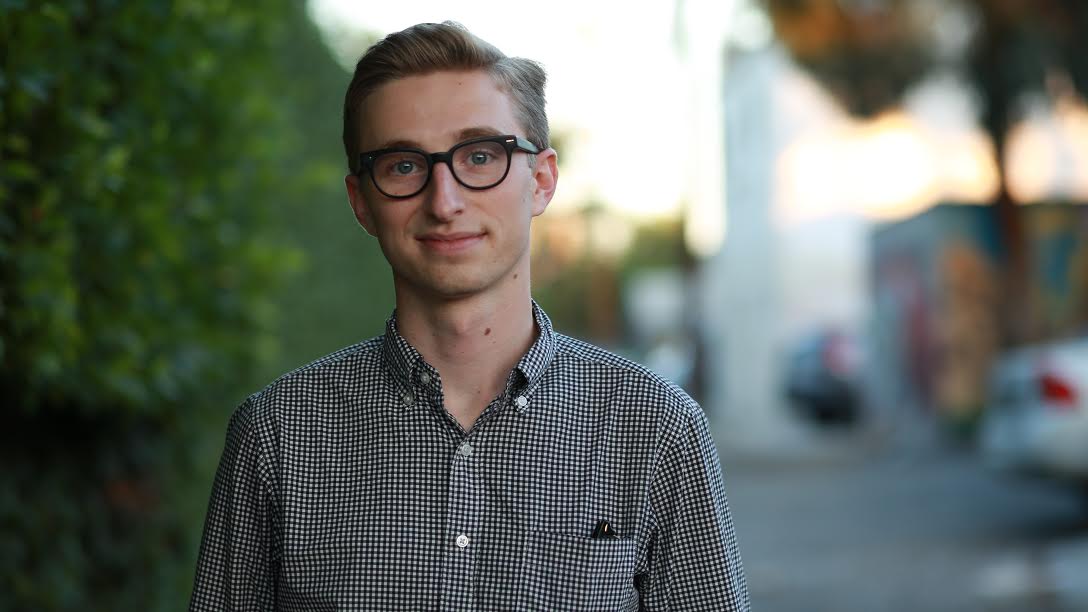 By:
The passing of English rock theater legend David Bowie stunned fans around the world on Sunday night; social media was ablaze in conversations about his legacy. Among the memories that have resurfaced since his publicist confirmed that Bowie died, is the musician's 1976 arrest and famous mug shot — which reveals both Bowie's disarming charisma and the initial effects of the War on Drugs.
It happened in Rochester, New York, on March 21, 1976, in his hotel suite, hours after Bowie had performed at the War Memorial Arena. Rochester vice squad detectives and a New York State Police investigator arrested the pop icon and three others on marijuana possession charges, a class C felony that carried a sentence of up to 15 years in prison. Bowie apparently had 182 grams (roughly a half pound) of pot in his room.
His mug shot — which was discovered at the estate of a retired Rochester police officer — became famous after a local auctioneer sold it on eBay in 2007.
Rochester Subway/Todd Hess - rochestersubway.com
The four, who were arrested in the hotel, were held at Monroe County Jail for a few hours; Bowie's lawyer insisted that his client should be released early because he was scheduled to appear in Springfield, Massachusetts, for a concert the following day. After calling the district attorney, Bowie made $2,000 bail in cash and took off for his next show — only to return later that week.
Fans, police, and reporters lined the sidewalks outside of the Rochester City Court on March 26, the day of his arraignment. Charged with fifth-degree criminal possession of a controlled substance, Bowie told the judge, "not guilty, sir" and was allowed to remain free on the $2,000 bond. The arraignment only lasted about 10 minutes, and he departed the court to the sound of some 200 fans.
In an interview with a local paper, Bowie remarked on the kindness and gentleness of the Rochester police, who took measures to ensure his safety during his visits. He also said that the arrest did not sour his opinion of the city or make it any less likely that he'd return to perform.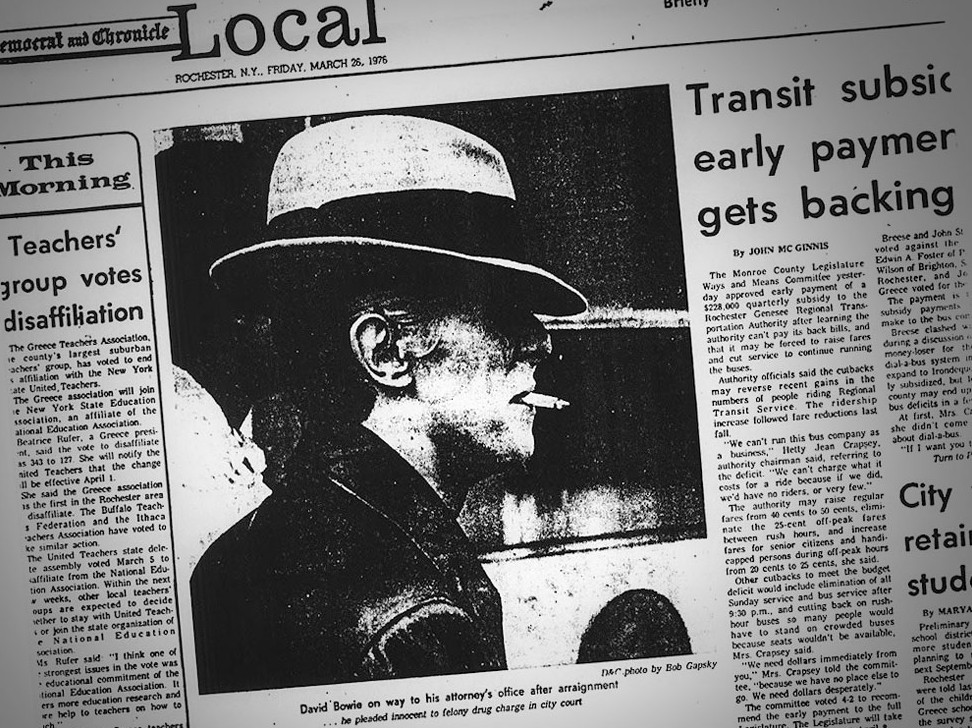 Rochester Subway/Bob Gapspy - rochestersubway.com
"Bowie would have to appear for another arraignment and subsequent trial if he is indicted by a County Grand Jury on a felony drug charge," the Rochester Democrat and Chronicle reported on March 26. "But grand jury action isn't expected until June, and Bowie should be vacationing in Switzerland then."
While the possession charge carried a mandatory minimum sentence of 15 years in prison, based on the amount of marijuana found in his hotel, his lawyer said that Bowie could get as little as five years of probation if convicted. However, the grand jury apparently declined to indict Bowie, as the case was never pursued — perhaps due to complications surrounding immigration laws (Bowie was a British citizen), perhaps due to his universal charm.
Bowie died at 69, just days after his birthday and the release of his final album "Blackstar." He fought an 18-month battle with cancer and died peacefully, a representative said. The story of his marijuana arrest (and infamous mug shot) comes from the vaults of the Rochester Democrat and Chronicle, which were compiled and republished on the Rochester Subway blog.
Where this anecdote fits in the scope of the War on Drugs.
It is important to remember that this was 1976. It was three years after then-President Richard Nixon formed the Drug Enforcement Administration in a rampant administrative effort to exterminate drug use in the U.S.
It was a perilous time in the early history of the War on Drugs, and the multi-agency investigation and arrest of Bowie and his suite-mates goes to show just how seriously law enforcement took marijuana laws.
Wikimedia - wikimedia.org
Share your opinion
Do you support ending the War on Drugs?