Compare These Photos of Obama at His First and Last State of the Union
January 13th 2016
By:
An photo on Imgur showing President Barack Obama at his first and final State of the Union address is going viral because many have noted his drastic change in appearance since his first address in 2009, when he was 47 years old. President Obama is currently 54 years old.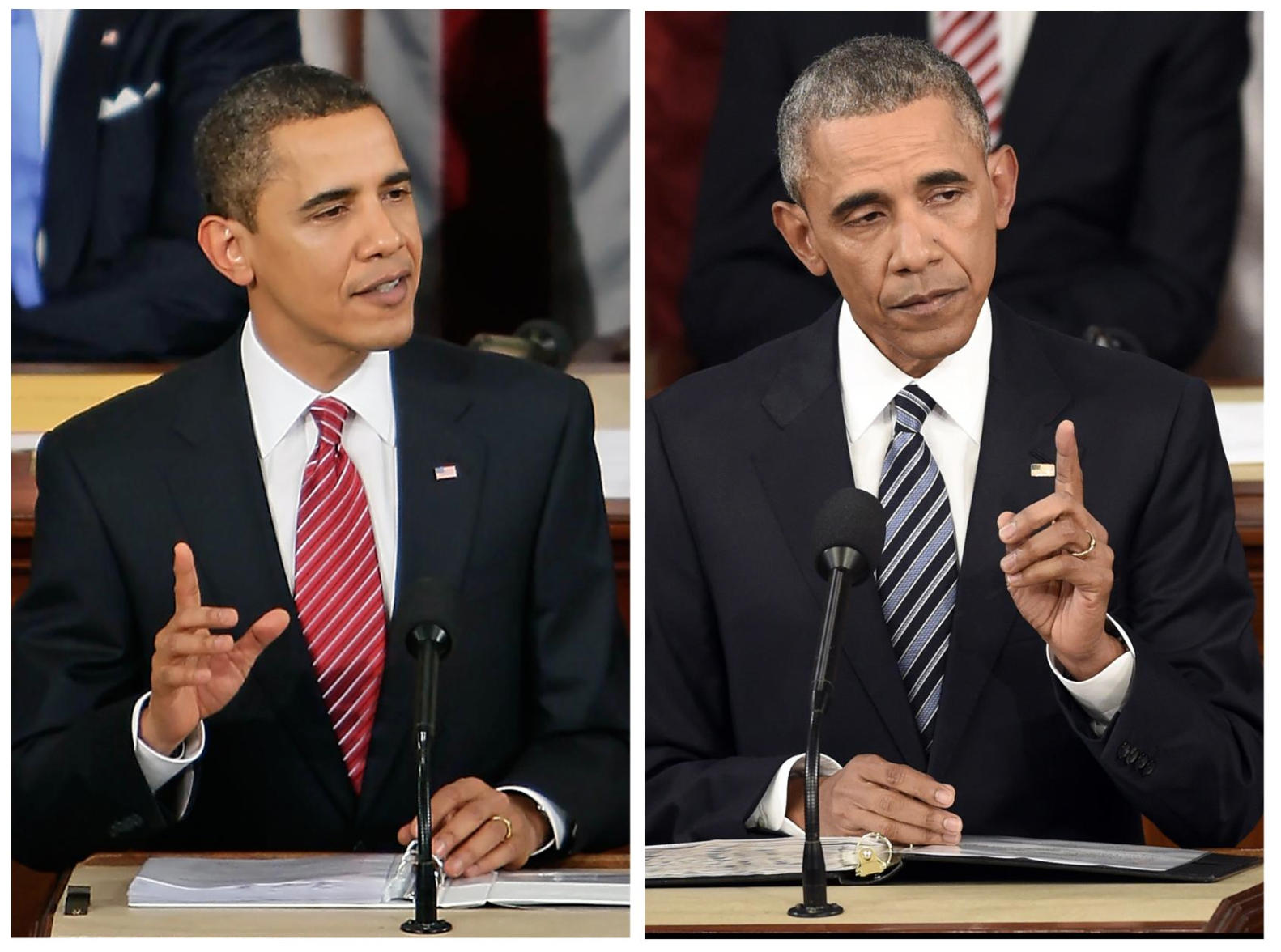 Imgur - imgur.com
Reactions to Obama's change in appearance.
It shouldn't be a surprise that Obama looks different now than he did as a fresh-faced president. Regardless, many took notice of his different appearance and discussed it on social media. Some joked that he looks really old while others said that it's wrong to fixate on his aging over the past seven years as opposed to the work he has done for the country.
Do presidents age more than regular people?
President of the United States is arguably the most stressful job in the world, and stress can speed up aging, so it wouldn't be surprising to learn that President Obama ages faster than most of us. Dr. Michael Roizen, who works in preventative medicine at the Cleveland Clinic, told CNN in 2011 that presidents age twice as fast while serving in office in part because they don't have enough friends to socialize with as a way to lower the stress.
"The main cause is what we call unrequited stress -- they don't have enough friends to mitigate the stress," Roizen said. "The major way most of us handle stress is through a number of techniques, but the most prominent way is to discuss it with friends."
He added that many presidents lose friends and wind up only having their spouse as a close companion.
"Look at what [Obama] has been under with the debt ceiling," Roizen continued. "Even his friends spoke ill of him."
Not all researchers share Roizen's belief that the presidency can accelerate the aging process, though. In 2011, a study in the Journal of the American Medical Association (JAMA) found no evidence that U.S. presidents die earlier than their non-presidential male counterparts:
"The graying of hair and wrinkling of skin seen in presidents while in office are normal elements of human aging; they occur for all men during this phase of life and can be accelerated by behavioral risk factors such as smoking and stress. Whether these outward changes occur faster for presidents relative to other men of the same age is unknown. Even if these signs of aging did appear at a faster rate for presidents, this study shows that this does not mean that their lives are shortened."
Eileen Crimmins, an AARP professor of gerontology in the Davis School of Gerontology at the University of Southern California, also told CNN in 2011 that leaders who have control over their environment aren't as impacted by stress as people with less control over their own lives. She also said presidents tend to thrive on stress and have workers who help them manage it. Crimmins added that Obama is healthy aside from his well-publicized smoking habit.
"Obama is a smoker... and it's going to cost him," she said. "But aside from that, he's a skinny man who went to Columbia and Occidental."
Crimmins also pointed out that presidents often live beyond the average life expectancy. Ronald Reagan lived until age 93, Jimmy Carter is 91 and newly cancer-free, and George H.W. Bush is 91 as well.
Watch ATTN:'s video below to see part of Obama's final State of the Union address:
Share your opinion
Did you watch the State of the Union address?