2015 Was the Globe's Warmest on Record
2015 was the hottest year for global surface temperatures in recorded history, scientists with NASA and the National Oceanic and Atmospheric Administration announced on Wednesday.
The findings, concurrently produced by separate NASA and NOAA analyses, also revealed a notable increase in temperature since the last warmest year on record, 2014. Scientists said that the difference, 0.23 degrees Fahrenheit, had only been that high once before, in 1998.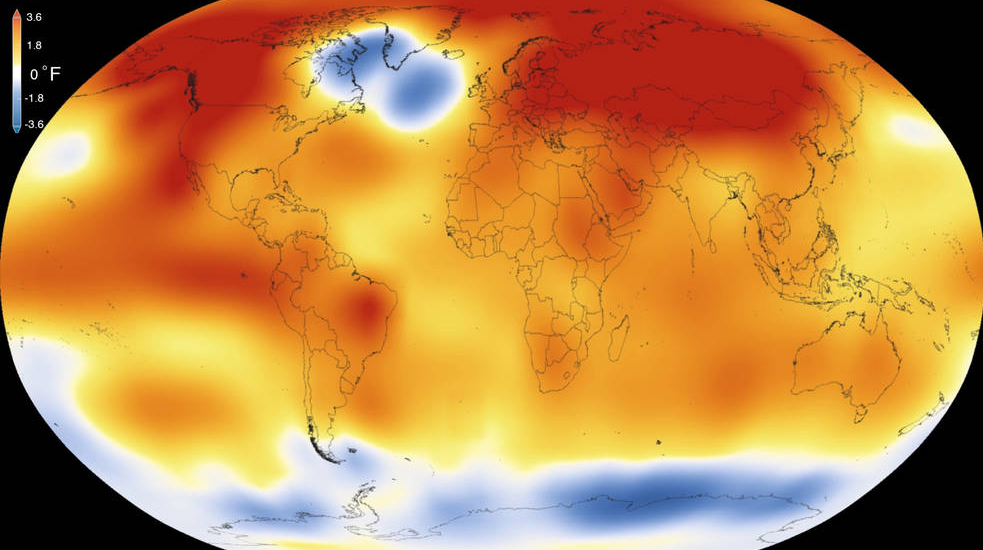 NASA/NOAA - nasa.gov
While 0.23 might not seem like a noteworthy change, it is significant in the broader timeline of changing temperatures. As a NASA time lapse video shows, the around 1.8 Fahrenheit (or 1 degree Celsius) increase since scientists first began tracking global temperatures in the late 19th century is perhaps more drastic than it sounds: climate experts warn that if earth's surface temperatures rise above 2 degrees Celsius, the globe could be in dire environmental straits. 
The main driver for the changes, according to NASA and NOAA scientists, has been increases brought on by man-made factors like greenhouse gas emissions — something they said should be noted by policymakers.
"Climate change is the challenge of our generation, and NASA's vital work on this important issue affects every person on Earth," said NASA Administrator Charles Bolden in a news release. "Today's announcement not only underscores how critical NASA's Earth observation program is, it is a key data point that should make policy makers stand up and take notice - now is the time to act on climate."
The announcement comes just weeks after the agencies released findings showing 2015 was the second hottest year on record in the U.S., with no state recording temperatures cooler than average.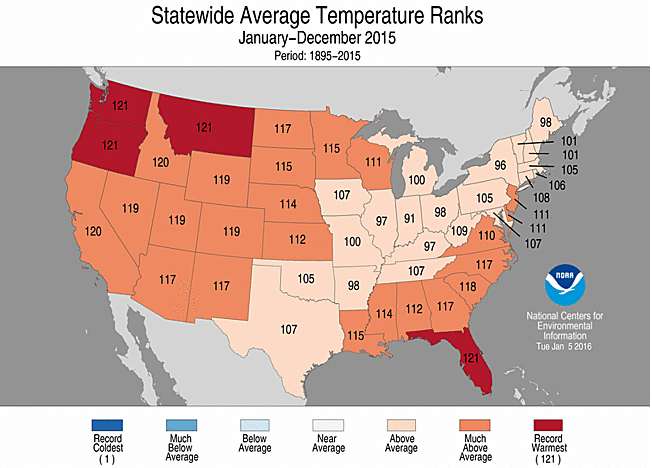 NOAA - noaa.gov
At least some of the factors behind the findings cropped up in the unseasonably warm weather large swaths of the U.S. experienced in December. In Washington, D.C., cherry blossom trees bloomed early in the warm weather.
And in New York in December, temperatures were warm enough that many were in spring clothing.
Share your opinion
Are you surprised that 2015 was the hottest year on record?