Virginia Tech Professor Marc Edwards Spent $147,000 to Help Uncover the Flint Water Scandal
January 22nd 2016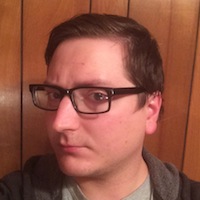 By:
The lead-contaminated water crisis in Flint, Michigan might have stayed hidden for much longer if it wasn't for the massive volunteer effort by a university research team and the civil engineering professor who organized them and personally funded the project.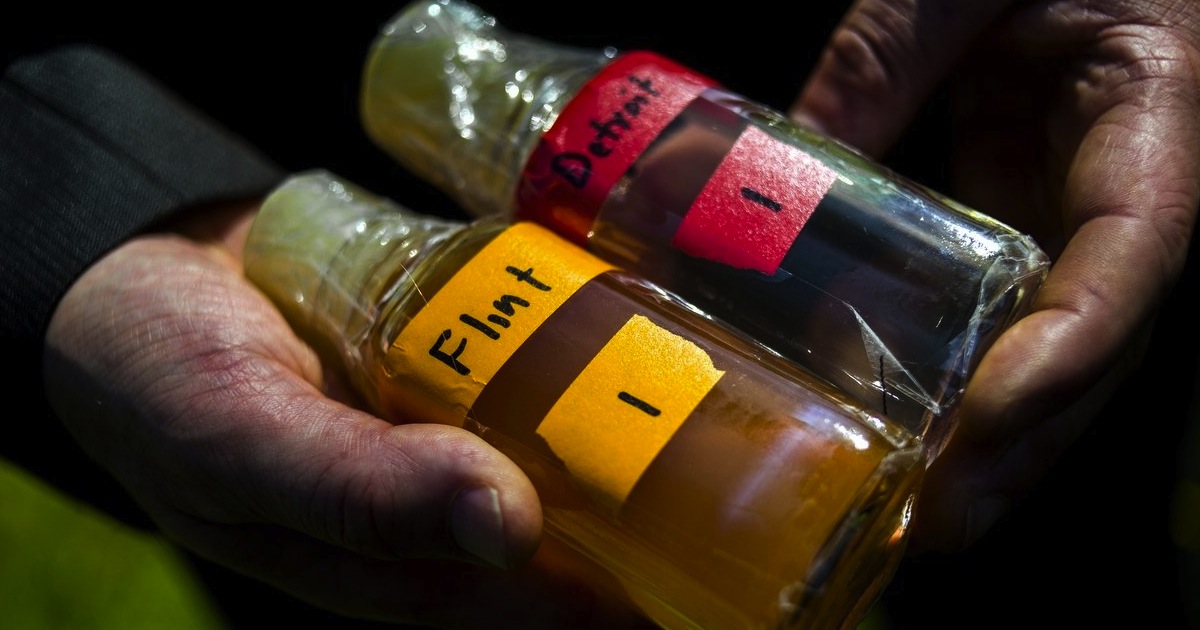 file photo/Flint Journal - mlive.com
Dr. Marc Edwards, an expert in water treatment, and his team of researchers at Virginia Tech sampled and tested Flint's water in a study last year. This team provided the first comprehensive data that contradicted the city's own claims that the water in Flint was safe.
Flint's water problems came to Edwards' attention when he was contacted by Flint resident LeeAnne Walters, according to a detailed Rolling Stone article. Walters, a mother, was concerned about the water's unpleasant smell, brownish hue, and seemingly toxic effects, and went looking for answers when state and local government were unresponsive.
Ron Johnson - youtube.com
Last week, the team's Flint Water Study website released some figures estimating the total cost of their efforts. They had $33,383 in assets to put toward the project — most of it from a National Science Foundation RAPID Grant — and ended up taking on $180,917 in expenses for sampling, water tests, laboratory supplies, and more.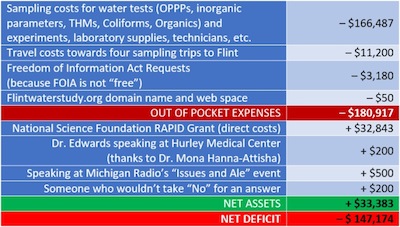 Flint Water Study - flintwaterstudy.org
That's a net deficit of $147,174, which Edwards covered with his own discretionary research and personal funds. The Flint Water Study team of 25 students and research scientists also estimated their total donated labor at more than 6,000 hours, which they valued at over $165,000 based on the hourly rates of the team members.
"[It's a] trivial cost compared to the damage we prevented," Edwards said in an email to ATTN:. "Best investment we could have made into society."
To recoup some of their expenses, the team announced a GoFundMe page, which had received $6,029 of a $150,000 goal at the time this writing.
So why did a Virginia Tech professor have to offer up a six-figure sum from his own funds in order to ensure safe water for Flint residents, when the Michigan Department of Environmental Quality (MDEQ) — which is charged with providing the kind of oversight and testing that the Flint Water Study team undertook — operated with a $502 million budget last year?
"You're absolutely right — it's an outrage," said Flint Water Study researcher and communications director Siddhartha Roy, when asked that question in an interview with ATTN:. "These government agencies and systems failed to perform these tests, when all of their resources and testing [methods] are put in place precisely to make sure the public isn't harmed [by decisions like this]."
"We also ask the question: What if Marc hadn't had the money and resources, or what if he wasn't personally interested?" Roy added. "Where would we be now in that case?"
Roy also credited Flint pediatrician Mona Hanna-Attisha's work analyzing the rising blood lead levels in Flint's children for helping to bring the city's water crisis to national attention. Lead levels in the blood can cause health problems and cognitive defects in people of any age, but the developing brains of children leave them especially vulnerable.
Since the Flint water scandal broke in headlines last year, numerous experts have said that proper chemical testing could have easily predicted the lead leaching that resulted when Flint switched its water supply from the Great Lakes to the Flint River in 2014.
Instead, Edwards' research team from Virginia started performing the tests on their own in mid-2015.
Edwards is no stranger to lead contamination issues. He previously investigated dangerous lead levels in the water supply in Washington, D.C., and his research there led to a Washington Post report and a 2010 congressional investigation that savagely criticized the CDC's handling of that case.
To fund the D.C. investigation, Roy said, Edwards took out a mortgage on his house.
"This is something that [Professor Edwards] does because he cares deeply about the fact that bad policy decisions can harm people," Roy said. "Especially so in cases of lead contamination."
In Flint, not only did city officials and MDEQ not help the VT team with the undertaking, Roy said, they actively tried to discourage and discredit their research. Professor Edwards said in interviews that the city and MDEQ tried to put together contradictory data by cherry-picking water sampling sites and avoiding re-testing homes that provided high lead results, among other tactics.
MDEQ did not respond to email and phone requests from ATTN: for comment before press time. We will update as needed.
Back in October, MDEQ director Dan Wyant — who later resigned from his post — released a comment to The Detroit News:
"Our actions reflected inexperience, and our public response to criticism was the wrong tone early in this conversation. But the best we can do with the situation going forward is represented in our present course . . . We will learn from this. We will make necessary changes to see to it that our program becomes a national leader in [lead] protection."
In November 2015, MLive reported that Flint water officials filed false reports with state regulators about the city's lead testing. City officials claimed that water samples they sent to the state for required tests came from high-risk homes with lead service lines, but the city's own documents, uncovered by a Freedom of Information Act request from The Flint Journal-MLive, showed that the samples actually came from homes with low risk of lead leaching.
"In D.C., Mark saw errors on the part of the EPA and CDC — not just not acting, but doing the exact opposite, harming the entire process," Roy said. "In Flint it was the same — MDEQ went out of their way to discredit our research."
The political fallout from the scandal has been a fireworks show: MDEQ director Wyant and spokesperson Brad Wurfel resigned in December, and public figures including Democratic presidential candidate Bernie Sanders have called on Michigan Governor Rick Snyder (R) to resign, despite the governor's official apology over the crisis.
Snyder also released 274 pages of his personal emails from 2014 and 2015 to appease his critics in the Flint scandal.
The EPA also accepted blame for not addressing the crisis quickly enough in a statement released Tuesday, and on Thursday the regional EPA director for Flint resigned.
The Flint Water Study team recently applied for a $50,000 follow-up grant from the National Science Foundation, but other than that, their GoFundMe page is the only avenue the team has to recover their costs, Roy said.
"We do like to joke sometimes that [MDEQ and the state government] should reimburse us for all the work that we've done," Roy said. "I don't know of anything happening with that right now, though."
Share your opinion
Do you think the Flint water crisis could have been avoided?