7 Outrageous Memes Posted by the Account That Trump Just Retweeted
On Friday, Republican Party frontrunner Donald Trump stirred up his latest controversy when he retweeted a supporter whose Twitter feed is shot through with racist and anti-Semitic memes.
The candidate was criticized for the retweet, which depicted a photoshopped image of Jeb Bush as a homeless man standing outside a Trump Tower, holding a "Vote Trump" sign. The campaign has neither addressed the tweet, nor taken it down at press time.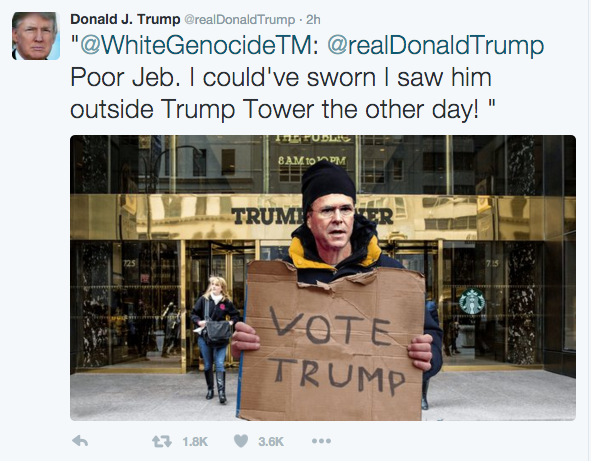 Twitter - twitter.com
The user Trump retweeted goes by the name "Donald Trumpovitz" and uses the handle @WhiteGenocideTM. While this account is surely not representative of every Trump supporter, a deeper look at this Twitter feed provides a unique window into the appeal of the candidate in far-right, fringe circles. Here is a selection of revealing memes posted by @WhiteGenocideTM, which has toggled between being private and public following the Trump retweet.
1. The "white genocide" trope.
The increasing multiculturalism of America is often referred to as "white genocide" in extreme right circles and is a central tenet of neo-Nazi and white supremacist doctrine. What's interesting is that the term "white genocide" is an example of the far-right's use of "victimization" — a trope that is usually attributed to left-wing political ideology. The basic idea is that the changing demographics of the U.S., which is projected to be a majority-minority country by 2050, have disempowered white America, and, as a result, these people feel aggrieved and wronged. Trump's hardline stance against immigration probably resonates with this sentiment.
2. Anti-Wall Street Populism.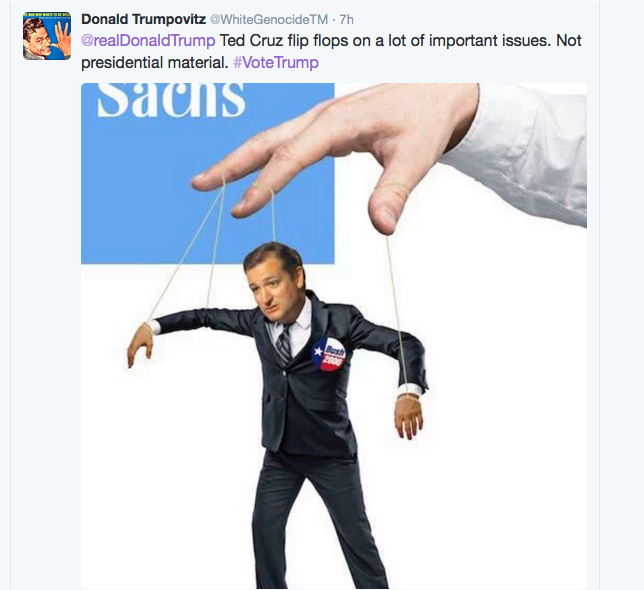 Twitter - twitter.com
As you can see from this meme, Trump supporters are not always your typical pro-business conservatives. Here, we see Sen. Ted Cruz' connections to Goldman Sachs being used against him even though the banking industry is generally associated with the Republican Party. As this meme shows, the far right's dislike and mistrust of big banks and Wall Street — and their influence in politics — is mirrored in Trump's vocal stand against banks and financial influence in political elections.
3. Mistrust of traditional Republicans.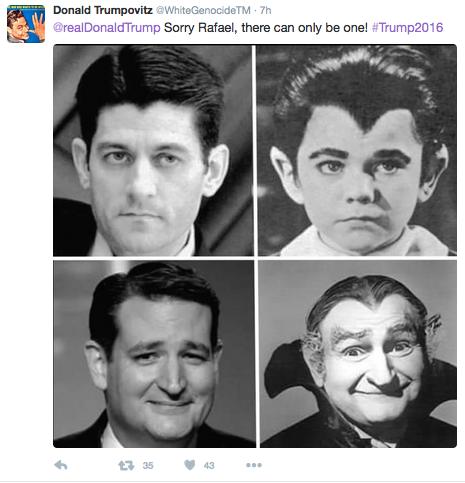 Twitter - twitter.com
This meme, mocking GOP Speaker of the House Paul Ryan, falls in line with one strain of modern conservatism that bucks establishment Republicans, such as Ryan, in favor of an outsider candidate, such as Trump.
3. "Silent majority" appeal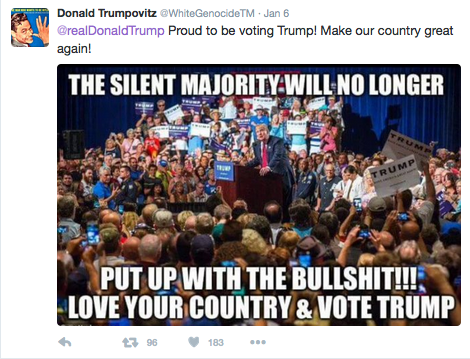 Twitter - twitter.com
As Trump himself will admit, the phrase "silent majority," which the candidate has been using on the campaign trail, is a political turn of phrase dating back to the Nixon era, if not before that. President Richard Nixon used the term in the late 1960s to defend the Vietnam war and discredit growing opposition from the counter-culture left. The idea was that, despite the political turmoil of the 1960s around Vietnam and the civil rights movement, a "silent majority" of Americans were still patriotic and were tired of seeing protests and unrest every night on the news.
Some historians also point out that the phrase can be read as a sort of racial code: "To say majority is to say minority, and everyone knows who minorities are. They are people in America who are not white," historian Rick Perlstein told NPR.
4. "Cuckservativism"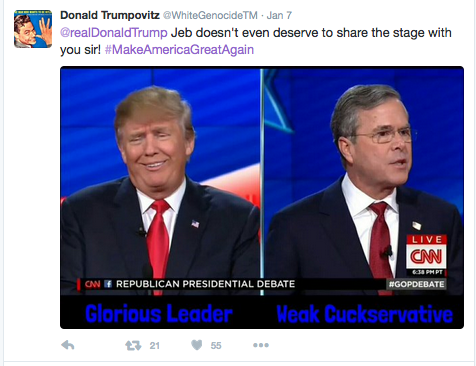 Twitter - twitter.com
The term "cuckservative" has come into play recently in far-right circles. As the Southern Poverty Law Center notes:
"Cuckservative" – the unsavory combination of "cuckold" and "conservatism" – aims to depict conservatives who don't kowtow to ultra-right political views as inept traitors to the conservative base that elected them. But the term, at its core, may be racist.
The SPLC cites the white nationalist site American Renaissance, which explains the term in the context of the far-right movement:
"Conservatives should be steamrolling a lame-duck president. Instead, the GOP might as well not exist. Republicans who thought they had retaken the government are confused, angry, and powerless. They worked for Republicans in good faith, but get only scorn and contempt. They've been deceived, cheated, and exploited."
5. Putin fetish.
Twitter - twitter.com
The idea that Russian President Vladimir Putin is a strong, enviable leader (and that others, such as Obama, are weak), is apparently an attractive one in far-right circles. In this world, being like Putin, who projects uber masculinity and is not exactly known for his support of minority groups, is appealing.
The strong leader trope also cropped up in a photo depicting Trump as Napoléon Bonaparte, the 19th century French political and military leader.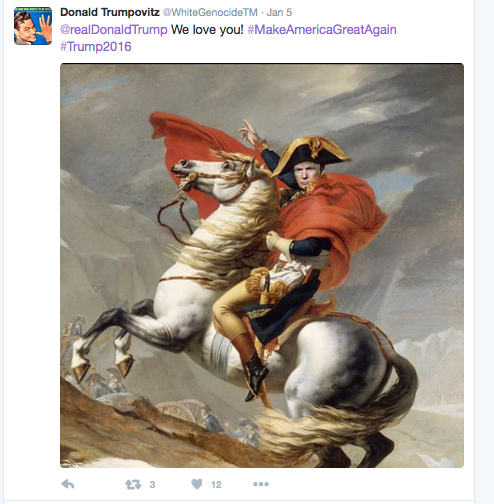 Twitter - twitter.com
7. Trump the Superhero.
Twitter
This one pretty much explains the appeal of Donald Trump — his willingness to take on accusations of political correctness from Neocons (neoconservatives), SJWs (social justice warriors), and the MSM (mainstream media). Interestingly, the enemies of Trump here are not just liberals or the Democratic Party. Instead, the comic refers to a range of groups. Neoconservatism is the ideology most closely associated with the Bush administration, especially former Vice President Dick Cheney and former Secretary of Defense Donald Rumsfeld. "Social justice warrior," on the other hand, is a term, generally derogatory, that refers to progressive activists. Finally, the media is considered an enemy of Trump — despite the fact that intense media coverage has helped Trump build an enduring lead in national primary polls.
7. There's also this.
It's not exactly clear what this meme is getting at, outside of taking a jab at Jeb Bush's comparatively soft stance on immigration or his Latina wife. If anything, though, it certainly appeals to the masculine leader trope that runs through many other right-wing, fringe memes.
Share your opinion
Do far-right fringe political circles concern you?