Melinda Gates Slams Donald Trump's Anti-Vaxx Crap Science
January 23rd 2016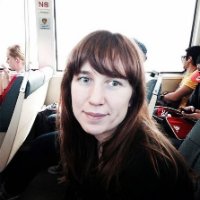 By:
During this week's World Economic Forum in Switzerland, philanthropist Melinda Gates spoke out against Republican presidential front-runner Donald Trump for promoting bogus, "ridiculous," and "misinformed" links between childhood vaccines and autism in an interview with the Huffington Post.
Trump has long-trumpeted anti-vaccination sentiments, years after the link between immunization and developmental disorders was discredited by the CDC and in-depth medical research.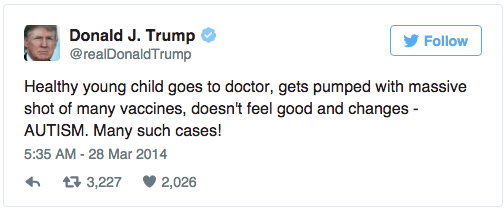 Twitter/Realdonaldtrump - huffingtonpost.com
"It seems ridiculous to me," Gates stated in an interview with the Huffington Post. "You need to be informed. If you have this platform, which all of the presidential candidates do... your job is to be educated and to inform people properly. I think we've lost a little bit of that in the United States in this election."
The 1998 study referenced in Trump's campaign rhetoric has been retracted and its author stripped of his medical license, but baseless anti-vaxx mythology continues to impact public health, as evidenced in last year's Disneyland measles outbreak.
Trump has historically diffused his stance on immunization by stating that he opposes "massive doses" and not the vaccinations themselves.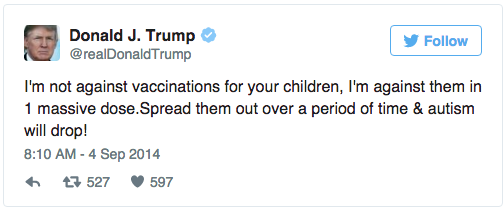 Twitter/realdonaldtrump - huffingtonpost.com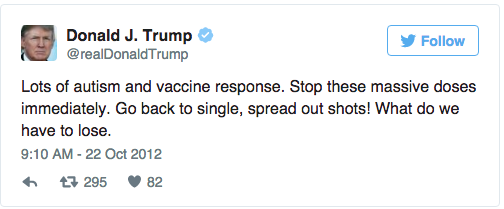 Twitter/realdonaldtrump - huffingtonpost.com
As Gates notes, today's vaccines are not given in the "lump doses" decried by Trump, and there is no scientific evidence suggesting they lead to developmental disorders.
"It is now been absolutely debunked that autism is not related to vaccinations, and in fact we don't give out vaccinations in one lump sum," Gates said. "We give them out over time on a routine schedule because we know that's what works."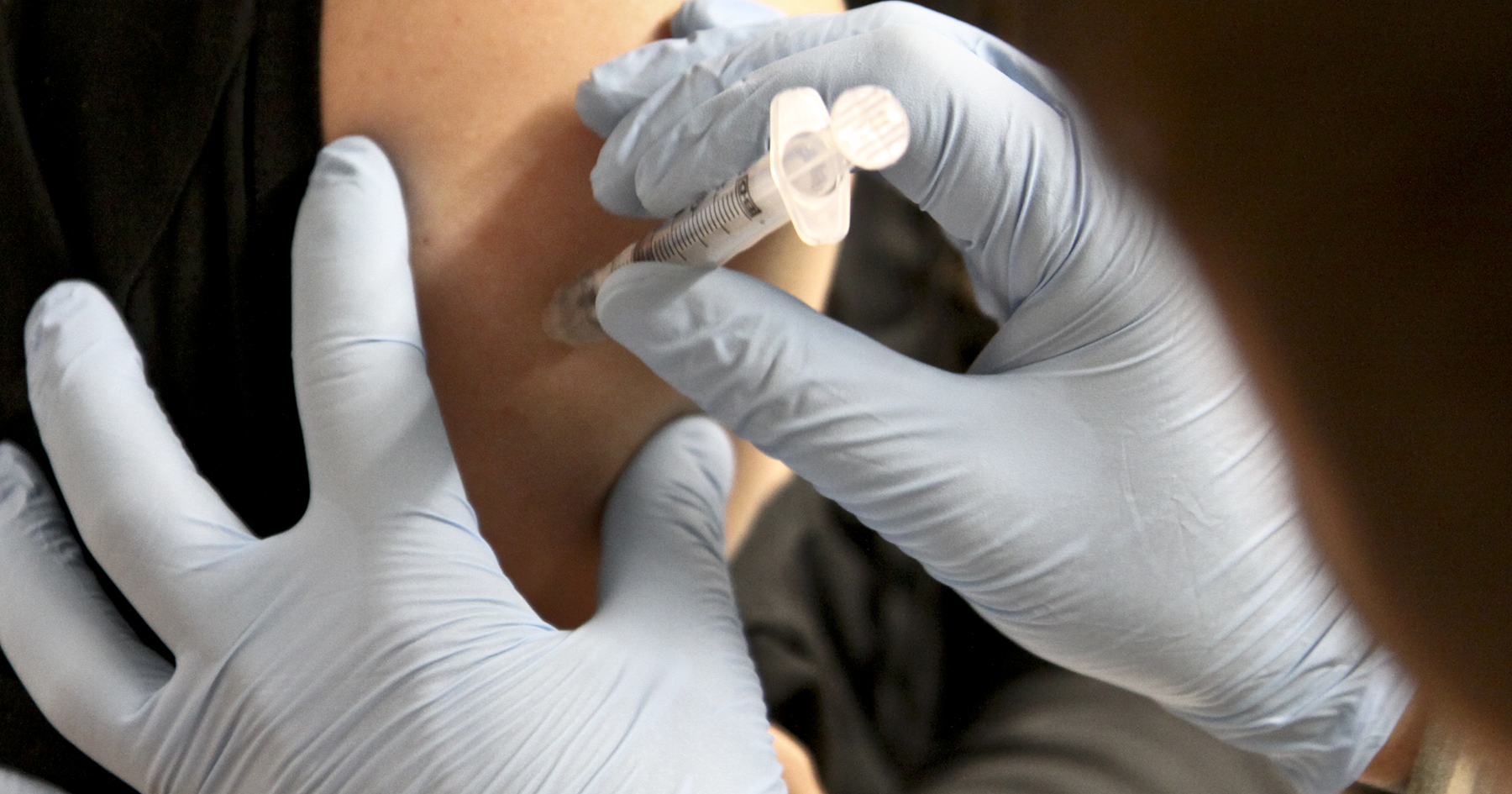 Flickr/U.S. Army Corps of Engineers - flic.kr
Since 1999, The Bill and Melinda Gates Foundation has pledged $2.5 billion to The Gavi Alliance, a coalition dedicated to bringing immunizations to the developing world.
Gates credited decreased mortality rates around the globe to increased access to vaccinations, and she rated her frustration with Trump at "about a 9.5" out of 10 over this issue.
"In the United States, we wouldn't have this healthy of a population of children as we do if we didn't vaccinate them," Gates continued. "And women and men from around the world are crying out for these vaccines."
Trump's anti-vaxx rhetoric neatly illustrates what many find most troubling about his campaign platform and aggressive posturing.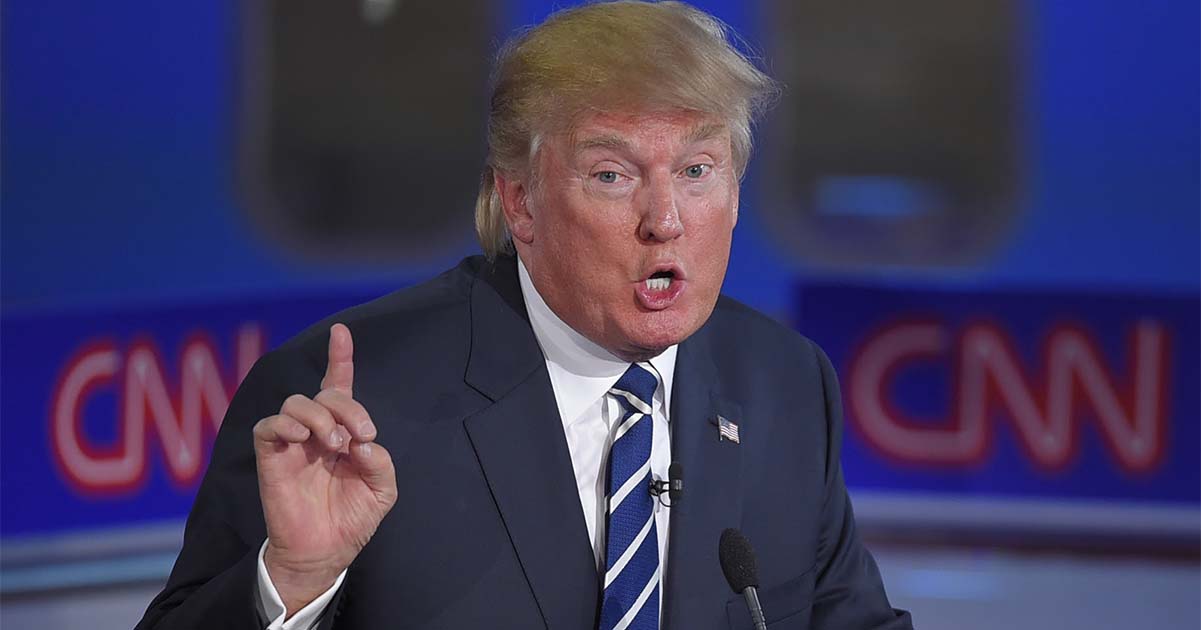 AP/Mark J. Terrill
"As Trump demonstrated, it's a way to position yourself as reasonable while still perpetuating the false belief that getting your jabs is going to destroy your brain," Slate observed following the early September GOP Debate.
"Politically, the moment was a perfect summation of Donald Trump's candidacy," writer Amanda Marcotte concludes, "his ability to pair off-the-charts self-confidence with complete ignorance about whatever subject he's opining about."
Other outspoken anti-vaxxers include former television host Jenny McCarthy, actor Charlie Sheen, and Billy Corgan of The Smashing Pumpkins.
You can watch Gates' full interview on The Huffington post.
Share your opinion
Would you still consider voting for Donald Trump?