Here's How a Kid Snuck Into the Dem Debate and Shook Hands With Hillary
January 22nd 2016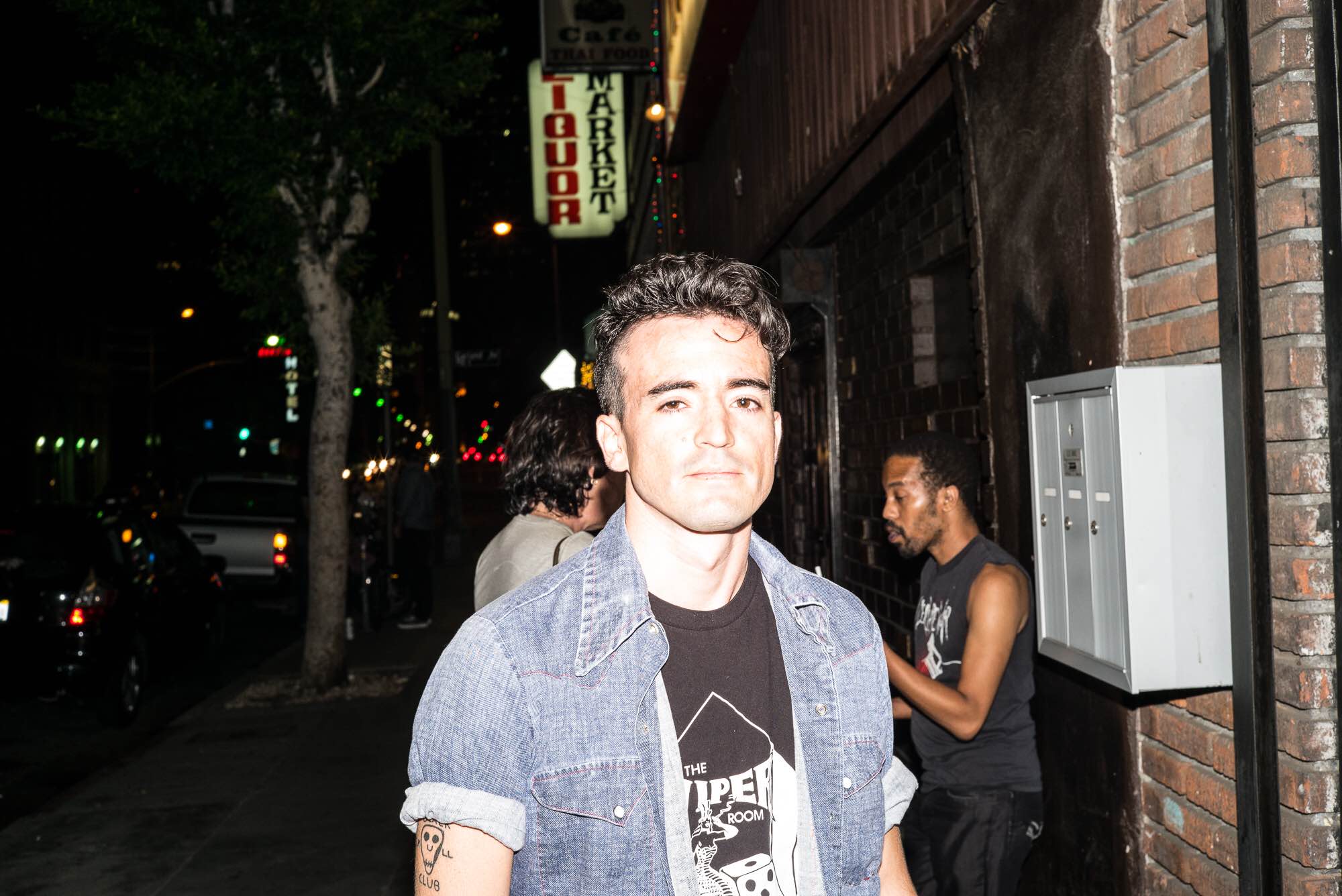 By:
Seventeen-year-old Louis Shenker from Massachusetts ended up shaking hands with presidential candidate Hillary Clinton on national television during the recent democratic debate in Charleston, South Carolina. This shouldn't seem too alarming — until you mention the fact that he completely snuck his way in.
In a blog post, Shenker unaffectedly walks us through how he not only got past the entrance sans ticket, but how he assimilated himself into the staff, and gained VIP access into the debate.
"One particular staffer asked if I was Martin O'Malley's son and I said yes. He went and told some of the other staff that I was the former Governor's son and I gained recognition based on my jacket."
The jacket that he's talking about is a dark-patterned, handmade Chinese silk jacket, which he employed either as a clever, reverse-psychological cloak or just a hell of a way to bring silk back from the 90s.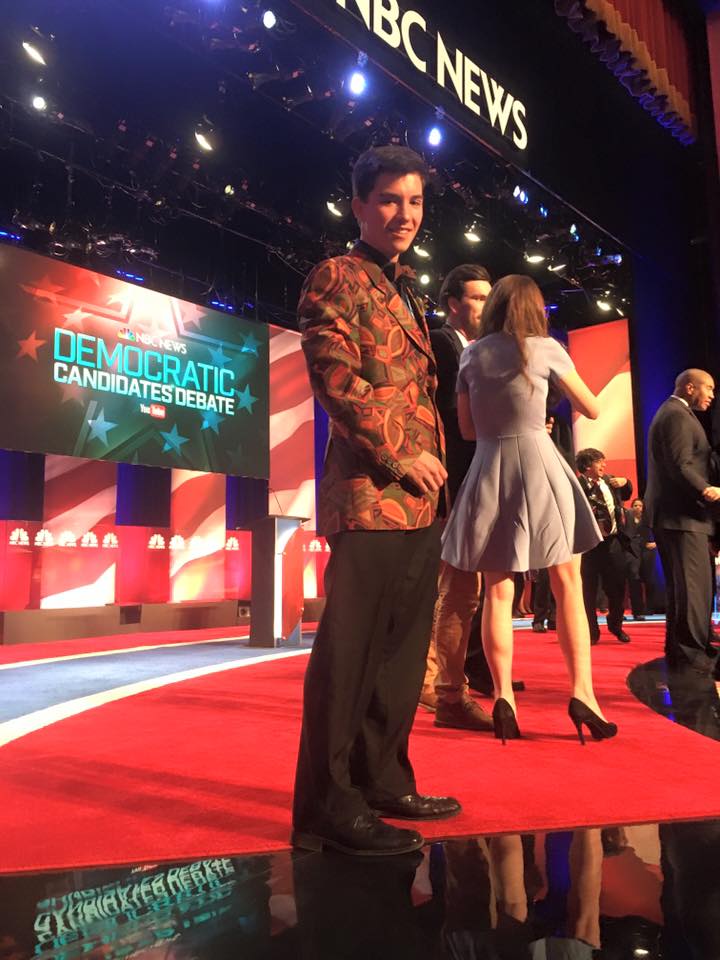 Louis Shenker
Once inside, and using what can only be explained as Jedi mind tricks, Shenker was able to sit in Bill Clinton's vacant chair, become chummy with Bernie Sanders' wife Jane O'Meara Sanders, and, if that weren't enough, he was able to get backstage and actually shake hands with the candidates onstage, face-to-face, on national television. He explained on his blog:
"I then continued to Hillary Clinton and introduced myself. I told her that she debated very well and that I wished her the best of luck and shook her hand. She said that it was a pleasure meeting me and commented that she thought I was dressed very sharp. It was at this point that the debate came back from commercial and there I was front and center on national television shaking hands with Hillary."
People eventually started to notice.
The scope of his own stunt didn't hit him until his phone started blowing up in his pocket with friends and family watching it live. He followed it up with obtaining a press sign and diving head first into the frenzy of the media spin room, conversing with the likes of Killer Mike, Martin O'Malley, campaign managers, reporters, and network bigwigs.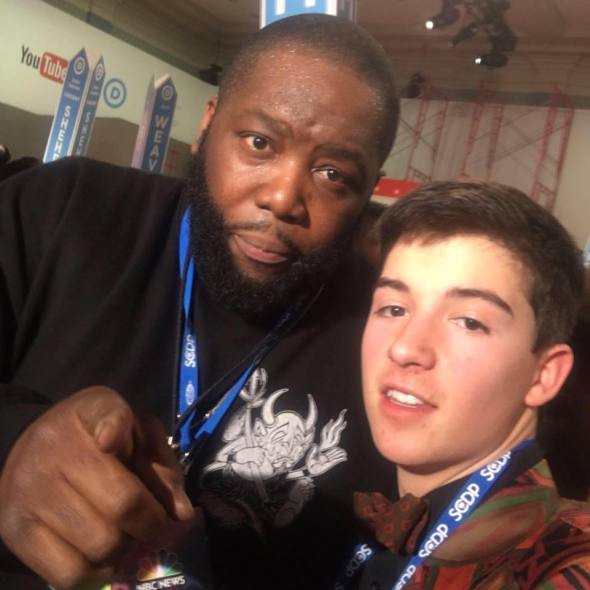 Louis Shenker
Lighthearted as it was on Shenker's end, it no doubt makes anyone nervous that someone — especially a minor out for kicks — could just slip through the cracks so seamlessly and shake hands with some of the most powerful people in the country. Whether that speaks to holes in the Secret Service or Shenker's sharp wit remains to be seen.
ATTN: caught up with the prodigy scam-artist-in-the-making (minus the whole ripping people off part) to ask about that fortuitous evening.
ATTN: Why, at age 17, did you want to sneak into a national political debate? Why not a club or the Coachella beer garden or something?
Louis Shenker: I honestly would have went to a concert just as easily. If the Dead & Company were in town I would have been there 100 percent, but since they weren't I figured this was the next best thing. At home I enjoy watching the political debates for both parties. The skill of speaking is fascinating to me.
ATTN: Were you just looking to troll politics or do you have an earnest interest?
LS: It was definitely a little of both. When I decided to go I had absolutely no idea that I would even be noticed. I was simply going to go and try just for the sake of it. I am interested in politics and strongly believe that the best way to live life is not to let any opportunities pass you by. Once I got into the debate I just decided to see how far I could take it.
ATTN: You mentioned you snuck into the Republican debate a few days prior. How did that go?
LS: The Republican debate went well. I sat in the third row next to the aisle and had an excellent view of the debate. I met the Republican candidates during commercial breaks and many people in the VIP admissions area. I did not however get on stage or into the press room. I think that it kind of served as a practice run. It allowed me to know the basic structure and operations of the debates and helped me think of what I would say to get into the Democratic one.
ATTN: Tell me more about your silk jacket. What made you decide to wear it that day?
LS: So the story behind the silk jacket is pretty basic. It was my great grand-uncle's who left it to my grandmother when he passed (He lived into his 100th year). The jacket itself is handmade and double vented. The story goes that "Uncle Monty" designed the pattern himself and then brought it to a craftsman in the "Orient" to have it made. I don't ever remember seeing him though I think I was born before he died. My grandmother then gave me the jacket last year because she thought I was about Monty's size. I graciously accepted it and my mom got it fitted to me. This summer my grandmother unfortunately passed due to some medical complications. So this jacket has a lot of sentimental value.
I decided to wear it that day partly because I was underdressed at the Republican debate, partly because no one would think someone trying to lay low would wear something like that, and partly because it's my lucky jacket.
ATTN: The organizations you claimed to represent were pretty specific (even if partly fabricated). Are you involved in Jewish humanitarian issues?
LS: Yes I am currently heavily involved in BBYO, a World Wide Pluralistic Jewish Youth Organization. I am serving as the Vice President of Membership and Fraternal Affairs of BBYO Connecticut Valley Region. BBYO and AZA (the fraternity part of BBYO founded in 1924) has been extremely influential in my life so far and is something I am truly grateful to be a part of. BBYO is on the forefront of modern issues from hunger to homelessness, sexual assault to gender inclusivity, Israel advocacy to religious tolerance. It is really an outstanding organization.
ATTN: As a white male I know I get passes from strangers all the time. Do you think being a young, well-spoken, white male was a factor in your beyond-VIP access?
LS: Absolutely. There is no doubt in my mind that the implicit biases within our society played a large factor in my success. I believe that it is important to recognize that as whites we are treated differently. We must first admit this if we are ever to have complete racial equality.
ATTN: Was security not that tight, or were you just that good?
LS: Security was very tight. I believe people had to be vetted six months in advance if I am not mistaken. I would honestly chalk it up to a bit of luck and fast thinking that got me in and on my adventure. I did have to go through a metal detector and at no point could I have posed a legitimate threat to any attendees.
ATTN: Do you think anybody could do this if they tried? Like, what if someone's intentions were not as benevolent as yours, and they wanted to get as close in proximity to these candidates as possible?
LS: I think that there is a zero percent chance that anyone with malicious intent would have been able to approach the candidates. The secret service knows their stuff. Everyone was screened and I'm sure there was lots of behind the scenes security measures that I don't even know about.
ATTN: Do you have a history sneaking into stuff? What was the first place or event you ever sneaked into?
LS: I don't know if I would say I have a history of sneaking into things, being able to be invited legitimately is more fun sometimes. I would say, however, that I have a history of shenanigans and pranks. As long as I can remember my friends and I would try and pull pranks. We would go to Six Flags and pretend not to speak English, enter elevators and face the wrong direction to mess with people, goofy stuff like that. I'm sure a lot of the time we would look like fools hahaha.
ATTN: I imagine you're about to graduate high school? What are your aspirations?
LS: I am currently in my junior year actually, but I intend on attending college after I graduate. There are so many great schools out there that I would love to go to (NYU, Northeastern, etc.) but I don't want to come out of college with crippling debt. I am planning on waiting until I can see what my scholarship opportunities are and go from there.
ATTN: Who do you think won the debate?
LS: Bernie Sanders 100%. He dominated the debate. He answered the questions exceedingly well, and managed to keep a commanding presence in the room the whole night.
ATTN: How did it feel sitting in Bill Clinton's chair?
LS: It felt pretty comfortable. I had a good view which is what I really cared about.
ATTN: What did you and Mrs. Sanders talk about?
LS: I introduced myself and told her to break the ice that I think her husband and I were the only two Jews at the Mother Emanuel Church Service that morning. I proceeded to say how I was a fan of her husband and spoke briefly about BBYO. I extended the invitation to them to come to the conference and speak (I am not really qualified to do so, but I figured if they said 'yes' I would bring it to the attention of someone who was).
ATTN: What's your favorite Killer Mike song or album?
LS: I actually don't tend to listen to rap that often. I prefer jam bands (Grateful Dead, Phish, etc.) but I like listening to his Spotify on shuffle when rushing around with friends.
ATTN: Are you going to be 18 by the time the November election comes around? Who would you vote for?
LS: I wish! Unfortunately I will miss the election by a month. If I could it would depend on the candidates but if it was Bernie he would be my obvious go to.
ATTN: Is silk the new black?
LS: As someone who wears tye dye four days a week, I don't know if I'm allowed to comment on fashion, but I would have to say yes!
ATTN: What did you learn about American politics through these experiences?
LS: That the people who you hear from and see on TV are still just people. Though the media these politicians get is blown up to crazy proportions, sitting across and next to them really puts things in perspectives. It kind of makes it seem less intense and much more personable.
Share your opinion
Do you plan on voting in the 2016 election?