Jaden Smith's New Instagram Post Is Worth Your Applause
January 26th 2016
By:
Actor and model Jaden Smith, who is the son of Jada Pinkett Smith and Will Smith, embraced gender fluidity once again by wearing a skirt and a flower in his hair for a Vogue Korea photo shoot. Smith posted the photo on Instagram on Monday and many are recognizing him for continuing to defy gender stereotypes.
In the picture, Smith's fingernails are painted, his hair covers one eye, he has toned abs and arms, and he wears a skirt. The image supports the idea that a person can appear traditionally masculine and feminine at the same time.
The photo has nearly 90,000 likes as of writing time and many commenters have applauded Smith on Instagram. When one critic argued that Smith should dress however he wants in the privacy of his own home rather than share this particular look on Instagram, a fan said that Smith should be able to dress however he feels comfortable in front of others.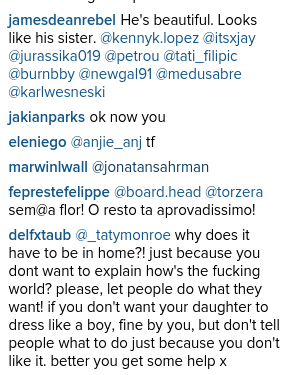 Jaden Smith Instagram - instagram.com
You can see what others had to say on social media:
Smith made news earlier this month when he appeared as the face of a Louis Vuitton womenswear fashion campaign:
Smith is known for breaking gender barriers, particularly in fashion. Just last year, Smith famously wore a dress to prom with "Hunger Games" actress Amandla Stenberg, who recently came out as bisexual.
Around the time that Jaden was spotted wearing a dress last spring, he and his sister Willow went on to criticize gender roles and norms in an interview with GulfNews TV.
"Nobody ever thinks, 'Yo who made all these rules?" Jaden said. "Who was here and made all these rules? Because, I'm equally as smart as them, and I don't necessarily agree with all the rules that they established before I came into the picture."
Jaden and Willow also said that they consider themselves "misfits" because they do "a lot of things that are out of the ordinary."
Share your opinion
Do you think it's important for famous people to highlight important social issues on social media?