The Real Victim of Kanye and Wiz Khalifa's Twitter Drama
January 27th 2016
By:
Kanye West went on a Twitter rant on Wednesday about fellow musician Wiz Khalifa and slut shamed Amber Rose in the process. Both West and Khalifa have dated Rose.
West launched into a somewhat incoherent Twitter tirade after he believed that Khalifa had criticized his new album title and mocked Kim Kardashian, West's wife. In response to this perceived slight, West attacked Khalifa's decision to marry and have a child with Rose, who dated West prior to Khalifa. West brought up Rose's former life as a stripper, mocking Khalifa for letting a stripper "trap" him. Because Rose dated Khalifa after West (the pair have since split up), West also argued that the child of Khalifa and Rose would not exist had West stayed with Rose. The tweets have since been deleted, but were captured in a screenshot via Hip Hollywood: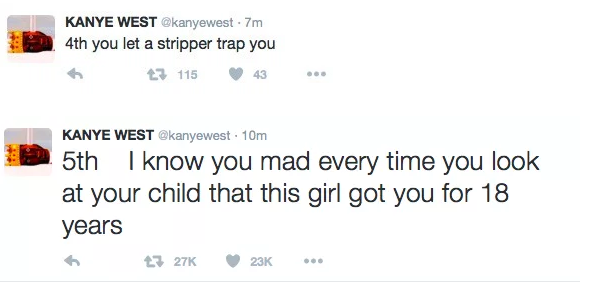 Hip Hollywood - hiphollywood.com

Hip Hollywood - hiphollywood.com
Rose responded by making fun of West:
This is not the first time that Rose has faced slut shaming for working as a stripper. Last year, Rose hosted SlutWalk LA to protest this kind of sexism and slut shaming of women. During a speech at the event, she broke down in tears while describing the disrespectful way that both West and Khalifa have discussed her past since they dated her. Earlier in 2015, West claimed that he had to take 30 showers before current wife Kardashian would date him, implying that he needed to clean himself after dating Rose.
"Unfortunately, I was extremely slut-shamed," Rose said at SlutWalkLA. "I was called 'nothing but a stripper.' Why would he ever be interested in me, I'm just a bald-head stripper from Philly. I was a gold digger; apparently [West] had to take 30 showers after being with me."
Khalifa, for his part, mocked Rose for working as a stripper in one of his songs.
"[Khalifa] went on to make a song saying that he 'fell in love with a stripper, but fell out of love quicker,'" Rose said. "As you can imagine, him being the love of my life, regardless if we're going through a separation or not, that was extremely hurtful."
During SlutWalk, Rose's mother took a dig at West with this sign:
This drama on Wednesday started when West changed his album title from "SWISH" to "Waves" on Tuesday evening. Khalifa tweeted that the new name was stolen from another artist, and he also mentioned "kk," which some thought was a reference to Kardashian's initials. Khalifa, however, denies that he was talking about Kardashian, explaining that he was referring to a strain of marijuana.
Share your opinion
Have you ever been slut shamed?