Here's How Latinos Are Fighting Back Against Donald Trump
Labor and immigration organizations around the country are hoping to naturalize tens of thousands of foreign-born residents and help them become U.S. citizens, ahead of an election in which they have a undeniably large stake, and a growing influence. 
As the 2016 election inches closer, the controversial political rhetoric of front-runner Republican candidate Donald Trump has progressed disproportionately by leaps and bounds. But by some measures, it is having the opposite effect.
Donald Trump and the Latino vote
According to a BuzzFeed News report, Latino voters, many who are foreign-born, are flocking to pivotal states to naturalize in order to vote — largely in reaction to the candidate's divisive rhetoric around immigration. In Nevada alone, according to BuzzFeed, labor and immigration rights organizations are pushing for 2,500 naturalizations in time for people to become U.S. citizens and register to vote. That's in addition to efforts to register 10,000 new voters.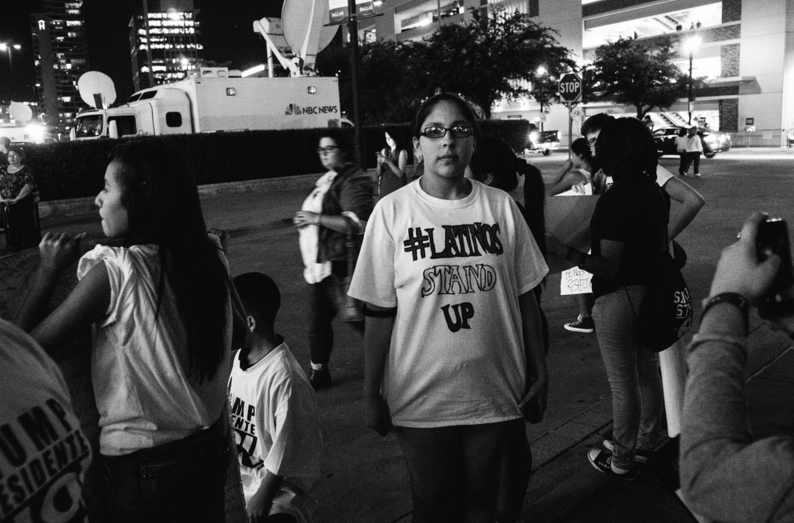 Flickr/Jamelle Bouie - flickr.com
BuzzFeed reported similar aspirations lead by advocacy organizations across the country from Colorado to Florida. One prominent group, Mi Familia Vota, said that they have seen more people driven to naturalize specifically to vote against Donald Trump.
The efforts of these organizations, propelled along by the businessman's brash rhetoric, could tap into a large pool of potential citizens and voters — more than half a million people in just four states, according to one estimation included in the report. Nationally, the number of eligible Hispanic voters this year is a record 27.3 million, according to a recent Pew study.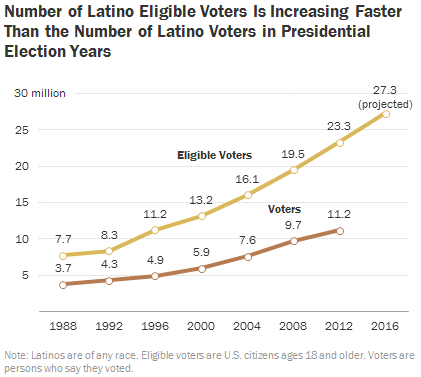 Pew - pewhispanic.org
Eligible Hispanic voters represent an increasingly important voting demographic, especially in states such as Nevada, Colorado, and New Mexico — many of which tilt Republican when Latino voters don't turn out, and Democrat when they do. FiveThirtyEight points out that each of those states voted for George W. Bush in 2004, but President Barack Obama in 2008 and 2012. Other states are seeing an increase in potential Latino voters, too: in Florida, the Puerto Rican population is booming.
That's all at a time when the contentious GOP primary — driven largely by Trump's rhetoric — has driven minorities away from the party.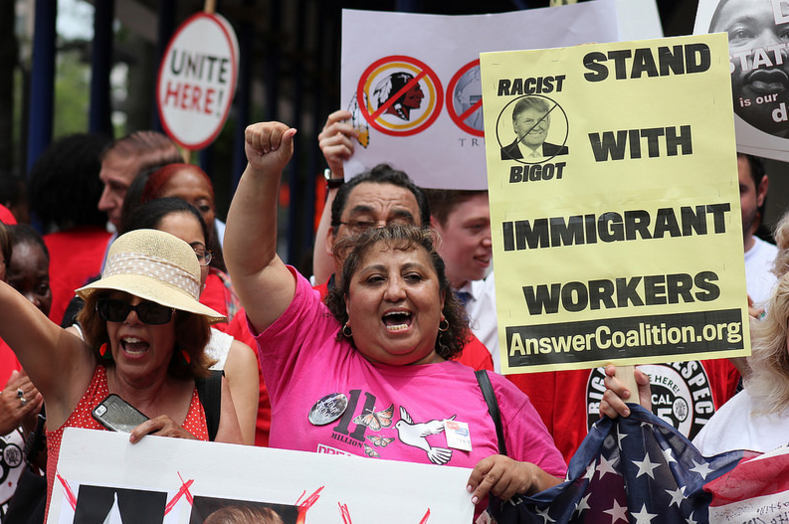 Flickr/Elvert Barnes - flickr.com
How successful the effort to naturalize residents and register them to vote remains to be seen, though there are some logical indications. As BuzzFeed notes, political platforms that include support for harsh immigration policies have lead affected populations to register to vote — from a ballot measure restricting education access for undocumented children, to a surge in registered Latino voters during the rise of Arizona's anti-immigration sheriff Joe Arpaio (who this week endorsed Trump).
But early signs show that that sentiment only needs to be wrangled: In Iowa on Wednesday, Latino voters turned out to protest the candidate ahead of the pivotal Iowa caucus vote on Monday. "We want to turn his negativity into a positive for our community," Joe Enriquez Henry, an organizer with the League of United Latin American Citizens, told the Los Angeles Times.
Share your opinion
Does Donald Trump stand a chance with the Latino community?