This Ad Agency Just Took a Bold Stance Against Sexism
January 29th 2016
By:
A video titled #WomenNotObjects went viral earlier this month by pointing out the sexism and objectification of women in advertising.
Now we find out that a New York advertising agency produced the video: Badger & Winters recently came forward to take credit for the #WomenNotObjects campaign and vow never to objectify women in its ads or work again.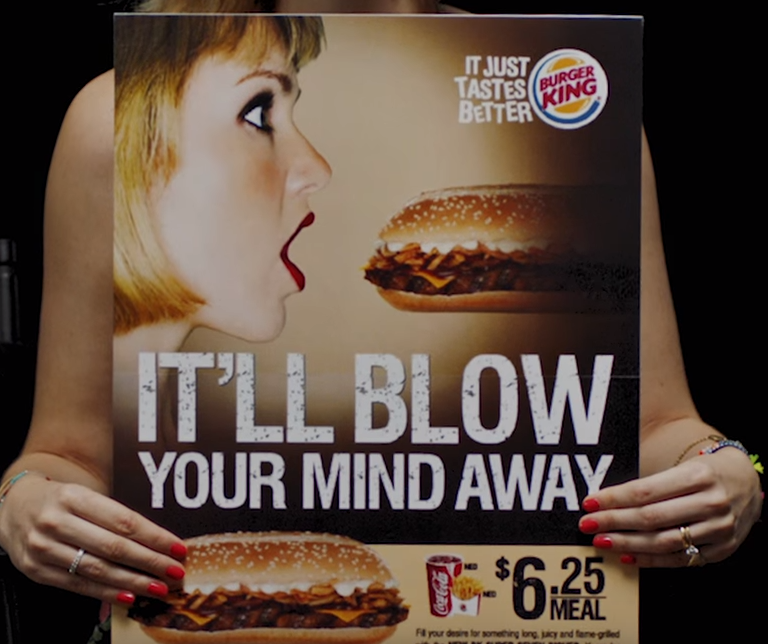 #WomenNotObjects YouTube - youtube.com
Company co-founder Madonna Badger told Women's Wear Daily that the brand initially released the video anonymously to see "what the reaction was about it, outside of the realm of the industry."
The video, which has more than 1 million views, features highly sexual ads created for Tom Ford, American Apparel, and Carl's Jr., among other companies. One woman says, "I love giving blow jobs to sandwiches," while holding up an ad of a woman opening her mouth wide next to a burger. Another woman says, "I love sacrificing my dignity for a drink," as she reveals a sexually themed alcohol ad.
The video underscores the absurd lengths to which brands will go to sexualize their ads.
The #WomenNotObjects campaign aims to hold all advertising agencies, Badger & Winter included, accountable for objectifying women in ads, Badger told Women's Wear Daily:
"Our goal was to now come forward and say, 'This is from an advertising agency. This is from the people who have been guilty quite frankly in the past of objectifying women and men in a way that was not acceptable.' We're coming forward and saying, 'We're not going to do that anymore. We know that it does harm, and our job is to do no harm.'"
Women make around 75 percent of all purchasing decisions, Badger added. But only 11 percent of advertising creative executives are female. The objectification of women in advertising is partly responsible for girls' having body image issues at a young age, she said. "The average age of a little girl who goes on a diet is 7, and over 81 percent of 10-year-olds think they're fat," she said.
As ATTN: has noted before, Carl's Jr. advertisements have gained a lot of attention in recent years for their highly sexual nature. Last year, the brand aired a commercial for its Tex Mex Bacon Thickburger, featuring a blonde with the word "Tex" on her bikini bottom and another woman with "Mex" plastered on her own bikini bottom. Because the two compete in a "Borderball" volleyball match, some accused the ad of being both racist and sexist.
A Carl's Jr. spokesperson defended the ad and told the Daily Mail in a statement that the ad was not a commentary on the immigration debate, as some believed.
What's it like to be a woman who creates these kinds of ads?
ATTN: spoke with one former employee who said it was "fun" and "hilarious" to work on the ads, but added that it was challenging to objectify women for work. ATTN: agreed not to reveal the employee's identity as a condition of her speaking with us, as the worker feared retribution.
"I think, after a while, it kind of runs you down and makes you frustrated with the campaign," the former worker told ATTN:. "The content is hilarious, and even though it is sexist, it is pretty funny to spend your day writing double entendres. So I had a good experience, and I never felt put down because of my gender or as a woman. I never felt the team was being sexist at all, but one of the reasons I'm no longer there is I didn't believe in the advertising I was making."
The former advertising employee added that the outrageousness of the ads made it easier to work on them, but that at the end of the day, "it's still a justification."
"You're not doing something that is empowering women or making the world a better place," the worker said. "It's not something that's sustainable as a feminist, and a lot of the women who work on it have a hard time with it."
Share your opinion
Do you think more ad agencies should reject sexism?