Pres. Obama's Landmark Fracking Regulations Just Dropped
The Obama administration announced Friday that it would roll out a new set of standards to regulate the controversial oil extraction process known as hydraulic fracturing, or fracking, colloquially. 
The new regulations apply only to fracking on federal land and land owned by American Indian tribes, but the move is an important step in updating federal regulations and attempting to at least partially ease public concern over the practice. The land covered by the rules make up for less than a quarter of the country's oil production and 17 percent of its gas, according to The Hill. 
"We need to update our regulations to make sure they can keep up with evolving technologies and innovation by industry," Interior Secretary Sally Jewell told reporters Friday. "This rule will move our nation forward as we ensure responsible development while protecting public land resources." 
"That's good for the public; it's good for industry; it's good government," Jewell added. 
The new standards, which come from the Interior Department's Bureau of Land Management (BLM), address many of the concerns often voiced by opponents of fracking. According to The Hill, they will regulate the construction of new fracking wells to reduce and control contamination of groundwater and other surrounding areas, set requirements for the disposal of contaminated fluid that comes back out of the well, and mandate the disclosure of the chemicals used to extract oil with greater force and efficiency.  
Oil and gas industry representatives, as well as Republicans in Congress pushed back against the new standards, which they claim to be an "anti-development approach" on job creation and lower costs of domestic energy. According to a statement from Sen. Steve Daines (R-Mont.), "[t]his top-down regulation is duplicative, burdensome and ultimately, a direct attack on American energy production, critical tax revenue for our schools and communities, and thousands of good-paying jobs across the nation."
Producers also complained that the new rules force extra compliance, since they are required to drill in accordance to state laws, too, which are getting increasingly strict. 
Some environmentalist groups also complained that the regulations were a missed opportunity and don't go far enough.
"While this proposal has improved from previous versions, it represents a missed opportunity to set a high bar for protections that would truly increase transparency and reduce the impacts to our air, water, public lands and communities by the oil and gas industry," Madeleine Foote, a lobbyist for the League of Conservation Voters, said in a statement. 
But Congressional Republicans appeared to be gearing up to oppose Obama's standards. "America's energy boom is one of the best things going for our economy, and keeping it going should be one of the federal government's top priorities," Speaker John Boehner (R-Ohio) said in a statement Friday.
"Instead, the Obama administration is so eager to appease radical environmentalists that it is regulating a process that is already properly regulated," he continued, promising to "do all we can" to stop further attempts to block the energy boom. 
House Majority Leader Kevin McCarthy (R-Calif.) added that leaders would "explore legislative options" to fight regulations. 
Recent Bans
In recent years, the practice has been the subject of intense national debate. While supporters claim fracking creates jobs and is a shift away from more harmful energy sources like coal, detractors point to its harmful environmental impacts and potentially dangerous public health risks, like flaming tap water. In November, environmental protesters in New York City and advocates nationwide rejoiced as New York governor Andrew Cuomo announced a ban on fracking in New York state.
The announcement outlined what could be seen as a prototypical environmentalist-oriented outcome in a debate is increasingly taking place in communities across the nation. In the New York area, fracking was proposed to revive disaffected communities suffering from the poor economy along the New York-Pennsylvania border and to cut down on carbon emissions. Initially, the Cuomo administration was poised to support it, but in the announcement last month, the administration, citing new studies, held that the potential health risks essentially outweighed the benefits. Opponents of fracking in New York City have been vocal for years, decrying the pipeline proposed to bring hydrofracked gas into the city's infrastructure via Manhattan's West Village neighborhood. But the issue has been equally hard fought on the national scale for just as long.
Wait, what is fracking anyway, and why again is it so controversial? 
Hydraulic fracturing involves shooting water, sand, and chemicals deep into subterranean rock formations at high pressures to release natural gas. Underground rock formations, including sandstone, limestone, and shale, all contain natural gases created by decomposing organisms. Fracturing these formations releases those gases to be harvested and used above ground. Since the 1940s, when dynamite was used in deep, vertical wells to reach and blast open rock formations, fracking techniques have steadily evolved. Current day methods include a popular horizontal drilling technique that casts a network of tunnels out from a single well, allowing millions of gallons of highly pressurized water and unregulated mineral-dissolving chemicals to course through the tunnels. Sand is then pumped into the fracture lines to prop open the cracks and allow for an uninterrupted gas flow. This high-yielding, inexpensive method has become the most contentious for its reckless convenience. So although fracking has been around for a long time, only in recent years has it exploded into a divisive public policy issue.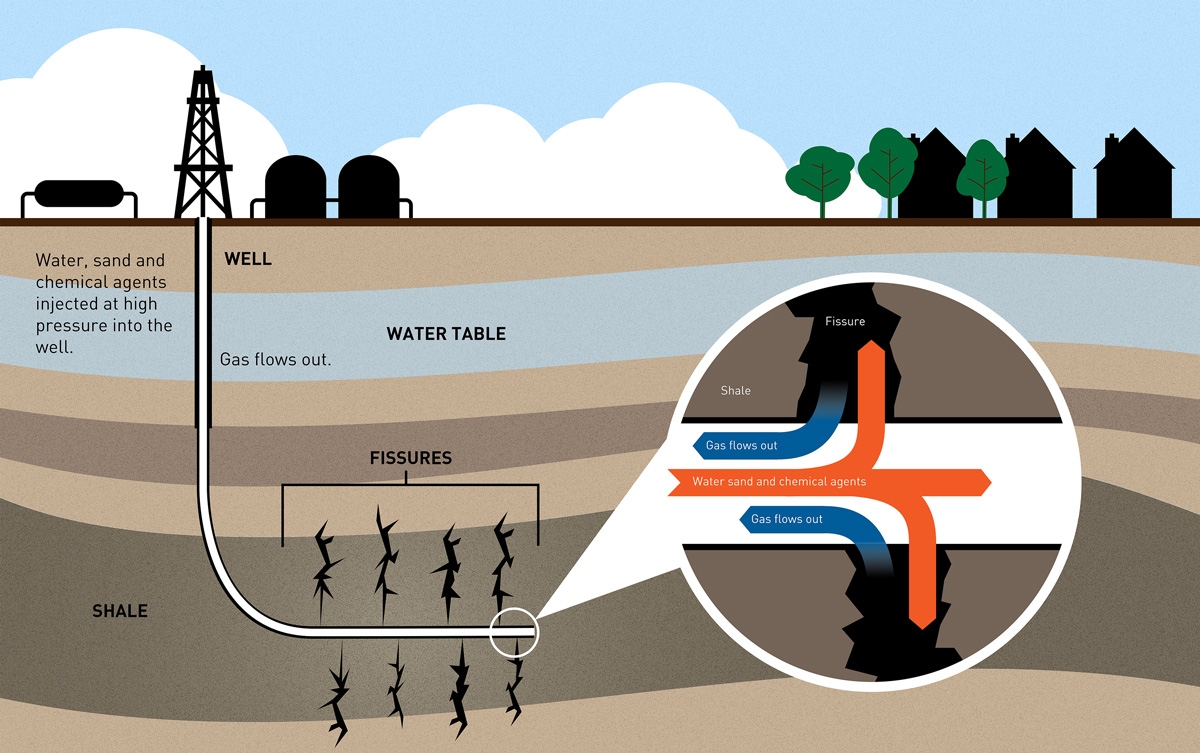 The central debate over fracking has become a tug-of-war-style cost-benefit analysis of practicality versus misguidedness. On the one hand, job creation is a real booster for communities hit hard by an economic downturn and a reduced carbon footprint is a two-birds-one-stone situation for natural gas supporters. In states where it has boomed, like Texas, Pennsylvania, and North Dakota, fracking has created well-paying jobs, lowered natural gas prices for consumers, and brought in royalties for landowners who lease their property for use. 
But environmentalists cite data that it's a step in the wrong direction entirely. On top of the greenhouse gases produced as a byproduct of natural gas extraction in the first place, critics say that new fracking techniques, such as horizontal drilling, contribute even more harmful gases and add the unsavory practice of injecting acids, detergents, and poisons deep into the ground. Narrowing concerns to local levels, activists cite cases of water supply contamination, as well as explosions and gas leaks at fracked well sites. In more than a few cases, fracking has been linked to small earthquakes, and disturbing health effects for children and pregnant women in surrounding areas. 
Why does the New York ban matter? 
Following the Cuomo administration's announcement, activists hailed the decision as a landmark victory and first for a state with significant natural gas resources (New York sits atop a portion of the natural gas-rich Marcellus shale formation). The move blankets dozens of towns around New York that have already used zoning laws to ban fracking, and one that supporters hope will set a new precedent for governors of other states as well. "This move puts significant pressure on other governors to take similar measure to protect people who live in their states," said Michael Brune, executive director for the Sierra Club, in the New York Times. By some estimations, that could very well happen; Denton, Texas already banned the practice, as well as the state of Vermont and many European countries. But given that New York had been poised to reap the many benefits of its natural habitat, the choice ultimately to err on the side of public health concerns presents a strong example for others to follow. As more towns, countries, and states take strides banning fracking, lending credence to the messages of public health and environmental activists and eschewing energy industry lobbying efforts, the body of evidence against dangerous natural gas drilling becomes evermore validated. And so far, it doesn't show signs of slowing down. 
For more info on fracking, watch this video:
Share your opinion
Do you support fracking?