Hillary Clinton Just Made a Major Statement In Flint
February 8th 2016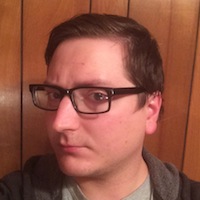 By:
FLINT, Mich. — On Sunday, just two days before the New Hampshire primary, former Secretary of State Hillary Clinton went to Flint, Michigan, and criticized the slow government response to Flint's water crisis. She urged U.S. Senate Republicans to approve an amendment to an energy bill that would provide Flint with $600 million in federal aid. This was a big move by Clinton — leaving a key, early primary state where she is trailing just 48 hours before the polls open.
Steven Thomas Kent/attn:
"This is no time for politics as usual," Clinton said at a community meeting. "Flint citizens should have the funds you need to start making repairs as soon as possible. Clean water is not optional. It's not a luxury."
Clinton, speaking to an audience consisting mainly of African-Americans, pointed to racial inequality as a factor in public officials' neglect of Flint and added that officials had lost citizens' trust during the lead-contamination fiasco. Saying that what happened in Flint was "immoral," she called for increased transparency in Flint water crisis response efforts going forward to help repair ties between city and state officials and the community.
"People in this community should know what the plan is for repairing their infrastructure," Clinton said. "You should know when the work will be done in your neighborhood. You should know whether you need to replace pipes and fixtures in your own home."
"I know this will take time and it's not going to be easy," Clinton added of efforts to re-establish faith in public officials. "But repairing trust is as important and repairing pipes."
ATTN: reported live from the scene of Clinton's meeting with community members at the House of Prayer Missionary Baptist Church. The crowd received Clinton enthusiastically with loud cheers and chants of "Hillary! Hillary!"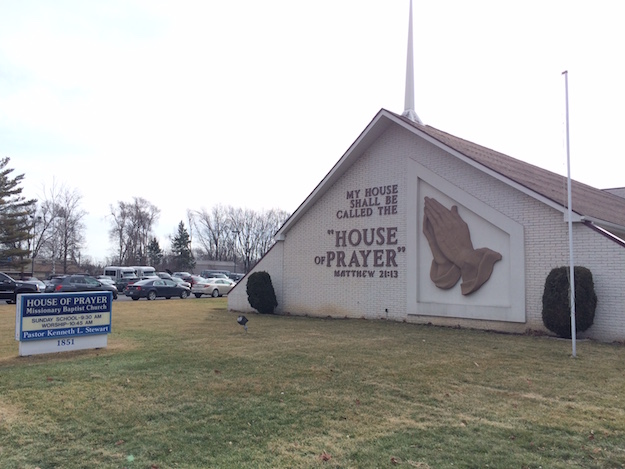 Steven Thomas Kent/attn:
Clinton plans to use her appearance in Flint to spotlight Senate Democrats' proposed amendment to an energy bill that would provide $600 million in aid to Flint residents, according to Hillary for America Michigan press secretary Clark Pettig.
Senate Democrats on Thursday blocked action on the bill, which had previously drawn bipartisan support, after Republicans refused to agree on including the Flint aid amendment.
During her appearance, Clinton said that funds from the amendment and other federal aid should be used not only for fixes to the city's water infrastructure but also on programs that will improve nutrition for Flint's children, expand Early Head Start programs for low-income pregnant women and infants, and increase funding for special education.
"You can't just take one test and know whether you're safe," Clinton said of the risk of lead poisoning for Flint's children. "[All of these approaches that I've outlined] need to be used to address the damages of lead poisoning."
Clinton also called on Americans to donate to charities such as the Community Foundation of Greater Flint in order to provide aid, and she suggested that federal programs should employ Flint citizens to help with infrastructure repairs and other aspects of the recovery effort in Flint.
"I was talking with the mayor about this — I want to figure out if there is some way that we can empower and hire Flint citizens to do this work," she said.
Clinton has been cited by the media for emphasizing the crisis in Flint more than any of her political rivals during this primary election season — including her main Democratic opponent, Vermont Sen. Bernie Sanders. (Sanders, for his part, has mentioned it, and called for Michigan Gov. Rick Snyder (R) to step down, as ATTN: previously reported.)
In her appearance today, Clinton assured Flint residents that she would not forget about them as she campaigns in the coming months.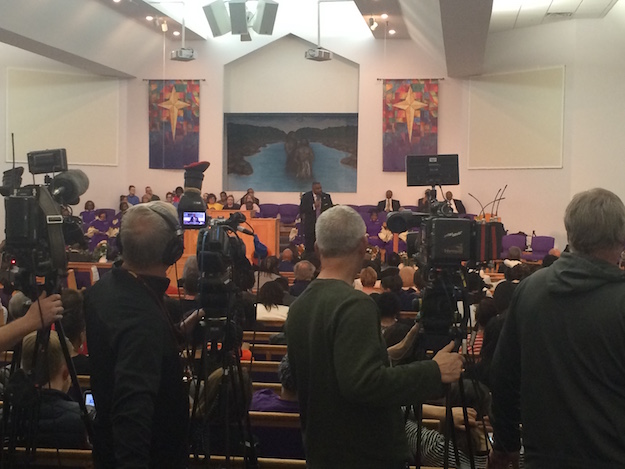 Steven Thomas Kent/attn:
"We have to keep the spotlight on Flint bright," Clinton said. "The road ahead is long, and I know there will be a lot of bumps along the way. But this is the most important work we are called to do. I will be there with you, and I plan to make sure America stays with you, too."
Clinton brought up Flint on a national stage during Sunday's Democratic debate. When asked about issues that were left untouched during the evening's discussion, she said:
"I spent a lot of time last week being outraged by what's happening in Flint, Mich., and I think every single American should be outraged. We've had a city in the United States of America where the population which is poor in many ways and majority African-American has been drinking and bathing in lead-contaminated water. And the governor of that state acted as though he didn't really care."
Clinton and Sanders will return to Flint for a Democratic presidential debate on March 6, two days before the primary elections in Michigan and Mississippi.
Lead-tainted water in Flint remains a major political and public health issue as many household taps in the beleaguered city continue to show significant concentrations of lead. Flint Mayor Karen Weaver said in a Jan. 29 press conference that government-issued water filters still aren't removing enough lead to provide safe drinking water in some Flint homes.
A number of journalists and advocates have argued that racial inequality was a factor in the Flint crisis, saying that public officials neglected the city due to its largely poor and black population.
Clinton echoed this sentiment in her speech in Flint, saying that the slow response to Flint's crisis has been in part a product of racial inequality. "As I said a couple of weeks ago, if what happened in Flint had happened in [the wealthy Michigan suburb of] Grosse Pointe, we would have had a solution yesterday," she said.
Genesee County Commissioner Brenda Clack — who attended the event and said she was scheduled to meet with Clinton later along with other officials — told ATTN: that she hoped Clinton's Flint visit was "not just a campaign photo op" and expressed optimism that Clinton would "get things done." Clack said she supported Clinton's proposal to put Flint citizens to work on repair efforts using federal aid.
"I think that's an excellent idea," Clack said. "I think it would raise the self-esteem of young people in Flint, so many of whom have given up."
For his part, Snyder appreciated any efforts to bring attention to Flint, press secretary David Murray told ATTN: in an email. The governor has put nearly $70 million on the table to help with recovery programs and also requested aid from the federal government on a number of levels — including an expansion of the Women, Infants and Children program — so that more Flint children will have access to nutritional programs, Murray added.
"We welcome the assistance of anyone who wants to roll up her or his sleeves and help the people of Flint," Murray said. "Gov. Rick Snyder requested federal assistance, and we hope Secretary Clinton can lend her voice to convince the federal government to provide Flint residents the help they need."
Michigan Democrats urged Snyder to step down this week after emails surfaced showing that top aides to the governor knew about lead-related outbreaks of Legionnaires' disease around Flint as early as last March.
Clinton did not bring up Snyder or the much-maligned Michigan Department of Environmental Quality during her stop. Instead, she focused on ways to address the Flint crisis and also relayed stories from community members she met during her trip to Flint.
"I spoke to two young mothers, and they shared the experience of what happened to their children," Clinton said. "Emergency room visits that never occurred before, behavioral problems in school, worries about what's down the road in terms of development and opportunities."
Clinton added: "One young woman told me, 'We're in our 30s. We're not supposed to worry about how much medication we're taking, what kind of stresses we're under. But that's what we talk about now.'"
Share your opinion
Do you agree with Hillary Clinton that the federal government should spend $600 million on Flint?