The Horrifying Thing That Happened When This Woman Got a Standard Pedicure
February 22nd 2016
By:
An Arkansas woman named Stacey Wilson was hospitalized for an infection, which may have been caused by a cut from a pedicure.
So much for a relaxing weekend indulgence.

via giphy.com
Wilson told local news station KATV that she got a pedicure in Benton, Arkansas on Saturday, and the pedicure attendant was rough on her feet during the appointment. She was allegedly cut with a pumice stone during the pedicure. The following day, Wilson's ankle was red and sore, and by Tuesday, she couldn't even stand. She had a fever of 102, and the redness had spread up to her knee. Wilson, who is a nurse at Saline Memorial Hospital, went to the emergency room to treat this.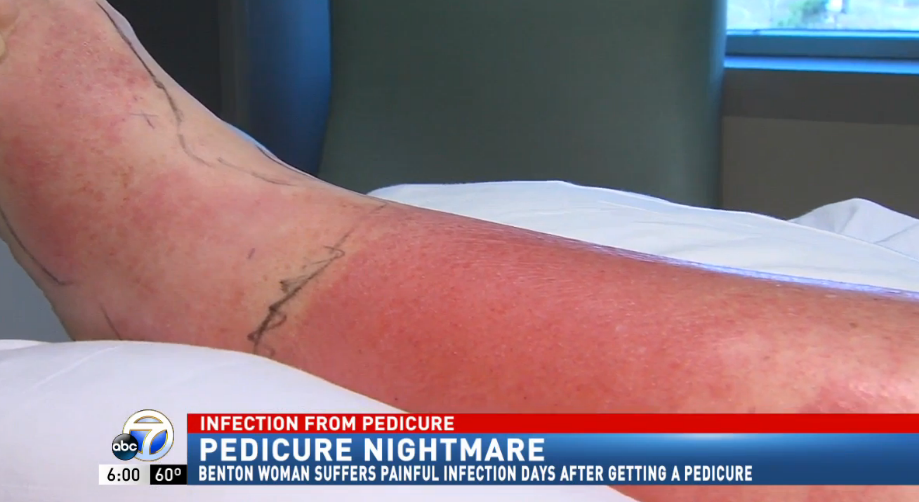 KATV - katv.com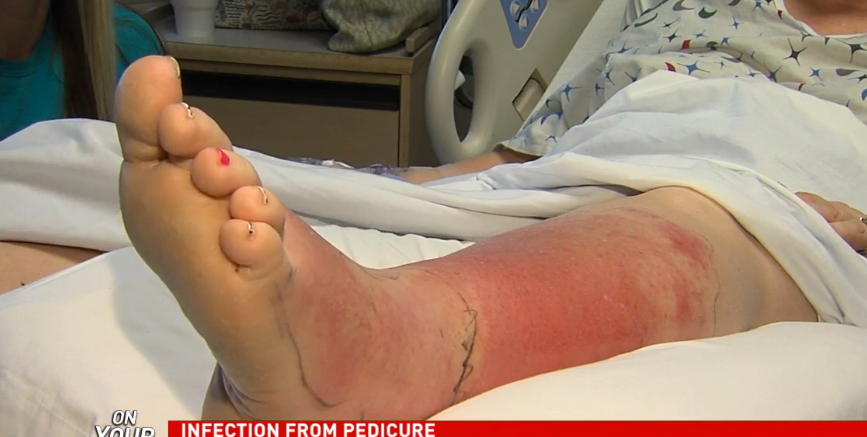 KATV - katv.com
Doctors at Saline Memorial Hospital told Wilson that she had contracted cellulitis, which the Mayo Clinic describes as a "potentially serious bacterial skin infection" that can "rapidly turn life-threatening," if it is not treated.
"Cellulitis occurs when bacteria, most commonly streptococcus and staphylococcus, enter through a crack or break in your skin," the Mayo Clinic states on its website. "Although cellulitis can occur anywhere on your body, the most common location is the lower leg. Bacteria is most likely to enter disrupted areas of skin, such as where you've had recent surgery, cuts, puncture wounds, an ulcer, athlete's foot or dermatitis."
Dr. Michael Pafford of Saline Memorial Hospital told KATV that they couldn't confirm the pedicure caused Wilson's cellulitis, but that the hospital "definitely" sees the condition associated with manicures and pedicures. Meanwhile, Wilson is in a lot of pain.
"It feels like you're sitting too close to a fire and you just cannot get away from it, that's the way it feels," she told KATV.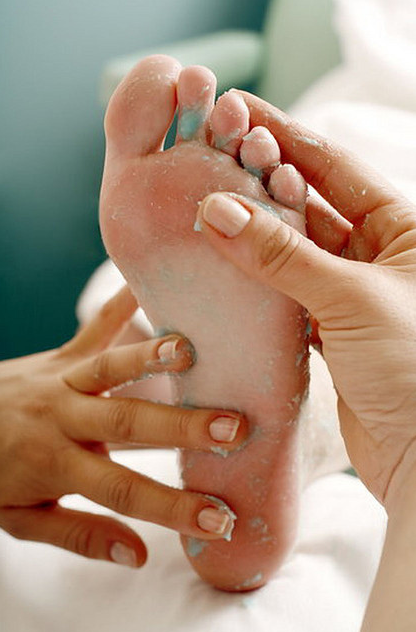 Flickr/Zenspa1 - flickr.com
Wilson isn't the only one to have a bad health experience after getting a pedicure. In 2014, a Texas woman named Molly Dannenmaier told U.S. News & World Report that she and a friend got bad toe infections after going in for pedicures.
"[My friend] got a terrible infection, and in fact had to have surgery to have her toe nail removed," Dannenmaier said. "It's never going to grow back."
In 2014, podiatrist Andrew Carver told The Washington Post that people should avoid having pumice used on them during pedicures. Pumice is a gray stone that is very porous and comes from volcanoes.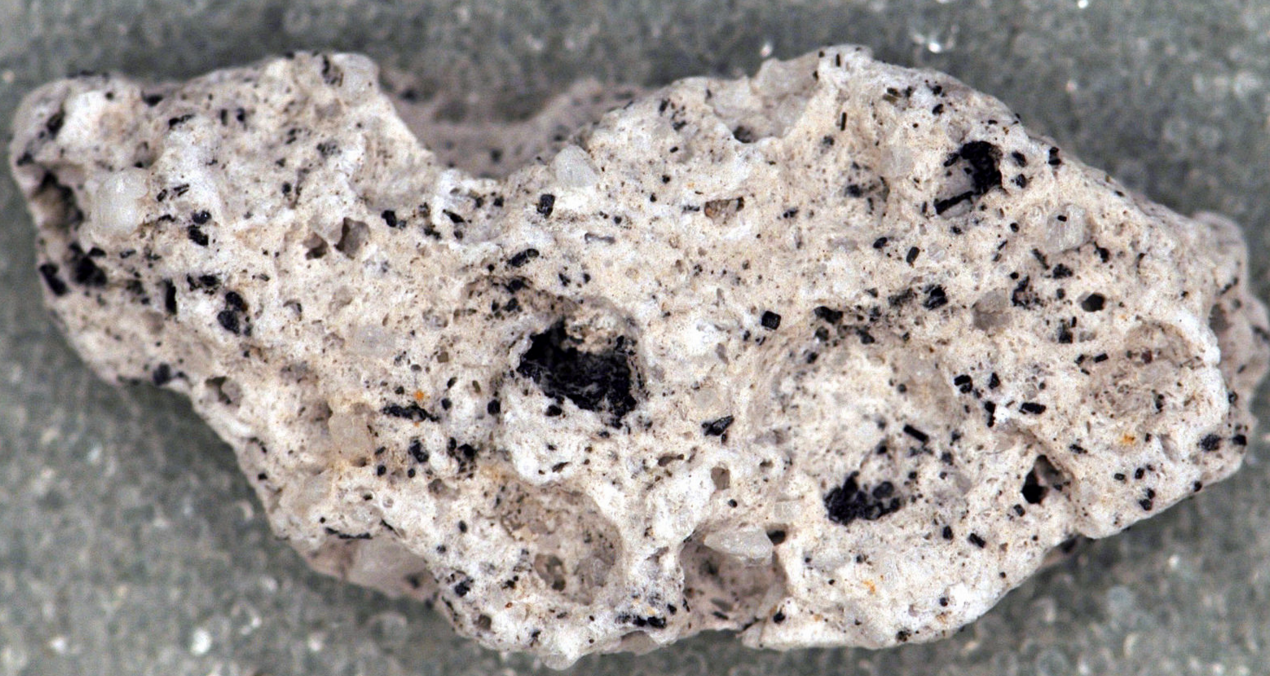 Flickr/James St. John - flickr.com
"Just make sure you aren't being treated with used pumice," he said. "And don't be afraid to ask questions [about the salon's equipment sanitation process]."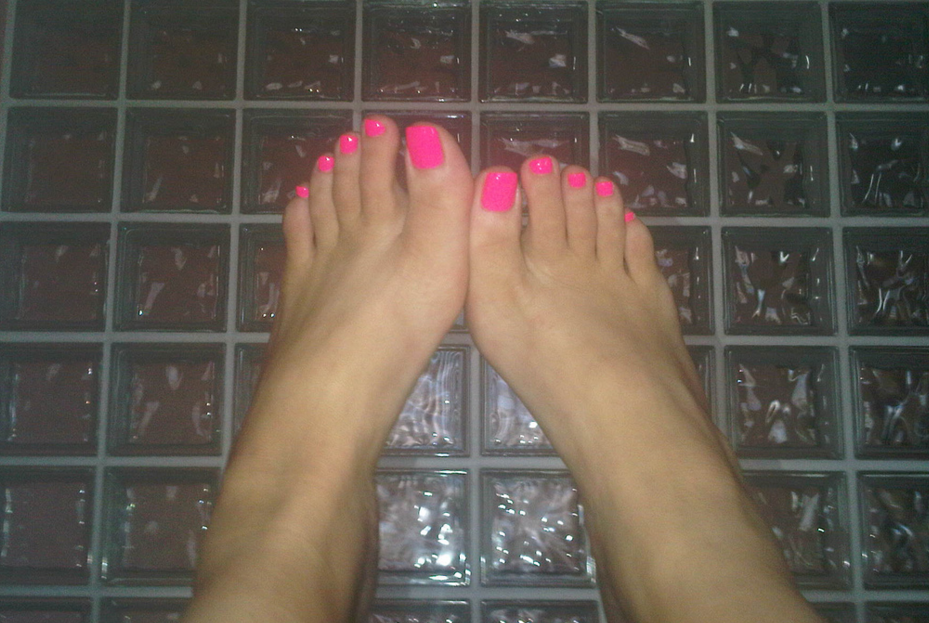 Flickr/leyla.a - flickr.com
Pedicures can cause fungus and other health risks if the pedicure facilities aren't properly cleaned, according to the American Academy of Dermatology. Two years ago, New York podiatrist Jackie Sutera told The Huffington Post that she sees up to a dozen patients a week with infections that can be caused by whirlpool foot baths, which are integral to the pedicure experience. To avoid getting sick, Sutera suggested staying away from salons that don't have pipe-free foot baths. Sutera also said that people in poor health might want to think twice about getting pedicures, as they may be more vulnerable to infections.
"People who have compromised immune systems, such as diabetics, people with HIV, the elderly or anyone with vascular disease or circulation problems, are more at risk," Sutera said, adding that you're even more susceptible to bacteria and cellulitis right after shaving your legs. "You can literally end up in a hospital."
Share your opinion
Do you know anyone who has ever gotten sick from a pedicure?