Donald Trump Just Won Nevada: Here's What That Means
February 23rd 2016
By:
LAS VEGAS, NV — Businessman and Republican front-runner, Donald Trump, was declared the victor in the Nevada caucus on Tuesday, according to results reported by the Associated Press.
This is the third straight win for Trump, whose margins were double digits ahead of competitors in New Hampshire and South Carolina. His victory party is taking place at the Treasure Island Hotel and Casino.
As of now, Sen. Marco Rubio and Sen. Ted Cruz are battling it out for a second place finish.
Nevada's caucus has a complicated history.
The Nevada caucuses (on both sides) have a reputation for having their pitfalls. (In fact, on Monday, Donald Trump called them a "dangerous" system on Hugh Hewitt's radio program.) Nevada debuted its status of "first in the West" back in 2008, and given that many people are unfamiliar with the caucus process there has been traditionally low voter turnout. It is estimated that 80,000 people showed up to vote this year in the Democratic caucus, down from 120,000 back in 2008.
Politico explains the GOP's low voter turnout:
"Turnout on Tuesday is expected to be minuscule, even as the 2016 Republican campaign has set records in the first three states. In 2012, only 33,000 Republicans showed up to caucus in Nevada, which was down from 44,000 four years before that. Caucuses are notoriously difficult to poll and predict, especially in states like Nevada without a long history, but Trump has led public surveys handily."
At Palo Verde High School in Las Vegas, one of the larger GOP caucus sites, there was a line out the door starting at about 5 p.m., as caucus-goers headed in to vote either in classrooms or small round tables labeled with their precinct number inside of the large auditorium.
Other issues that have plagued the caucus in the past, included the delayed results: In 2012 the caucus was on a Saturday, and the official results were not in until Monday morning, the Guardian reported.
So what does Trump's win mean?
Prior to his win, Trump had 67 delegates, and there are 30 delegates at stake in Nevada that will be divided up proportionally to the candidates. Trump will take 13 delegates from the Nevada caucus, according to the New York Times. Candidates need 1,237 delegates to become the nominee, and the Washington Post reported on some delegate math done by the site FHQ, which suggests that Trump could become the nominee.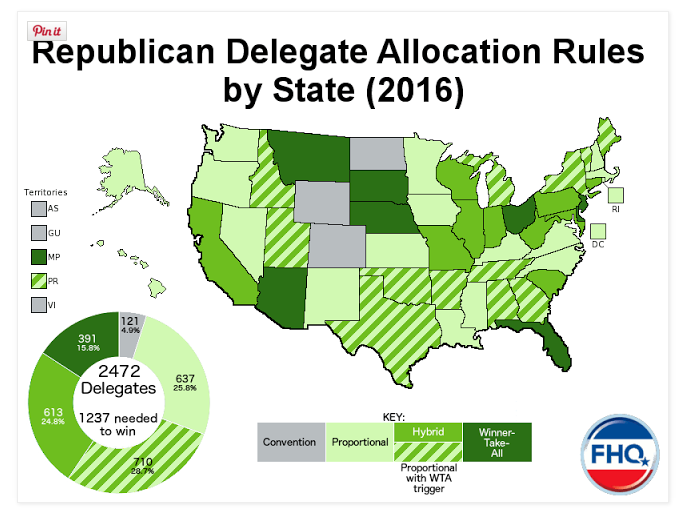 FHQ - blogspot.com
Overall, Trump's win in the states following Iowa mean that everyone — the press, the Republican establishment — is taking the potential for a Trump presidency more seriously. Following former Florida Gov. Jeb Bush's exit from the race, many establishment Republicans are coalescing around Florida Sen. Marco Rubio (and some are urging Ohio Gov. John Kasich and Dr. Ben Carson to drop out).
Share your opinion
Do you think Donald Trump will win the Republican nomination?