Charlie Hebdo Isn't Afraid. Here's Its New Cover
This is Charlie Hebdo's first cover since three gunmen attacked the offices of the satirical magazine in Paris last week.  It's an image of Mohammed holding a "Je Suis Charlie" sign, and the words "All is Forgiven" above, in French.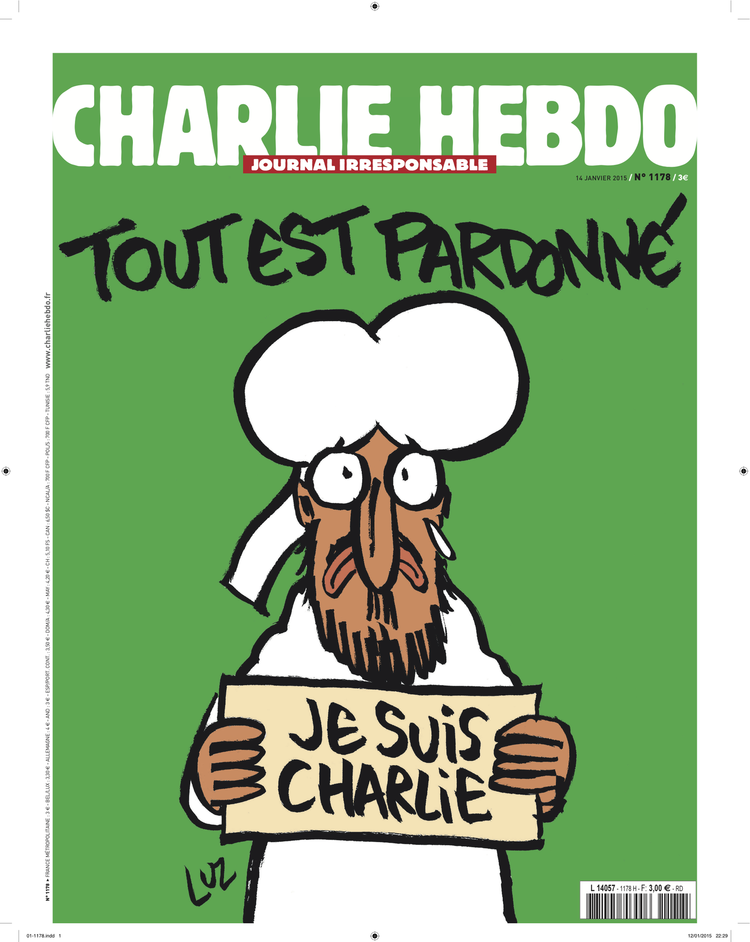 Million of people showed up in Paris to march in solidarity and support of the magazine this weekend, with one notable absence. 
The response in social media
Social media has been a major driver of the public consumption of last week's shooting in Paris, where gunmen killed twelve people in an attack on the office of Charlie Hebdo, a satirical magazine. The alleged motive behind this attack was retaliation for the magazine's mocking of Islam. Three of the suspects involved in the shooting were killed earlier today by French authorities after two separate stand-offs in different parts of the country.
Hashtags popular among Muslims
Muslims are speaking out against the attacks with two hashtags. 
One is #JeSuisAhmed. Ahmed refers to Ahmed Merabet, the French policeman that was murdered by the gunmen. The symbolism is clear: Merabet, a Muslim, died protecting the society that the terrorists sought to suppress on Wednesday. 
To that end, #notinmyname is trending as well. It's a pretty simple idea -- Muslims are disavowing violence in the name of Islam and its followers.
A tale of two hashtags
After the attacks, the hashtag #JeSuisCharlie trended on Facebook and Twitter as a declaration of solidarity and mourning over the loss of life. This phrase was also present on signs at the massive gathering of mourners last night in Paris. On the other hand, the hashtag #killallmuslims rose on Twitter, an unfortunate reaction, to say the least, to Wednesday's events
The two hashtags represent the ying and yang of social media. In one, people are coming together to stand up against terrorism and for free expression. In another, we're seeing a mob mentality, reflected in reports of violence against mosques in France.
Cartoonists respond
The gunmen specifically targeted and killed three cartoonists at Charlie Hebdo, which was famous for running cartoons like this one: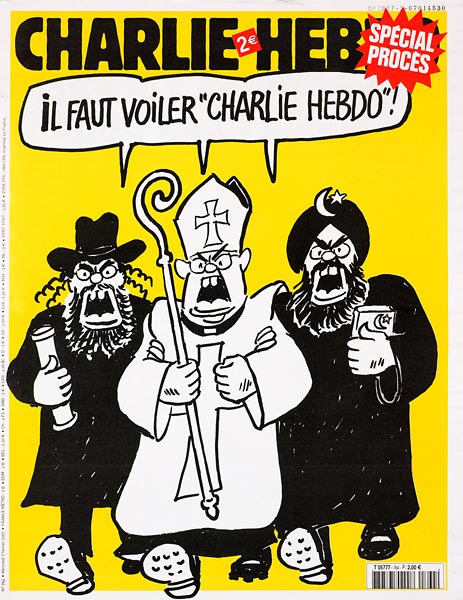 Cartoonists around the world responded to the murders with poignant messages about their contribution to freedom of expression. 
​Many of these cartoons were shared on social media, as well.
Nuanced opinions
There were also many in the Arab world that find Charlie Hebdo cartoons offensive, yet also defend their right to publish them:
From Qatar's Al-Arabi Al-Jadeed: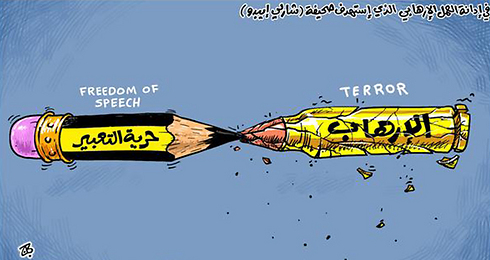 From Anwar's Al-Masry Al-Youm, with the caption "Long live satire!": 
From Lebanon's An Nahar, with the caption "This is how we get revenge on the cartoonists' killer":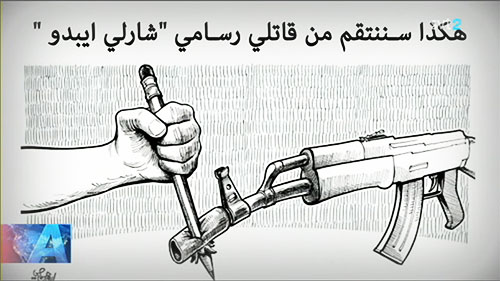 Share your opinion
Do you believe in protecting the Freedom of Speech?