The Shocking Number of Atheists in the U.S. Congress
February 24th 2016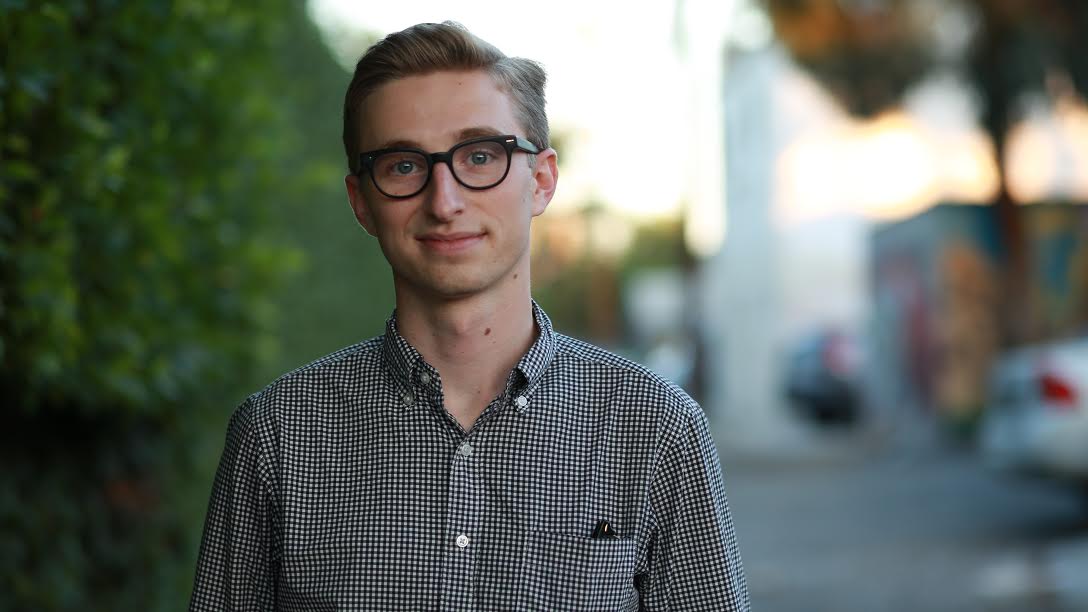 By:
Not a single member of the 114th U.S. Congress is an admitted atheist. While the number of religiously unaffiliated representatives grew by one (to a grand total of one) in 2015 with the election of Rep. Kyrsten Sinema (D-AZ), atheists remain strikingly underrepresented on Capitol Hill.
Compare that to national polling — which shows that atheists, agnostics, and religiously unaffiliated identities are on the rise in the U.S. — and the congressional divide becomes more striking. The trend probably has something to do with the fact that atheists are considered highly unelectable, according to Gallup.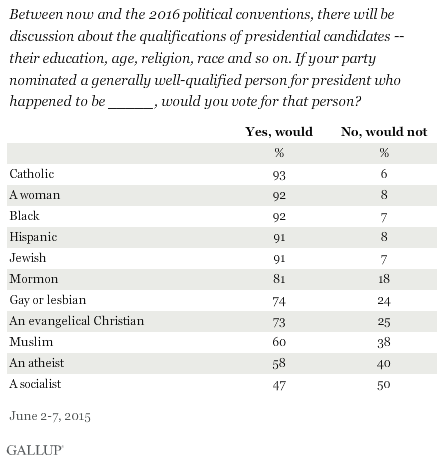 Gallup - gallup.com
What could this mean for Bernie Sanders?
Americans' views toward atheists are particularly relevant to the campaign of presidential candidate Bernie Sanders, who occupies unique territory when it comes to religion and politics in United States History.
Here's how Sanders defined his relationship with religion during a press breakfast hosted by the Christian Science Monitor in June:
"I'm proud to be Jewish," the Independent from Vermont – and candidate for the Democratic presidential nomination – responded Thursday at a press breakfast hosted by the Monitor. Though, he added, "I'm not particularly religious."
Asked to define his spirituality at CNN's Democratic town hall event on Tuesday, Sanders offered a poignant description of his humanitarian belief in togetherness, which he says crosses denominational boundaries.
"Every great religion in the world — Christianity, Judaism, Islam, Buddhism — essentially comes down to 'do unto others as you would like them to do unto you,'" Sanders said. "I believe that what human nature is about is that everybody in this room impacts everybody else in all kinds of ways that we can't even understand. It's beyond intellect. It's a spiritual, emotional thing."
While the response was generally well-received, it generated a debate on Twitter that we've seen before. People seemed to feel that the Vermont senator intentionally dodged the question, emphasizing his political vision of unity in an effort to avoid addressing his allegedly unspoken atheism. (Note: Sanders has previously claimed to believe in a higher power).
In addition to being pegged as an atheist, Sanders has also inspired curiosity over his seeming unwillingness to embrace his Jewish identity, secular or not.
According to New York Times feature posted on Wednesday, Sanders' Jewishness is rooted in a desire to affect social and political change, rather than adherence to any particular religious doctrine. Joseph Berger of The Times writes:
Mr. Sanders, those who know him say, exemplifies a distinct strain of Jewish identity, a secular offshoot at least 150 years old whose adherents in the shtetls of Eastern Europe and the jostling streets of the Lower East Side were socialists, anarchists, radicals and union organizers focused less on observance than on economic justice and repairing a broken world. Indeed, he seems more comfortable speaking about Pope Francis, whose views on income inequality he admires, than about his own religious beliefs.
The stigma against atheists in politics.
The backlash against Sanders on Twitter for failing to fully embrace a single denomination or supernatural entity raises questions as to why — in a country that maintains a constitutional separation of church and state, and where religious identities are increasingly diverse — atheism, real or perceived, is still such a contentious issue, especially when it comes to elected officials.
"[A]ccording to our recent survey, being an atheist continues to be one of the biggest potential liabilities for a hypothetical presidential candidate, with roughly half of Americans saying they would be less likely to support a candidate who does not believe in God," Pew senior researcher Jessica Martinez told ATTN:. "I would also point out that while about half of Americans say they would be less likely to support a presidential candidate who does not believe in God, the share who say this has been declining over time."
Seven percent of Americans are either atheist or agnostic, and almost 16 percent say they're religiously unaffiliated. Shouldn't that translate into greater acceptance of the religiously unaffiliated in Congress and the White House?
Share your opinion
Would you vote for an atheist?