What Happened When a Fitness Instagrammer Body Shamed Tess Holliday
February 26th 2016
By:
Plus-size model Tess Holliday has a strongly worded message for those who critique her body for looking "unhealthy."
After fitness Instagram star Ashy Bines dissed Holliday for "not [being] a good role model to young girls" and having an "extreme lifestyle", Holliday defended her body in a Facebook post on Thursday afternoon, saying that she isn't about to change the way she looks based on anyone's opinion.
"Oh no, a fitness instagramer doesn't like me because I'm fat & a bad 'role model,'" Holliday, who is six months pregnant, wrote on Facebook. "I'm gonna go change who I am entirely to please her & fit into societies fucked up reality of 'beauty' right away... Said no one ever. It's 2016 mate, some people don't want to (or can't) look like the cover of women's fitness. Get over it."
This was a response to Bines' recent Instagram post that juxtaposes Holliday in a bikini and a severely underweight runway model named Ana Carolina Reston, who died ten years ago from an infection caused by anorexia. Bines, who did not know of Reston's death when she posted the Instagram, wrote that Reston and Holliday don't look healthy:
"I've seen [Holliday] in recent articles and apparently is an 'inspiration' to the younger generation. I also think she is not a good role model for young girls. Thin girls are slammed A LOT these days but females who are carrying more weight than what they should for [their] bodies, organs, moods, bones, cells, etc., to be 'healthy' are now inspirations because they are confident in their swimsuit?"
Bines added that she thinks it's "fantastic" that Holliday is happy with her body but that extreme body types should not necessarily be rewarded.
"[W]hen someone is living an extreme lifestyle one end or the other, and I hope girls find other role models to help them achieve a healthy lifestyle."
Though Bines wrote in a later Instagram post that many of her followers agreed with her initial post, some criticized her for body shaming Holliday, who was the first size 22 model to sign with a major agency: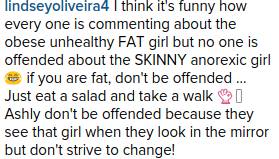 Instagram - instagram.com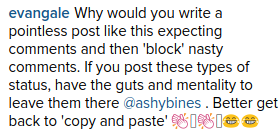 Instagram - instagram.com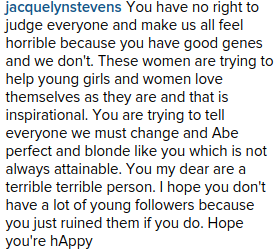 Instagram - instagram.com
Bines doubled down on her remarks in a follow-up post on Monday.
"[W]ith yesterday's post I understand it may upset some but I really wish everyone would see my message is not from a evil place - I was also unaware the girl on the left has passed away from kidney failure ;(," Bines wrote. "I never said Tess is not a beautiful [woman] - she is gorgeous - I think we are all beautiful - my point was about HEALTH so I suppose naturally people will [attach their] own meaning and emotion on it and that's out of my control."
And, despite continued criticism of her comments, Bines posted a Facebook video on Thursday that she still believed that Holliday should not be considered role model to the younger generation of women.
Holliday is no stranger to pushing back against established beauty standards.
Holliday who created the viral #effyourbeautystandards hashtag, has criticized unrealistic body image standards in the media on several occasions.
Holliday talked to "I Yahoo'd Myself" host Nick Axelrod in December about her well-publicized MTV article in which she slammed Victoria's Secret for promoting negative body image.
"They are kind of perpetuating the image of what's wrong with America and with society, in general, that you have to look a certain way — like a Victoria's Secret Angel — to feel beautiful and be sexy," Holliday said.
Holliday added that she wants to send the message to women that it's OK to be heavy.
"I know that I am fat, but people completely miss the point of me trying to educate women and show them that it's OK to be who you are and love yourself and still live your life and not be miserable," she said.
Share your opinion
Do you agree with Holliday's response?