Lena Dunham Had A Glorious Reaction To Being Photoshopped
March 1st 2016
By:
"Girls" creator Lena Dunham just confronted Spanish magazine Tentaciones for publishing an apparently heavily retouched image of her on its cover.
Dunham, who has spoken out about suffering from body image issues before, posted an Instagram photo on Monday of her picture on Tentaciones, a publication that comes with El País, the highest-circulating daily newspaper in Spain:
"Oh hello El Pais!" Dunham wrote. "I am genuinely honored to be on your cover and so happy you licensed a pic by @ruvenafanador, who always makes me feel gorgeous. BUT this is NOT what my body has ever looked like or will ever look like- the magazine has done more than the average [P]hotoshop. So if you're into what I do, why not be honest with your readers? Much love, Lena."
It's Still Unclear Who's Responsible for The Photoshopping.
The publication has since published an open letter to Dunham in Spanish and claimed that they purchased the image from the licensing agency Corbis. They have also denied Photoshopping the image. A representative for Corbis told BuzzFeed News that the image came from the licensing agency. Corbis also stressed that any publication would first need approval from Dunham's PR team before retouching the photo.
"In line with standard practice, all retouching would have been cleared through Lena's PR before being made available for syndication," the statement read.
On Tuesday, Dunham posted an Instagram photo of the uncropped cover image, and explained why she believes magazines choose to publish retouched photos of her:
"Hey Tentaciones- thank you for sending the uncropped image (note to the confused: not unretouched, uncropped!) and for being so good natured about my request for accuracy," Dunham wrote. "I understand that a whole bunch of people approved this photo before it got to you- and why wouldn't they? I look great. But it's a weird feeling to see a photo and not know if it's your own body anymore (and I'm pretty sure that will never be my thigh width but I honestly can't tell what's been slimmed and what hasn't.)"
Dunham added that she has a "complicated history with retouching." Two years ago, Jezebel published the untouched images of Dunham's cover on Vogue after paying $10,000 to obtain them, a move that rubbed Dunham the wrong way because she felt "completely respected" by Vogue and didn't want the negativity surrounding the untouched photos to take away from the excitement of getting on the cover of Vogue.
In her Instagram post, Dunham noted that the sexist criticism surrounding Hillary Clinton's candidacy might have inspired her to speak out about the magazine cover, among other things.
"I wanna live in this wild world and play the game and get my work seen, and I also want to be honest about who I am and what I stand for," Dunham wrote. "Maybe it's turning 30. Maybe it's seeing my candidate of choice get bashed as much for having a normal woman's body as she is for her policies. Maybe it's getting sick and realizing ALL that matters is that this body work, not that it be milky white and slim. But I want something different now."
Many of Dunham's fans stood by her comments on social media: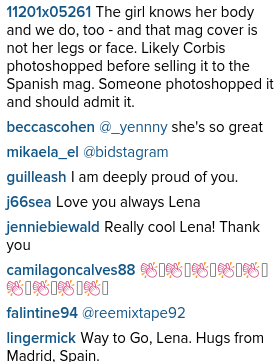 Instagram - instagram.com
Dunham is far from the first celebrity to call out bad Photoshop jobs. A few weeks ago, UFC fighter Ronda Rousey apologized to her Instagram following after unintentionally posting a Photoshopped picture of herself on the platform. Upon posting a promotional image she received for her appearance on "The Tonight Show with Jimmy Fallon," she shared a second Instagram post stating that the first image had been edited unbeknownst to her and that she wanted to apologize to fans for being dishonest.
Rousey's follow-up Instagram post shows the airbrushed image with the untouched image, revealing that her arm was Photoshopped to appear slimmer:
"[T]his goes against everything I believe and I am extremely proud of every inch of my body," she wrote. "And I can assure you all it will never happen again. I could not be more appalled and hope you all forgive me."
Share your opinion
Do you think more celebrities should come forward when they've been Photoshopped?