This Model Just Shattered the Bearded Lady Stigma
March 1st 2016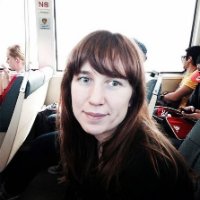 By:
Bearded ladies have long been visible mostly as pop-cultural punch lines and carnival sideshows. But model Harnaam Kaur recently made a historic stride for bearded women everywhere at London Fashion Week.
Kaur, a self-proclaimed "body confidence and anti-bullying activist," walked the runway for Los Angeles-based jewelry designer Marianna Harutunian to prove that bearded women are beautiful and runway worthy. The model proudly told her Instagram followers that she is "the first bearded lady to walk for a celebrity [sic] jewellery designer." Haruntian's designs have also been worn by Lady Gaga, Nicki Minaj, Madonna and Katy Perry.
Kaur developed polycystic ovary syndrome at age 11, according to the Huffington Post, which led her to grow a beard. After years of bullying and shame, she has come to love her beard as a source of beauty and strength. She is also a representative for plus-size model Tess Holliday's #effyourbeautystandards campaign, and shared her own experience with body shaming on Instagram.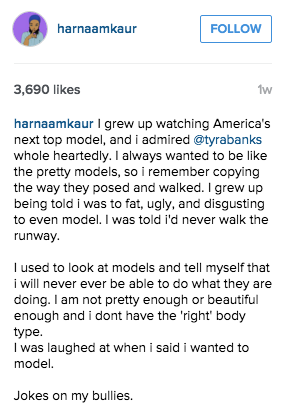 Instagram/harnaamkaur - instagram.com
Kaur posted a video on Instagram last month, encouraging her followers to love themselves.
The Perfect Body Is Changing
As ATTN: has reported, many models, actresses and public figures have come forward as body positive and slammed stigmas surrounding their alleged physical imperfections and those of other women.
A recent New York City Fashion Week show included the runway debut of Lauren Wasser, a disabled model who lost her leg to Toxic Shock Syndrome, as well as plus-size and transgender models.
Kaur's Walk Is About More Than Body Positivity.
There's more to the stigma of "the bearded lady" than whether or not beards are considered beautiful by Hollywood or the fashion world. Bearded ladies appeared as attractions in circuses and traveling "freak shows" as early as the 19th century. These women inspired early Hollywood films like W.C. Fields "You Can't Cheat On An Honest Man" to use the trope of the bearded lady as a comedic device signaling trickery and the absurd. Even today, bearded female characters tend only to appear on TV and film as circus performers or punch-lines.
Women like Kaur, who grow facial hair due to hormonal disorders or other imbalances, live with this history, and often suffer for it.
wikimedia/Annie_Jones - wikimedia.org
While Kaur's legendary walk made industry history, it also humanized her in a way that is extremely rare for a bearded woman in the public sphere. While fans may be drawn to her Instagram by her modeling work, once they visit her page, they can watch her videos, read about her advocacy work, and see that she is much more than just a bearded lady model.
Share your opinion
Do you think social messages in fashion are effective?