Why as Many as One Million Americans Could Lose Their Food Stamps Next Month
By the time April 1 rolls around, as many as one million Americans could find themselves going hungry, because they won't meet new requirements to qualify for food stamps.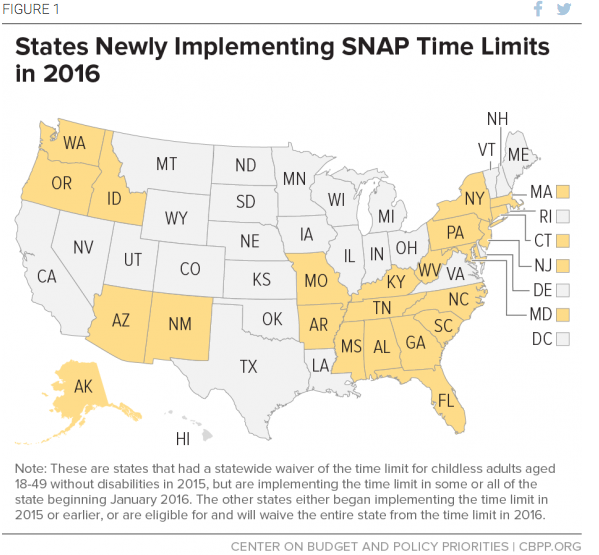 CBPP - cbpp.org
At the end of March, 23 states plan to enforce work requirements that were previously waived during the Great Recession, which began in 2008. But with economic rebounds, those states will reinstate federal work requirement rules that limit "able-bodied adults without dependents to three months of food stamps in any three-year period — unless they work at least 80 hours a month, or meet education and training or volunteer benchmarks," the The Wall Street Journal reported.
According to estimates by the Center on Budget and Policy Priorities, the number affected could be between 500,000 and one million of the nation's poorest people. According to the CBPP, those people generally "either don't qualify for unemployment insurance or any other federal or state cash or food assistance benefit," or their unemployment insurance has expired.
"These individuals will lose their food assistance benefits after three months regardless of how hard they are looking for work," the CBPP notes in a recent report, which estimates the average annual income for those affected to be in the ballpark of $2,000.
More than 45 million Americans use the Supplemental Nutrition Assistance Program (SNAP), according to the Department of Agriculture, and single people who utilize SNAP only get an average of $126.37 per month, according to fiscal year 2016 data from the U.S. Department of Agriculture, which was last updated on March 4.
Still, some (including some politicians) view those who use food stamps as "freeloaders," who would rather sit and leach taxpayer dollars instead of actively looking for or working at a job.
On social media, SNAP recipients slated to lose their benefits paint a different picture.
"I feel like the carpet has been pulled from under me and that I may not be able to buy food after this month," Mana, who did not want their last name used, from Florida and tweets as @Shinjikuna, told ATTN: in an email.
"How I feel about it? Well, to be frank, very shitty," Mana wrote.
Others paint an especially desperate picture. Santonio Rogers, an epileptic Black man in Milwaukee who struggles to hold down a job thanks to his condition and lack of education — but who cannot claim exemption from work requirements because of a lack of a doctor's note — told VICE News that the new rules hit those who are already in dire financial straits.
"You're taking from us when we barely have nothing at it is," he said.
Share your opinion
Do you think there should be work requirements for food stamp programs?