Baltimore School Cops Under Investigation After Abuse Depicted in Video
Two Baltimore school police officers are under investigation after a cell phone video posted online apparently showed one repeatedly and violently slapping a student at the city's REACH Partnership High School, on Tuesday afternoon.
WJZ CBS Baltimore first showed the video to Baltimore City school officials after it surfaced online this week. Since then, Baltimore school police chief Marshall Goodwin and the two unidentified officers in the video have been placed on administrative leave pending a criminal investigation by law enforcement officials, the Baltimore Sun reported.
"I was totally appalled at what I saw today," Karl Perry, chief officer of school support told WJZ. "I'm a parent and I'm totally appalled at what I saw in that video. No matter what the circumstances are, I am totally appalled."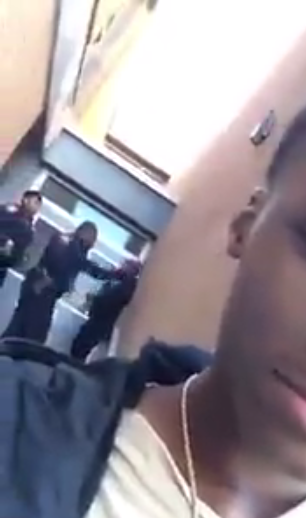 Twitter - twitter.com
It's unclear what led to the altercation, or what followed, WJZ reports. The Baltimore Sun noted that the officers in the video were apparently responding to reports of two "intruders," whom the officers considered a threat. However, an attorney for the boy who was attacked in the video told the Sun that he is a student at the school.
The incident has stirred existing tensions over tactics used by school police officers, which in Baltimore operate separately from the city's force. As the Washington Post notes:
"Last year, a Baltimore City school police officer pleaded guilty to assaulting three female students. Surveillance footage from 2014 showed officer Lakisha Pulley using a baton on the middle school students at Vanguard Collegiate Middle School."
School resource officers, or SROs, have drawn criticism on the national stage recently — within a larger conversation about overbearing police tactics. In October of last year, a South Carolina school-assigned officer was filmed manhandling a "verbally disruptive" high school student, which was just the latest in a string of violent incidents involving SROs.
David Pontious, a senior at Baltimore City College High School told the Baltimore Sun that the incident should cause serious concern for both parents and students. "When we have these acts of extreme violence directed by the people who are supposed to be protecting us toward students, that's a very serious concern to me, to other students and to parents," Pontious said.
Sgt. Clyde Boatwright, president of the Baltimore school police union told the Sun, "We are waiting for the department to conduct a full and complete investigation."
ATTN: reached out to Baltimore City Public Schools but did not hear back prior to publication.
Share your opinion
Do you think there should be a police presence on high school campuses?