What the Average School Lunch Costs in Your State
People say there's no such thing as a free lunch, but if you live in Alaska, New Mexico, West Virginia or Washington, D.C., that's probably not true — at least, not if you're in elementary school. These states literally offer free lunches for students.
But that's not the case in every state — parents pay as much as $6.80 for a single lunch in Mill Valley, California. Because there are few federal standards regulating school meal prices, districts are largely on their own to determine what to charge. Here at ATTN:, we crunched the numbers to provide you with the map below, which breaks down what you're most likely to pay for lunch across the country, based on the most recent average meal prices reported by school districts for the lunches that they served to elementary school students in 2013/2014.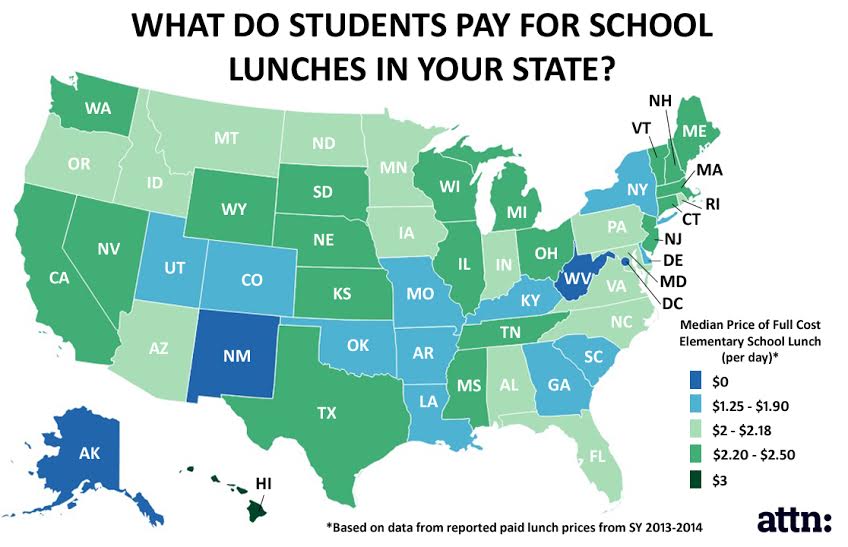 attn.com
By taking all reported sale prices for full cost meals and finding the median, the map shows where each state's average lunch price falls in relation to the rest of the United States.
Overall, the cost of lunch for elementary, middle and high school students has climbed over the years. Eating in the elementary school cafeteria has increased from a national average of $1.43 for elementary students during the 2002/2003 school year to $2.18 in 2013/2014, according to the School Nutrition Association. That's a $0.75 increase, $0.30 higher than if inflation alone had raised the rates. But the cost hasn't increased evenly everywhere; there's a wide range among what districts bill parents for their kid's meal.
Some schools have lunches that cost $6 a day.
Overall, lunch is the most expensive for elementary school students in Hawaii, who pay a median price of $3 for midday meal at their school. The Big Island doesn't charge the most in the country, but there are three school districts in Hawaii that do cross the $5 mark, putting them on the list of the top 20 most expensive elementary schools to eat at in America.
At California's Mill Valley Elementary School District lunch is on average $6.80 per day, the highest priced elementary school lunch in the nation. They're followed by another California state school district, Menlo Park City Elementary, where lunch would cost you $6.05 during the 2013/2014 school year. If the price jump from $3 per day to more than $6 seems huge, that's because it is, however, cost of living and other factors come into play that may make you see the price jump in a different light.
"Prices vary across the country due to variations in labor, food, and other costs," said School Nutrition Association's Diane Pratt-Heavner to ATTN:, and it can be difficult to untangle the precise forces that causes prices to fluctuate from district to district. But the cost of living may provide one clue for cities like Menlo Park, where the price of a school lunch seems astronomically higher than the rest of the country."
Los Angeles, for instance, is known for being an expensive city to live in, but it's nothing compared to Menlo Park. That $50,000 a year salary would need to increase to $112,000 for an Angeleno moving to Menlo Park, just to keep the same standard of living. Put in that perspective, a $6 lunch price doesn't seem out of place.
Where is lunch the cheapest?
As we've already pointed out, the District of Columbia offers the bulk of their school lunches for free as do Alaska, New Mexico, and West Virginia. They're not the only states where school districts offer highly subsidized lunches, though. At least 3,302 other school districts report their average lunch price as $0.00 for elementary school kids, ranging from places like Baltimore, Maryland, to Pine Ridge, South Dakota. Louisiana's East Carroll School Board sets the next lowest price in the nation — only $0.30 for the midday meal.
Explaining the lunch the price gap.
At $0.30, a family may only be paying around $54 a year for their young child's school lunch, while in other regions, a cafeteria lunch may go for over $1,000 annually. That's no small chunk of change. But it's hard to say how many factors affect an individual school's meal price besides realities like cost of living, because there is little standardization.
"School meal prices aren't set by USDA, they are set by local school districts and usually approved by the school board," Pratt-Heavner told ATTN:
Because districts set their own prices, variation is the norm. But one factor could be related to which states fall highest on the price spectrum and which fall lowest: the Community Eligibility Provision (CEP). CEP allows schools to apply for no-cost lunches if the overall number of low income students is great enough. If approved for the program, the school can provide all students meals at no cost, regardless of income.
What does this mean for the average lunch price?
As of May 2015, states have to publish a list of CEP eligible schools each year and the most recent participation numbers tell us a lot about why some states have high median prices while others have low ones. In the District of Columbia, for instance, the 2015/2016 school year saw 70 percent of school districts use CEP to provide zero cost meals to elementary school students. Alaska, West Virginia, and New Mexico also all saw participation rates over 50 percent. With so many schools offering zero cost lunches, it's obvious why these states' overall median prices would be low. On the other end of the spectrum, however, Hawaii had less than four percent of schools qualify — at least partially explaining why the state had the most expensive median lunch cost in the nation.
We all like to save money where we can and it may initially seem like living in a location where school lunch prices are lowest is best. But schools with the lowest lunch prices usually have low prices for a reason — including high rates of poverty among families in given district, which make the low lunch price seem less like a perk and more like a necessity to make sure that kids don't go hungry.
Share your opinion
Do you think that tax dollars should pay for more free school lunches?