Comparing the Best and Worst School Lunches in America
March 23rd 2016
By:
Not all school lunches are created equally.
Though the Healthy, Hunger-Free Kids Act (HHFKA) of 2010 incentivizes schools to follow new portion, nutrition, and serving guidelines, not every school in the country participates. It was the first piece of major reform for school lunch since the Child Nutrition Act of 1966 and the majority of U.S. public (and non-profit) schools participate, at a rate of at least 90 percent. Yet, the quality of the school lunches served to students still varies greatly from school-to-school.
So, with some schools operating under specific nutritional guidelines and others not, it's easy to see where school lunches can differ. With that in mind, here's how the states are making the most strides when it comes to school lunch offerings:
Colorado
Boulder Valley School District's lunches are guided by the School Food Project, which serves as a guidebook for the district's meals with intentions to serve fresh, organic, locally-sourced ingredients when possible and to avoid processed foods, resulting in up to 12,000 made-from-scratch meals served daily. Over the past few years, Aurora Public Schools phased in an all-you-can-eat salad bar in the majority of its schools, which is stocked with fresh fruits and vegetables. Jefferson County Public Schools' executive chef Yuri Sanow won an award from McCain Foods for his Harvest Apple and Sweet Potato Bake as a way of incorporating healthy produce into a dessert.
Ohio
Cincinnati Public Schools instituted creative solutions to reduce the sodium levels in their school lunches. Food services director Jessica Shelly instituted "flavor stations" in the high schools where students can choose spices to season veggies and main dishes. In an interview with Food Service Director magazine, she said, "we're putting out lemon pepper, cayenne seasoning, parsley flakes and red pepper flakes so the kids can season things themselves. They can create whatever they want in terms of flavor palate for that vegetable, so the sodium loss isn't noticed as much because they are creating a new flavor."
The South Euclid-Lyndhurst School District formed a partnership with farms in the state, like Red Basket Farm, to source fresh fruits and vegetables. This exemplifies the benefits — decreased environmental impact, fresher food, and fewer preservatives — that the Farm to School Grant Program makes possible for schools across the U.S., as reported by the Department of Agriculture. A study conducted by the University of California, Davis found farm-to-school programs can encourage students to choose healthier options, along with increasing consumption of fruits and vegetables.
Washington
Washington state is known for its progressive policies, so it's understandable why the standards for school lunches exclude the basic mystery meat. The Washburn School District transitioned from processed to premium local ingredients, including those collected from the 80-square foot garden tended by the middle and elementary schools. Seattle public schools cultivated a unique partnership with the Tom Douglas Group (TDG), which is operated by a chef who owns 12 respected restaurants in the Seattle area. After learning about what it takes for the nutrition services department to serve over 20,000 lunches a day, TDG collaborated with the public school system to create new recipes for school lunches that were then taste tested by students, families and school staff. Seattle public schools' interactive menu displays options for elementary students that include veggie burgers, "hummus munchable" (think hummus, whole grain pita bread, and string cheese), and butternut chicken curry. The menu also includes multiple options for vegetarian students and a diverse offering of fruits and veggies as sides, like jicama, radishes, and snow peas.
California
Berkeley is home to Alice Waters, famous Chez Panisse chef, "California cuisine" pioneer, and "locavore" leader. So, it's not a surprise that the Berkeley Unified School District may be one of the healthiest school districts in the country. School meals are eclectic and could be menu headliners at Bay Area multi-star restaurants. For example, lunches like Mac n' Greens, Balsamic Glazed Chicken or Tofu, and Buckwheat Pancakes are preservative, additive, and dye-free. Berkeley was a leader in the School Lunch Initiative, a public-private partnership dedicated to students cooking, growing, and sharing healthy food while learning about it in the the classroom.
Worst states for school lunches.
There are many factors that can inhibit a healthy and delicious school lunch program, but one of the biggest is the limited amount of budgeted money schools have per lunch. Meaning, on average, with all the ingredients and supplies needed to meet the current standards, schools are paying $2.92 to cook a reimbursable school lunch. (The USDA reimburses for school lunch at different rates depending on state and free/reduced/full lunch paying status.) Costs for lunches have been rising largely due to overall food costs — which hinders some schools without owned food sources, like gardens — as well as general labor costs.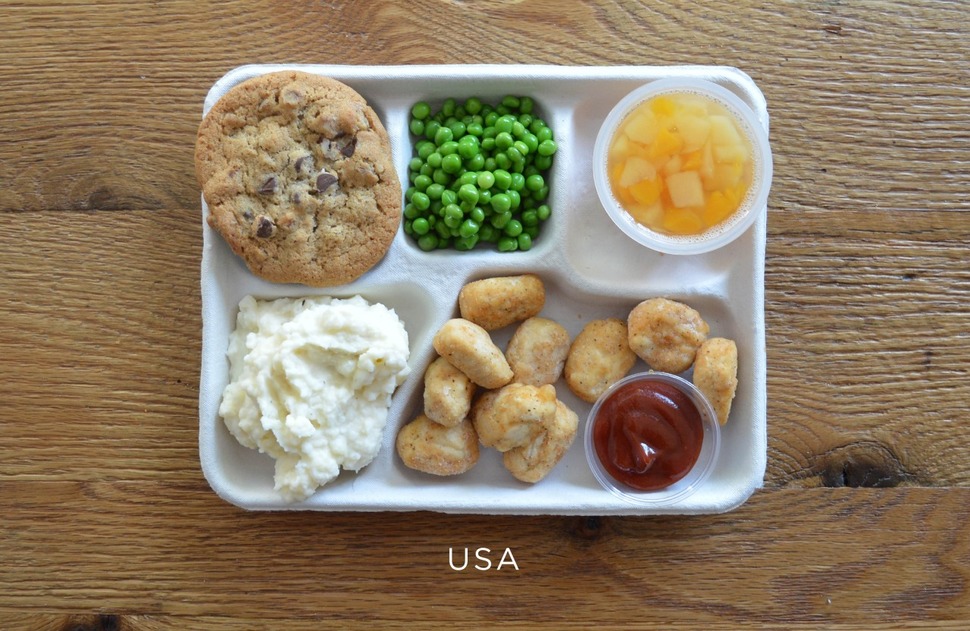 imgur.com
Dishonorable mentions.
While it's impossible to condemn these entire states for their lunch program, the following incidents earned them inclusion on our list:
West Virginia
A middle school served extremely burnt burritos in melted plastic.
Washington D.C.
Dead rodents were found just 300 feet from food served at a junior high school.
Tennessee
Mice (and their poop) were discovered in a Nashville suburb school kitchen.
However, one state in particular deserves special mention for regressive actions in its approach to school lunch.

Texas
When 15.7 percent of the high school population in your state is categorized as obese, it's probably not wise to encourage the use of deep fryers and snack vending machines in schools. Yet, that's just what Texas did in 2015. Texas Department of Agriculture Commissioner Sid Miller cited millions of dollars of food waste for returning the equipment to schools across the state in order for "control" to be returned to the individual districts.
That's not to say Texas hasn't tried to improve school lunch standards. The Lone Star State enacted school meal rules in the "Texas School Nutrition Policy" back in 2009. Among other things it outlined and, in some cases restricted, the time and place of "competitive foods," such as bake sales. Schools caught breaking this policy were to be fined and lose a day of school meal reimbursement funding. However, the state then voted in 2013 to undermine the policy with a law that allows Texas high schools to continue the practice of selling junk food — like fast-food pizza or Chinese take-out — as fundraisers during school lunch. Because of this HB1781 legislation, schools can now no longer be fined for the lacking nutritional content and the all-too-common fundraisers have protection under state law.
Fed up.
On DoSomething.org students could submit photographs of gross meals and paltry nutrition to the Fed Up project. There were over 7,000 submissions from Florida to Pennsylvania, and Indiana to Nevada. Questionable gray meats, fried foods, and multi-colored mush are headlined with descriptors like "Smothered double fiber with a side of trans fat" and "Dorito don't-eat-o taco salad." The project's founder, Farah Sheikh, began the initiative after research into why kids drop out of school. Sheikh told TODAY.com, "the obvious reasons, like bad grades and needing to support their families with a job, came up, but we started realizing that nutrition in school plays a huge role in ability to perform," she said. "Have you ever eaten a fried food lunch and felt the effects afterwards? For some students, they have no choice but to feel that way after a meal." The platform also offered students tips for speaking with their school's nutrition director and a step-by-step action guide for creating cafeteria change. View the results of the project in the Fed Up report.
Why school lunch matters, especially to low income families.
Almost 100,000 schools participate in the National School Lunch Program to serve 30.5 million students lunch, daily; 5 billion lunches are served annually. Low-income students, who quality for reduced priced meals, account for a significant portion of the meals served. In preliminary FY 2015 data, these free and reduced lunches constitute a significant portion of the school lunch program.
19.8 million free lunches
2.2 million reduced price (student pays $.40) lunches
8.5 million full price lunches
For some students school is the institution where they receive the majority of their weekly nutrition. Food insecurity hits children particularly hard. Compared to the general population, 16 million children are more likely to have limited access to sufficient food. This potential for insufficient nutrition can affect children more so than the general population, as well. According to Ross Fraser, director of media relations at Feeding America, "the lack of adequate nutrition can literally change the architecture of a child's brain."
Share your opinion
Should the federal government regulate school lunches?