Ten Teens Who Embody America's New Queerness
March 18th 2016
By:
You may have some strong opinions about today's digitally native, eight seconds long, "I do want to drive!" teenagers, but you cannot deny that they are progressive — especially when it comes to LGBTQ issues.
J. Howard Thompson's Innovation Group recently confirmed all of this with a thorough study of how teens identify themselves in terms of gender and sexual identity. The study reports that over half of teens know someone who uses gender neutral pronouns, over a third believe gender is non-definitive, and only 48 percent consider themselves "completely heterosexual" — compared to 65 percent among Millennials.
So who are these teens leading this progressive generation? To give you an idea of America's diverse young people, here are ten teens who embody America's new queerness:
Jordan is a viral star turned YouTuber who has been outspoken about their sexuality. After playing around with their gender very publicly — from modeling for American Apparel to doing drag with celebrities — Jordan came out as transgender while introducing model Andreja Pejic at this past February's Time To Thrive Conference.
The actress made her name by making us all cry in the first "Hunger Games," and then through shows like "Sleepy Hollow" and "Mr. Robinson." More recently, she's become a popular celebrity activist by speaking about identity and policing cultural appropriation. On the heels of her February Teen Vogue cover, Stenberg took over Teen Vogue's Snapchat to identify herself as bisexual.
Sheng is a transgender college student and writer who has documented his transition very publicly via his Instagram. Sheng speaks about matters of trans representation in media and hopes to be an example for younger trans persons in America.
A very young transgender figure, Jennings received national attention after being interviewed by Barbara Walters at age six in 2007. Since then, Jazz has become an activist and TLC reality star. In addition to being a voice for the transgender community, Jennings has recently come out as pansexual.
Porter is a Minnesota teen who was born female but does not identify as female (but rather them/they). Porter made headlines in 2014 with a speech arguing that high school athletes should be able to play for the team that corresponds to the gender they identify with. Also an artist, Porter was recently featured on Logo's "Beautiful As I Want To Be" with Caitlyn Jenner.
Lohanthony is a YouTuber who we can pretty much credit for bringing the word "basic" to mainstream audiences — after it was first coined by hip-hop artists — thanks to his now Internet iconic video "CALLING ALL THE BASIC BITCHES" from 2012. Since that breakout moment, Lohanthony has amassed 1.5 million subscribers, came out as bisexual, and frequently made videos about sexual identity.
Blanchard is the star of Disney's "Girl Meets World" and recently came out as queer, stirring a little movement for the channel to reflect the star's identity. Blanchard is also very good friends with Amandla Stenberg — and both were named Feminist Celebrities Of 2015 by Ms. Foundation For Women.
Thompson is a Viner turned YouTube star turned actor, and most of his work addresses his identity as a guy who likes guys. He's also very good friends with Lohanthony, and the two of them have a boys-who-date-boys dating show called "Lohanthony & Rickey's Guide to Dating."
Smith is the son of actor Will Smith and actress Jada Pinketk Smith and is himself an actor and musician. But he's probably most well known for his Twitter philosophies and refusing to gender what he wears. While Smith is not necessarily gender fluid or queer, he is very adamantly breaking gender roles.
Hoke is a transgender activist from Kentucky who made a name for himself working with GLSEN as a student ambassador. He's currently studying design at California State Polytechnic Institute of Pomona and is very outspoken about what it's like to be trans.
Why These Teens Matter.
American queer teens were the focus of the recent study, yet, we can't overlook international teen queer figures like Gabrielle Gladu, Lily Rose Depp, Jamie Raines, and so many more.
The work being done by these teens is as valuable as ever. Research recently released by the Hate Violence Report found that 2012 had the fourth highest rate of violence against LGBT and HIV infected people in history. Additionally,  LGBTQ suicides, are still a major issue.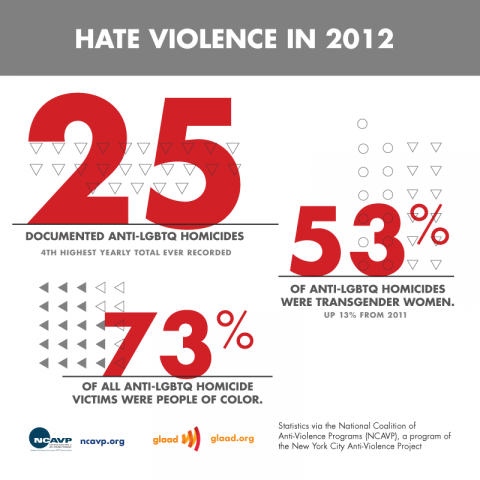 Hate Violence Report - glaad.org
Thankfully, the Gen Z future looks very, very bright thanks to these brave young advocates. 
Share your opinion
Can queer teens change the way America sees LGBTQ issues?