Where the Presidential Candidates Stand on Marijuana
March 17th 2016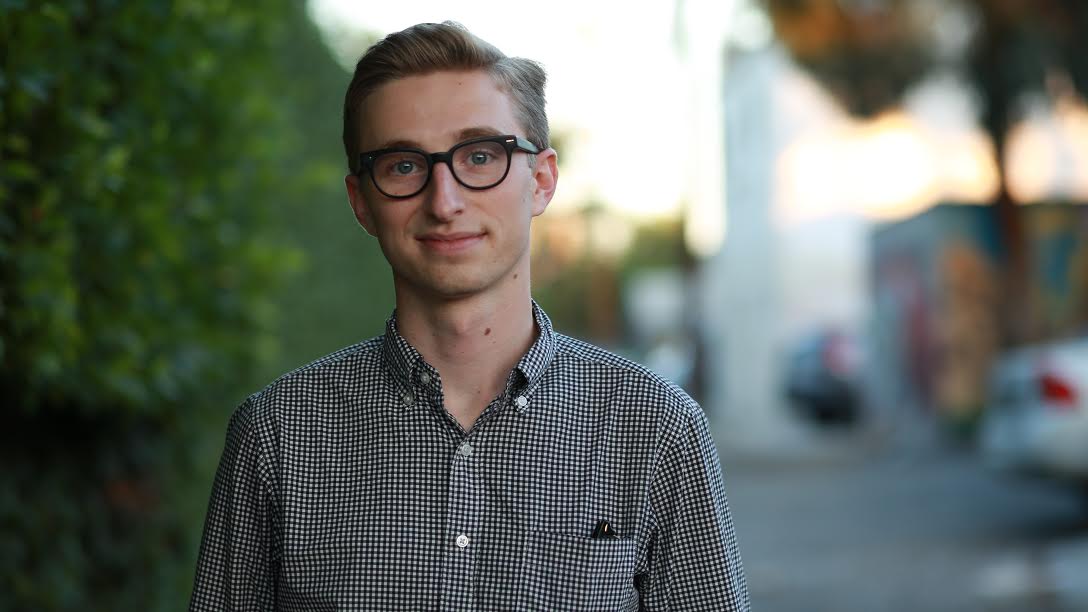 By:
No matter how the 2016 election pans out, the marijuana legalization movement appears to be in a good shape. After Florida Sen. Marco Rubio dropped out of the race on Tuesday, the presidential field became unanimously supportive of the right of states to legalize marijuana.
On both sides of the fence, the remaining candidates are officially in consensus about the right of states to legalize marijuana without the threat of federal intervention, Marijuana.com reports. This is not to say that they share the same opinion about cannabis — far from it, actually — but for the first time in U.S. history, none of the candidates plan to restrict state-level marijuana laws.
"​What this means is that it will be very, very hard for prohibitionists in the [Justice Department] and outside the government to succeed in rolling back our gains, especially after we add a handful of additional legalized states this November," Tom Angell, chairman of the Marijuana Majority, told ATTN:. "While marijuana was once treated as a marginalized third-rail issue that politicians ran away from, it is now squarely at the forefront of mainstream American politics."
"That's why you see presidential candidates respecting us — even if they don't personally like legalization — instead of threatening to shut down what we've achieved."
How Rubio was a presidential outlier on marijuana.
Prior to Tuesday, Rubio was the only candidate left (whittled down from a very large pool) that posed a threat to the 23 states that have legalized marijuana, either for medical or recreational purposes. He repeatedly endorsed the enforcement of federal marijuana law under the Controlled Substances Act in interviews during his presidential campaign, which he suspended in a speech on Tuesday night after failing to win his home state of Florida.
"Marijuana is illegal under federal law, and federal law should be enforced," Rubio said in 2014. "I'm not in favor of the legalization of another intoxicant. When you legalize something, you send the message that it's not that harmful. And drugs are harmful."
Where the remaining candidates stand on marijuana.
All three Republican candidates — Donald Trump, Texas Sen. Ted Cruz, and Ohio Gov. John Kasich — say they personally oppose the federal legalization of marijuana (though Trump has flip flopped on the issue) but maintain that states should have the final say, as far as their drug laws are concerned. Trump also believes that medical marijuana deserves further study.
Democratic candidates former Secretary of State Hillary Clinton and Vermont Sen. Bernie Sanders support state-level legalization efforts, but only Sanders has advocated for the removal of marijuana from the Controlled Substances Act, the federal guideline to drug laws in the U.S. that designates cannabis as a Schedule I drug with no medical value.
Clinton has approached the issue more cautiously; she endorses state-level experimentation but feels that there isn't enough research into marijuana medical benefits to justify its removal from the list of drugs prohibited under federal law.
"These statewide experiments can help us point the way to national policy, so I'll continue the Obama Administration's enforcement guidelines that allow states to experiment," Clinton said. "At the federal level, I support rescheduling marijuana from a Schedule I drug — the most dangerous category — to a Schedule II drug. That would allow universities and the National Institute of Health to more easily conduct research into its medical uses."
The progress of the marijuana legalization movement.
The shift in attitudes about marijuana among the presidential candidates is consistent with how public opinion has evolved on the issue. The latest Gallup poll showed that 58 percent of American adults support marijuana legalization, and 85 percent believe that people should be allowed to use the substance for medicinal purposes if a physician recommends it.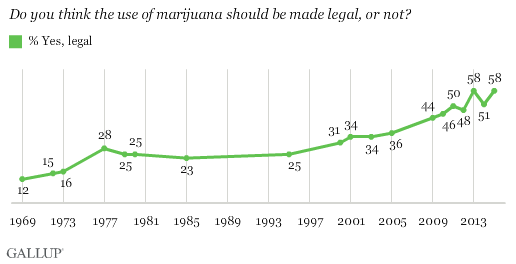 Giphy - gallup.com
ATTN: recently interviewed Sens. Cory Booker (D-N.J.) and Kirsten Gillibrand (D-N.Y.) about their efforts to pass a federal medical marijuana reform bill that has garnered the support of members of Congress on both sides of the aisle, including Sen. Lindsey Graham (R-S.C.) who recently agreed to co-sponsor the bill. If passed, the measure would lead to the rescheduling of marijuana and safeguard patients who use the substance medicinally.
Share your opinion
Do you believe that medical marijuana should be legalized at the federal level?