Tinder Wants to Hook You up With the Perfect Political Candidate
March 25th 2016
By:
Tinder now has all your passions covered, including your political ones.
The dating app launched "Swipe the Vote" this week to help users swipe right or left on a presidential candidate.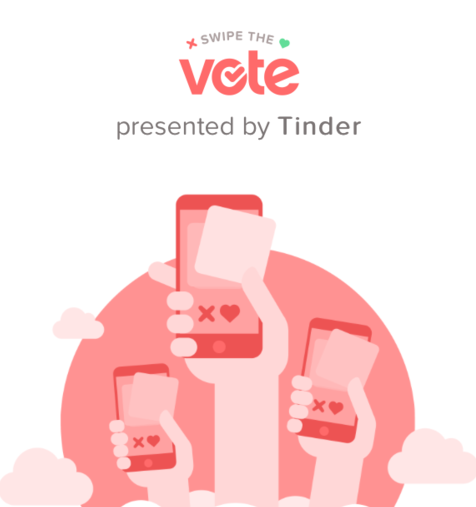 Tinder/Swipe The Vote
Here's How It Works.
When you're cruising through Tinder profiles for a weekend hookup, you may randomly see a card that says "Swipe the Vote." If you click on the card, Tinder will ask you 10 questions on political issues like gay marriage and oil drilling. The company worked with Rock The Vote to pick questions that were relevant.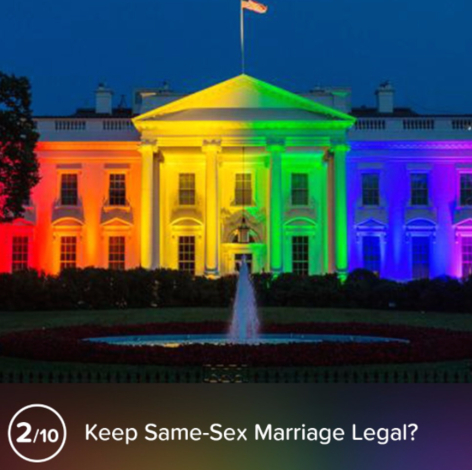 Tinder/Swipe The Vote
After you answer the questions, the app will match you with the candidate that's closest to your views. It will also show your second best match below your top candidate.
Tinder
Register to Vote!
Users will also be able to register to vote in the presidential election within the app.
Why is this happening in the middle of my hunt for romantic prospects?
Tinder's blog said that creating this new feature was inspired by users campaigning for their favorite candidate.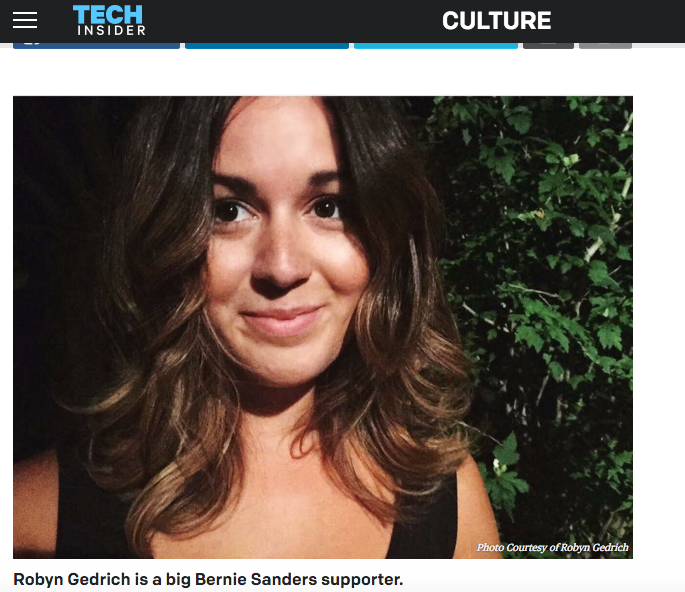 Tech Insider
Former user Robyn Gedrich's account was shut down after she swiped right on each potential Tinder match and then sent a message in support of Bernie Sanders. She does not work for the campaign. She just wanted more people to "feel the Bern," according to Tech Insider.
Although Tinder banned the enthusiastic 23-year-old Sanders supporter, the company realized that their users are interested in politics.
"The credit for this goes to our users," Tinder CEO Sean Rad told BuzzFeed. "There were a lot of unique ways people were using the app to campaign and advocate."
So who is Tinder's top political boo?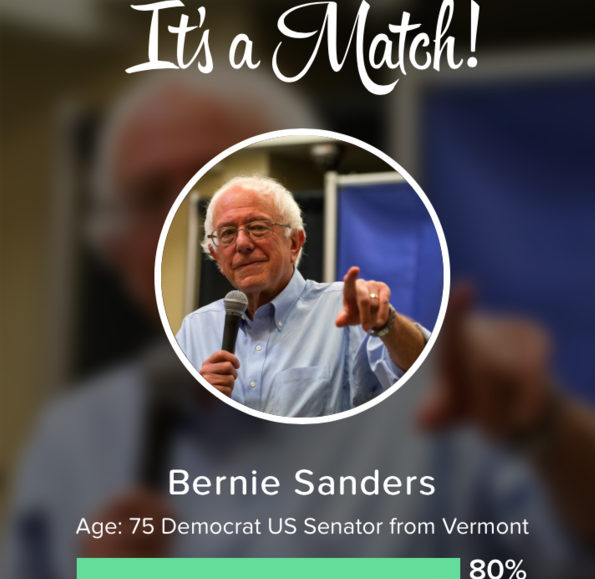 Tinder/Swipe The Vote
The dating app company pulled the results of 100,000 polls and, right now, it seems Bernie Sanders has stolen the most hearts. Maybe this heartwarming .gif of Sanders holding a kitten put him over the edge. We'll never know for sure. About 37.8% of the users matched with Sanders, according to Buzzfeed.
However, Hillary Clinton came in a close second ...
... and Ted Cruz won among Republican users.
Whatever lights your Tinder flame.
Share your opinion
Would you use Tinder to pick your political candidate?