The Quietly Offensive April Fools' Joke You Hear Every Year
March 30th 2016
By:
The classic "I'm pregnant" April Fools' joke might seem harmless and may even be funny to some people, but it can be offensive to those who want children but aren't able to conceive.
Ohio mother Margaret Bradford, who recently went viral for breastfeeding at a Sen. Bernie Sanders rally, highlighted the problem with this particular prank in a March 2015 Facebook post that is gaining traction once again thanks to April Fools' Day 2016.
As Bradford points out, fertility problems are often no laughing matter in the U.S. In fact, more than 10 percent of women have used fertility services, according to the National Infertility Association, and up to 20 percent of clinically recognized pregnancies end in miscarriage, NPR reports.
"Don't fake a pregnancy for April Fools," Bradford wrote. "You never know who on your friends list may be struggling with pregnancy loss or infertility. Pregnancy is not a joke."
The post has 27,000 likes and has garnered supportive comments from people who agree with Bradford, including a woman who lost a baby.

Facebook - facebook.com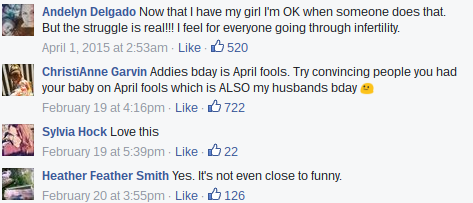 Facebook - facebook.com
Many people have written extensively about the hurt that can come from pregnancy pranks on April Fools' Day. Last year, writer Jessica Martin-Weber addressed this in a piece for the blog The Leaky Boob, arguing that friends who don't comment on social media pregnancy pranks on April Fools' Day may stay silent because they are going through fertility issues:
"What they may not see, however, are those friends and loved ones who don't comment, don't 'like,' don't laugh. Those friends and loved ones for whom a pregnancy announcement is no joke. Not because they don't have a sense of humor but because there is a deep ache within them to have a real, not a joke positive pregnancy test of their own. It's not funny, it's painful. It isn't necessary to understand or relate to that pain, it's just human decency and kindness not to cause them more pain once you're aware of it."
Three years ago, actress Lindsay Lohan caused a stir on social media when she tweeted that she was pregnant in the early hours of April 2, leading some to believe that she was actually pregnant since she wrote the tweet after April Fools Day technically ended. When she clarified that she was joking, however, some wrote that the prank wasn't funny.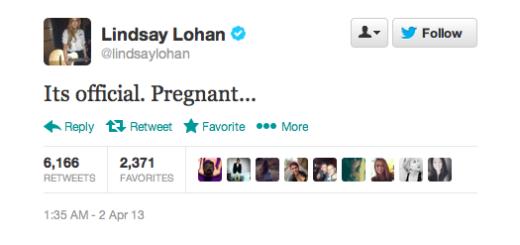 Twitter / The Hollywood Gossip - thehollywoodgossip.com
"Infertility and (shudder) infant and child loss bring some of the most raw grief in the human spectrum, so when you get all 'haha, I'm preggers, ya'll!' followed by, 'J/K! LOLZ' it can burn another human being in an indescribable way," Chicago Now writer Jenna Karvunidis wrote in response to Lohan's tweet. "And for what? It's not even a cool joke. It's like making a zingless rape joke. If you're going to be terrible, at least be good."
Here are some other people who have highlighted the classic prank's potential consequences.
Share your opinion
Do you know anyone who has pretended to be pregnant on April Fools' Day?