This Mom's Brutally Honest Letter to the Family That Shamed Her Son Has Been Shared Nearly 100,000 Times
March 29th 2016
By:
A Scottish mother is receiving high praise on Facebook for her viral response to a family mocking her 3-year-old son's heart socks.
Shona Campbell, a mother from Irvine, Scotland, wrote an open letter on Facebook to another mom whose child laughed at her son, Harry, at daycare. The message has been shared nearly 100,000 times as of Tuesday and has fostered an important discussion about gender fluidity and allowing kids to explore their identities.
"When your child pointed out my SON had love hearts on his socks, and mocked them for being GIRLS socks you absolutely tore apart my faith in this world, because you agreed and laughed along with your child," Campbell wrote.
Campbell added that Harry likes the color pink and asked for the socks himself when they were out shopping one day, adding that he appreciates "having the independence to make his own choices."
"Why should we teach our children that certain things are for girls/boys?" she continued. "If my son wants to wear a dress, he can!! If he wants to wear a big fluffy hat, he can!! And if he wants to wear socks with love hearts, HE CAN!! I am bringing up my son to be whoever he wants to be and I do not appreciate people like you poking fun at him, telling him he's wrong for what he wears or dictating what he should or shouldn't do/wear."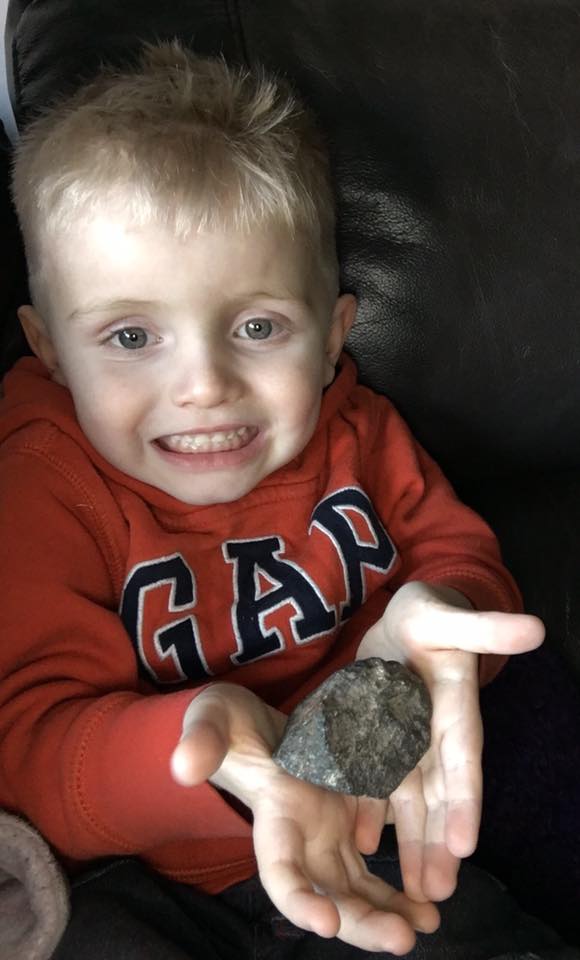 Shona Campbell Facebook - facebook.com
Campbell wrapped up her post by saying now is the time to "allow our children to make their own decisions and let them figure out who THEY want to be, not who society says they should be."
"This is MY SON. And I love him," she wrote. "Love heart socks and all!! Feel free to share. I'd really like to make sure she, and anyone else that thinks it's ok to specify gender in clothes/toys etc, see's this and hopes narrow mindedness is replaced with open mindedness."
Others showed loved for Campbell's post and said they raise their own offspring with the freedom to dress however they would like as well.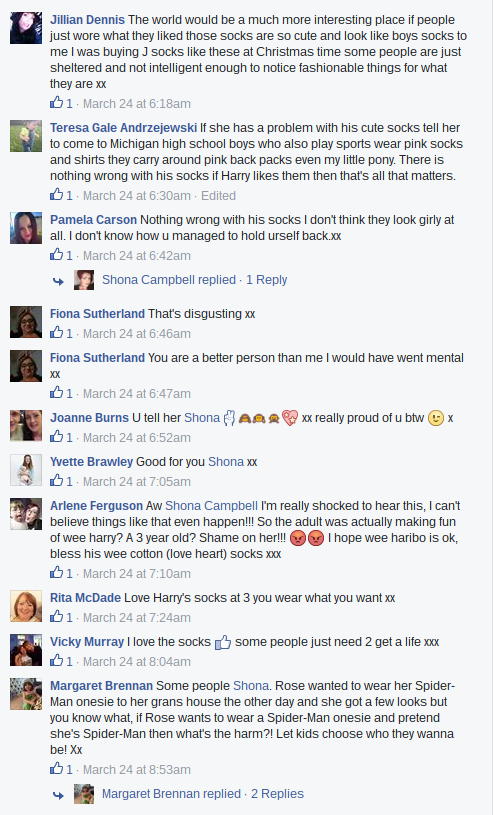 Facebook - facebook.com
Campbell is one of many parents who are okay with their kids breaking gender barriers. Late last year, a California dad named Mikki Willis posted a viral Facebook video of himself explaining why he got his son Azai a mermaid for his birthday. The video opens with Willis and his sons, Azai and Zuri in the car. Willis reveals a mermaid doll and says that Azai picked it out for his birthday.
"How do you think a dad feels when a son wants to get this?" Willis asks, holding up the doll.
"Yeah!" Azai shouts with glee.
"Yeah!" Willis says enthusiastically. "That's how I feel."
"That's how mama and I are," Willis continues. "We just say whatever. We say yeah, choose it. Choose your expression, choose what you're into, choose your sexuality, choose whatever. You have my promise right now, both of you as we sit in this hot car in this parking lot, you have my promise forever to love you and accept you no matter what life you choose."
Watch the full video below:
Share your opinion
Should parents let their kids wear whatever they want?