Women Are Pranking Mike Pence With Their Periods
April 2nd 2016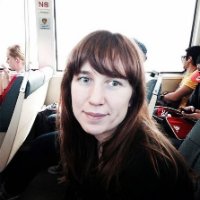 By:
Since Indiana Gov. Mike Pence (R) signed an anti-abortion law last week, women have been ceaselessly blowing up his office phone with prank calls about their reproductive health. Callers have shared their hilarious conversations and voicemails on the Facebook page Periods for Pence, which has earned over 8,000 followers since March 28, when it was launched by an anonymous creator.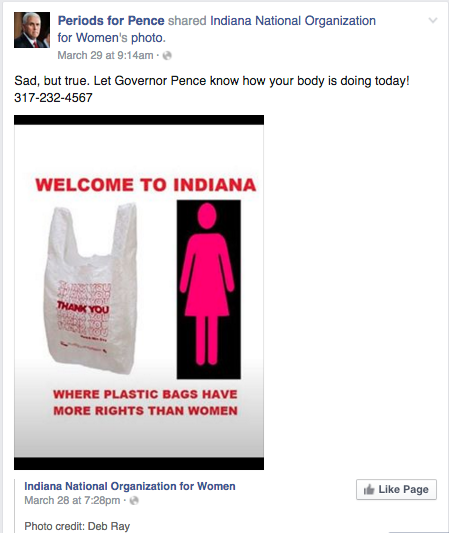 Facebook/Periods for Pence - facebook.com
The page addresses House Bill 1337, which banned women from having abortions due to "a diagnosis or potential diagnosis of the fetus having Down syndrome or any other disability." It also prohibited women from having abortions based on to the sex, nationality, ancestry, or race of the fetus.
"The more I read this bill, the more vague language I found and the more loopholes, and it just seemed incredibly intrusive," the anonymous woman who created "Periods for Pence" told an Indiana ABC News affiliate. "So I wanted to give a voice for women who really didn't feel like they were given any kind of input into a bill that would affect our life so much."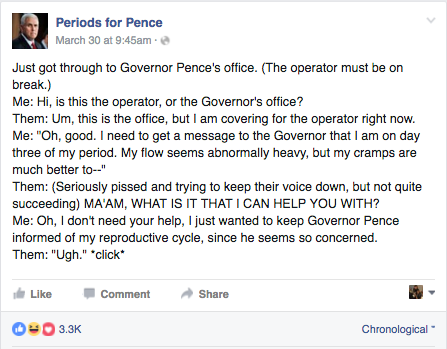 Facebook/Periods for Pence - facebook.com
Persistent on their mission to send a message to the governor, the calls got creative.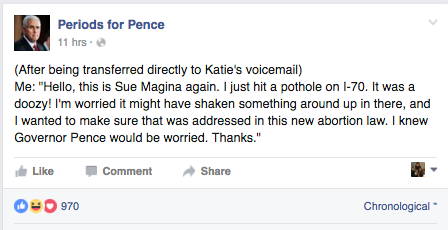 Facebook/Periods For Pence - facebook.com
Fans of all ages joined in the fun and posted their accounts of calls to Gov. Pence's office.
Facebook/Periods for Pence - facebook.com

Facebook/Periods for Peace - facebook.com
Some women also brought up more serious issues during their calls. One woman, whose daughter had special needs, voiced her frustration with the state's public school system.
Facebook/Periods for Pence - facebook.com
Men have also called Gov. Pence's office, according to the local ABC News affiliate's report.
Pence vs. the world
This is not the first time Gov. Pence has been skewered for making an unpopular political decision. In March 2015, Pence signed a "religious freedom bill" that many people believed condoned anti-LGBT discrimination.
In response, numerous individuals, groups, and organizations — from the state of Connecticut to Nick Offerman, Wilco, and tech giants Angie's List, Yelp, and Apple — boycotted the state and publicly condemned the law.
The Gov. ultimately caved to the pressure and revised the bill.
Your right to choose doesn't hold water in some U.S. states.
As ATTN: has previously reported, getting an abortion can prove challenging in certain states, like Indiana, Missouri, Utah, Louisiana, Oklahoma, Georgia, Arkansas, Mississippi, Texas, Ohio, and Minnesota.
Some of these restrictions involve waiting periods, requiring women to go through counseling, and they often result in them having more dangerous abortions late in their pregnancies.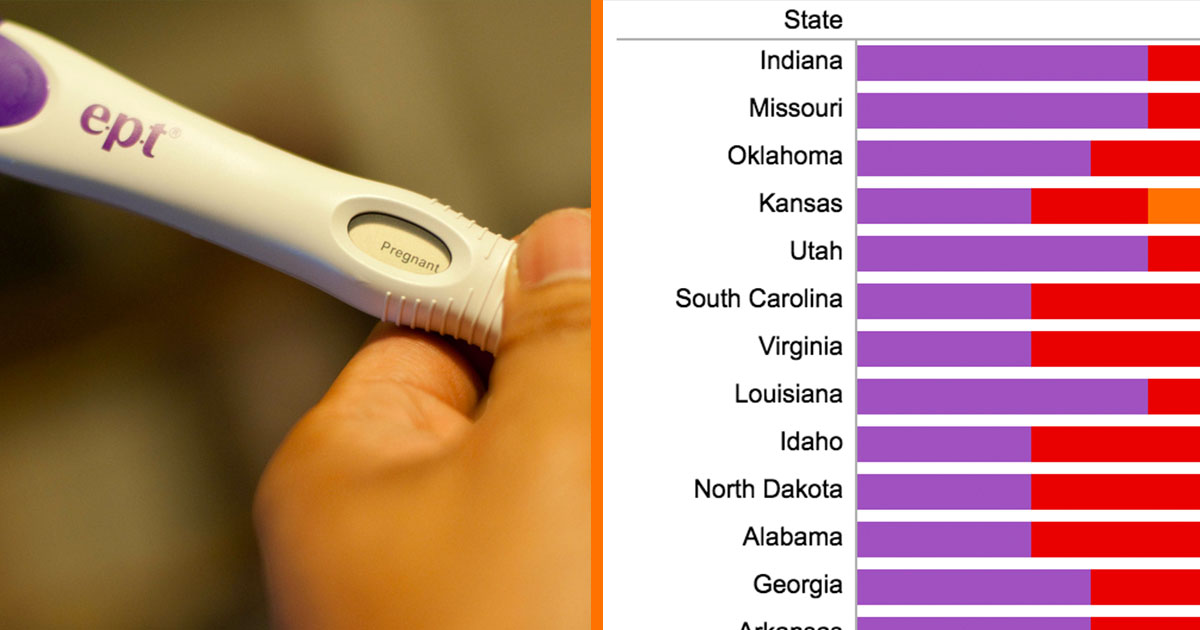 Flickr/dongkwan, Alternet - flic.kr
Recently, 2016 Republican front-runner Donald Trump made a remark suggesting that if abortion were illegal, women should be punished for getting abortions, which Trump spokeswoman Katrina Pierson later chalked up to "misspeaking," Politico reported.
As of Friday, Periods for Pence is still encouraging women to continue to dial up Gov. Pence's office, which we imagine has amassed an onslaught of hotline bling from pro-choice women.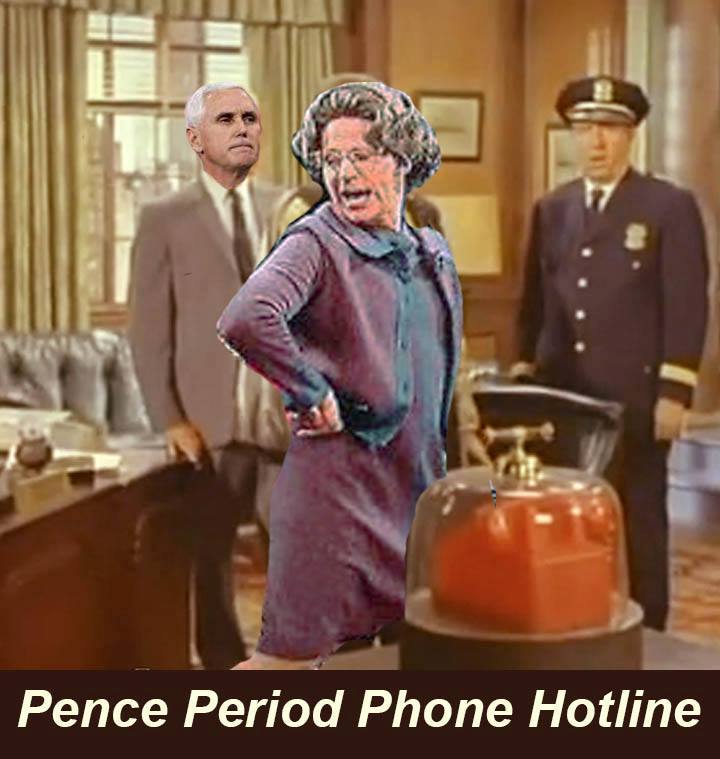 Facebook/Periods for Pence - facebook.com
Meanwhile, the Pence camp commented vaguely in an email to a local ABC News affiliate, but did not address the calls or the page's content.
"We are always willing to take calls from constituents who have questions, concerns or are looking for assistance," Stephanie Hodgin, Deputy Press Secretary for Gov. Pence, said.
You can follow Periods for Pence on Facebook to hear more of their anecdotes.
Share your opinion
Do you know anyone who has struggled to get an abortion in a U.S. state?