These Retailer Scams Will Make You Never Want to Shop Online Again
April 5th 2016
By:
Internet shopping comes with obvious perks: you don't need to leave your home, wait in changing room lines, or interact with pushy salespeople. However, a new report from BuzzFeed News makes a strong case for being careful while shopping online. The extensive report published Tuesday reveals that many online shopping sites operating in China are deceiving and scamming consumers, shedding light on a larger issue of internet retailer rip-offs.
The BuzzFeed News piece reports that a host of Chinese clothing retailers are advertising ridiculously cheap deals on Facebook and failing to deliver these goods to customers. According to BuzzFeed News, at least eight of the sites investigated are tied to Chinese e-commerce site Global Egrow.
Consumers have complained of receiving clothing of far lower quality than advertised, sometimes claiming the sizes are way too small and colors are off. Customers often struggle to reach customer service, which is often based in China, "especially when it comes to returns and refunds," BuzzFeed News reports.
Jasmine Griffeth, an online content and marketing consultant in Canada, told BuzzFeed News that she was deceived by a purchase from DressLily, which is owned by Global Egrow, and didn't get her money back for the purchase for months. BuzzFeed News noted that she was "lucky to get a refund at all, based on experiences shared by other consumers."
There's even a Facebook page, titled Rosewholesale Scams, dedicated to calling out multiple sites operating under Global Egrow. Some have complained of not being able to get their money back: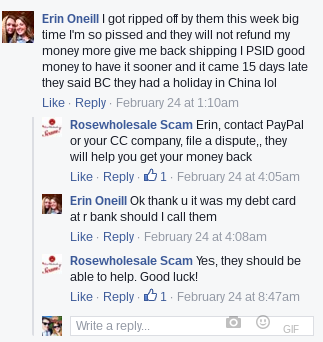 Facebook - facebook.com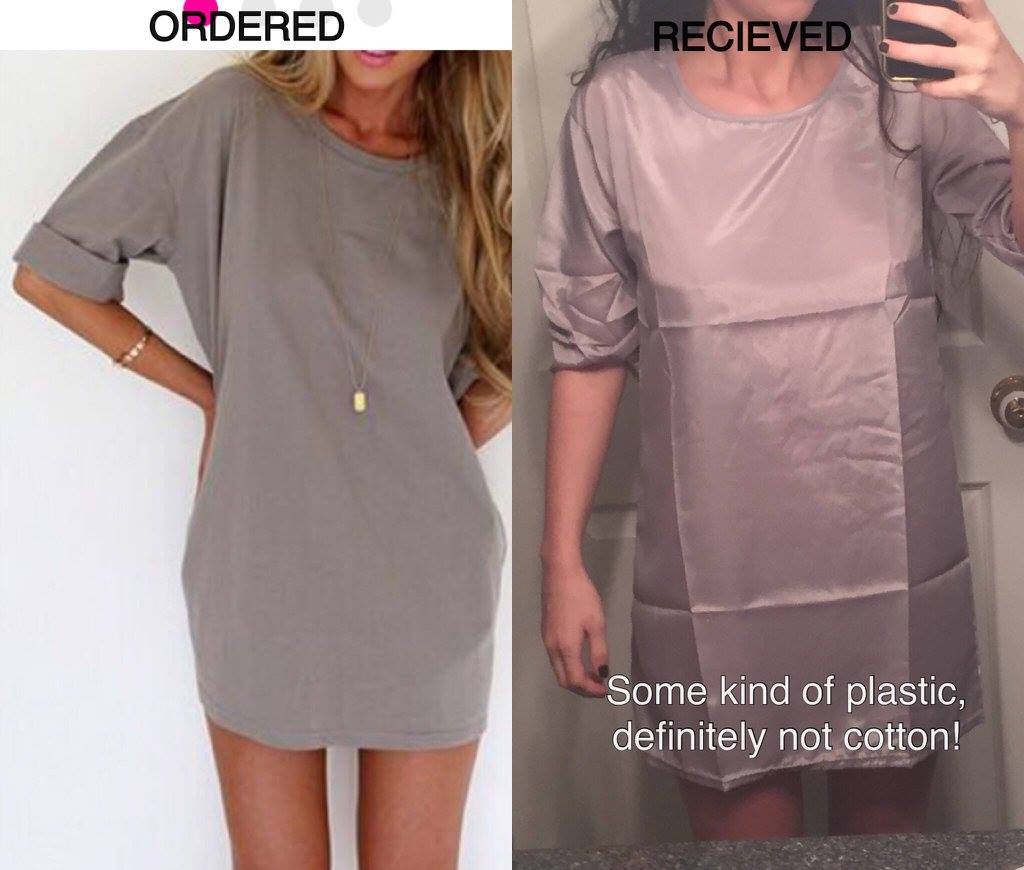 Rosewholesale Scams Facebook - facebook.com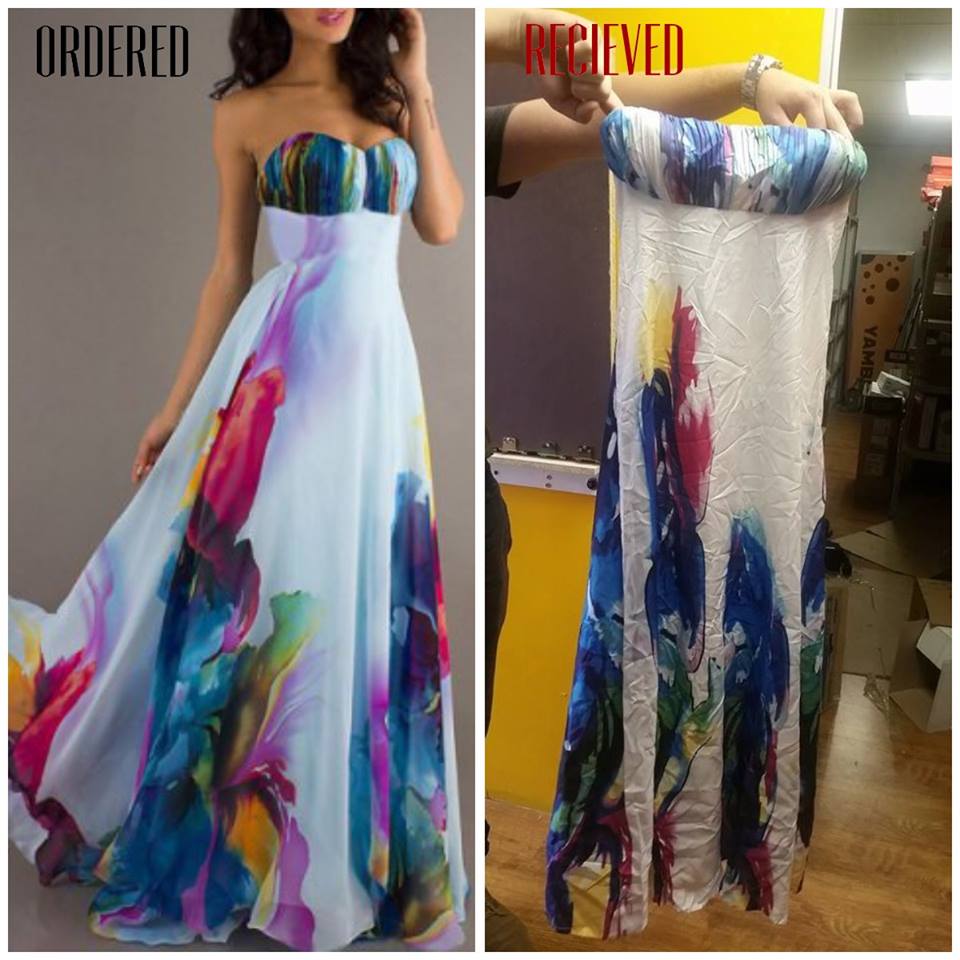 Rosewholesale Scams Facebook - facebook.com
Allison Swoboda, who owns a dress shop in Clarkston, Washington, told Buzzfeed that she gets a lot of emotional customers flocking to her store after falling for dress scams on these kind of sites. With prom season in full swing, she anticipates more drama of this nature.
"On Saturday alone, three or four girls came in with pictures of dresses that technically don't exist saying they wanted that dress and they could get it on the internet for $50 or $70," she said. "I tried explaining to them it's not what you think it is. You don't have to buy from me, but please don't buy from them.
The recent BuzzFeed News article provides just the latest examples of online shopping trouble.
Brides looking for wedding gowns online have also fallen under this trap. In 2011, a woman named Maria Ray told local news station CBS Boston that she ordered a $400 wedding dress online to save money only to be disappointed when the gown showed up at her house. CBS Boston reporter Paula Ebben wrote that Ray received a "cheap replica of the dress" that was a "mish mash of unglued lace, a floppy corset with missing supports and a rusty pin left in the fabric." Ray never got her money back for the purchase.
The popular Facebook page Brides Beware is dedicated to exposing companies that falsely advertise wedding dresses online:
Last fall, Kate Hudson's workout brand Fabletics, which is owned by JustFab, came under fire after a BuzzFeed News article revealed that a lot of people have claimed the site rips them off.
BuzzFeed News reporter Sapna Maheshwari wrote of the controversy:
"[JustFab] and its affiliates, for all their happy customers, have often been accused of deceiving shoppers who think they're making a single purchase into signing up for a subscription that automatically charges them each month unless they opt out within a five-day window. The sites use terms like 'VIP Membership' instead of 'subscription, and JustFab and Fabletics in particular downplay the options for avoiding charges each month; cancellations require lengthy phone calls."
Many have complained of unknowingly signing up for monthly subscriptions on the company's various Yelp pages: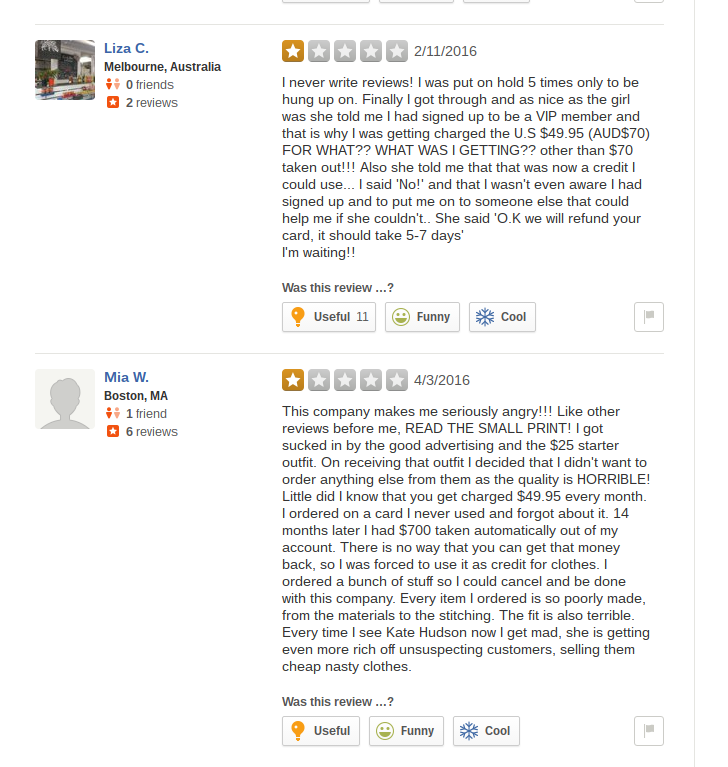 Fabletics Yelp - yelp.com
Read the entire BuzzFeed News article on online dress scams here.
Share your opinion
Have you ever been scammed while shopping online?